APJ Abdul Kalam| Success Story Of A Great Scientist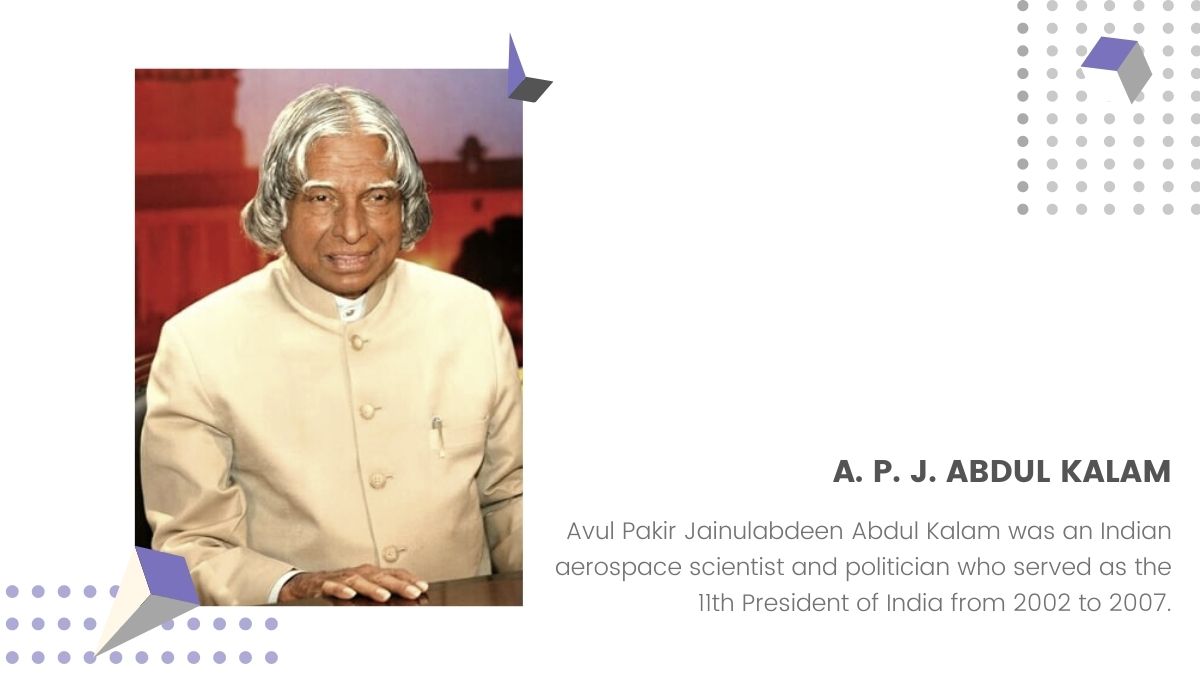 APJ Abdul Kalam was the 11th President of India for the term 2002 to 2007. Also known as the People's President, he was the brain behind India's attainment of nuclear status in the global arena. He was known as the 'Missile Man of India' for his work on the development of ballistic missiles and space rocket technology. His success story from being a newspaper boy to the President of India is inspirational. Abdul Kalam also faced his fair share of struggles in life to reach his ultimate goals.
Early life
Dr. Kalam was born in a poor family, to say the least. His father was a boatman and his mother, a housewife. Income was not very high, but the family was humble enough. They were five siblings, making it even difficult to make the ends meet. Dr. Kalam was the youngest but responsible enough; he decided to work at the tender age of eight. In his school years, Kalam had average grades but was described as a bright and hardworking student who had a strong desire to learn. He spent hours on his studies, especially mathematics.
He used to collect newspapers from the station and distribute them in the morning after attending maths tuition at 4 am. Afterward, he used to attend school and then collect the dues for the newspapers in the evening. Life was tough for him since his childhood but he was always positive and motivated, especially for his studies.

First lesson
While in his college, Dr. Kalam had to face the first-ever failure in his life. While working on an important project, the principal decided to check up on his progress suddenly. The principal felt dissatisfied as he had expected more than delivered. He then gave an ultimatum to Dr. Kalam; if the project could not be redone within 3 days, he would lose his scholarship. He found himself in a deep fix because not only was it difficult to be done in 3 days, but he could not afford to lose his scholarship. But he worked day and night, skipped meals, and somehow managed to finish it within the time limit.

Major failure
Dr. A.P.J. Abdul Kalam's first major project at ISRO was the SLV-3 which had failed in 1979 when it had been launched for the first time. He gave a motivational speech after this incident in which he talked about the role of a team leader and how to handle success and failure.


"When failure occurred, the leader of the organization owned that failure. When success came, he gave it to his team. The best management lesson I have learned did not come to me from reading a book; it came from that experience,"


DR. KALAM WHILE ADDRESSING SLV-3'S FAILURE

A year later, in 1980, he re-launched the SLV-3, successfully. Thereafter, he launched various missiles and became the 'Missile Man' of India. Elected as the President of India in 2002, with the support of both the ruling party as well as the opposition, he served till 2007. He was always a humble and a down to earth person.
Awards
| | | |
| --- | --- | --- |
| Year | Awards | Organization |
| 1981 | Padma Bhushan | Government of India |
| 1990 | Padma Vibhushan | Government of India |
| 1997 | Bharat Ratna | Government of India |
| 1998 | Veer Savarkar Award | Government of India |
| 2000 | Ramanujan Award | Alwars Research Centre, Chennai |
| 2009 | International von Kármán Wings Award | California Institute of Technology, USA |
| 2013 | Von Braun Award | National Space Society |
Above are the few major awards owned by Dr. APJ Abdul Kalam. The list is long enough to include in a single table that his achievements are golden rewards to India. Can say a gem of India.
Lessons we can learn
Life as that of Dr. APJ Abdul Kalam inspires the readers to learn from failures. That is what our motive at Failure Before Success is. Failures are as important as our successes, if not more; because they come with lessons that may change our outlook on life. Life is anything but a cakewalk. It is a constant journey through paths lined with thorns that eventually lead us to our destinations if we don't quit. Having high ambitions in life is easy but making them our realities require immense hard work, often through a lot of struggles. This blog is about a personality, whose life always oscillated between failing, trying hard to succeed, and succeeding, eventually.
Recent Update
Recently, Dr. APJ Abdul Kalam's Technical University announced collaboration with the UP Department of Technical Education to organise a startup expo in June 2022. More than 250 startup's registered in the programme. The aim of the startup expo is to motivate the young adults to come up with innovative ideas and promote entrepreneurship. The prize is money for the winning idea is 1 lac. Technical education minister Ashish Patel, Principal Secretary, technical education, Subhash Chand Sharma and UPLC MD Kumar Vineet will also be making an appearance at the expo.

Read also: MS Dhoni's success story
When was APJ Abdul Kalam elected as the President of India?
When did APJ Abdul Kalam receive the Nobel Prize?
APJ Abdul Kalam received the Nobel Prize in 2019.