Cristóbal Balenciaga | Success Story of the Spanish Fashion Designer
Cristóbal Balenciaga Eizaguirre is a Spanish fashion designer born on 21 January 1895 in Getaria, Gipuzkoa, Spain. He was the founder of the Balenciaga fashion house, and he started it in 1919. The fashion house is now one of the world's most well-known brands, with many famous people endorsing it.
Early Life
Cristóbal Balenciaga was a Spanish Fashion Designer and the founder of the Balenciaga fashion house. He was born on 21 January 1895 in Getaria, Gipuzkoa, Spain. His father passed away when he was very young, and his mother worked as a seamstress. Young Cristóbal used to watch his mother work all day. At the age of 12, Cristóbal started working under a tailor. When he was a teenager, his mother sent him to Madrid to get formal training as a tailor. 
In 1919, Cristóbal Balenciaga opened a boutique in San Sebastian. It became so successful that he opened branches in Madrid and Barcelona. Even the royal family of Spain and the aristocracy wore his designs. Unfortunately, Cristóbal had to close his stores because of the Spanish civil war. He moved to France and opened his Paris couture house in 1937.
After 30 years of running the most significant fashion house, Cristóbal decided to close it. He shut down his stores in Madrid, Barcelona, and Paris and decided to retire from the fashion world. On 23 March 1972, Cristóbal Balenciaga passed away due to a heart attack, and he was 77 at the time.
Work and Famous Designs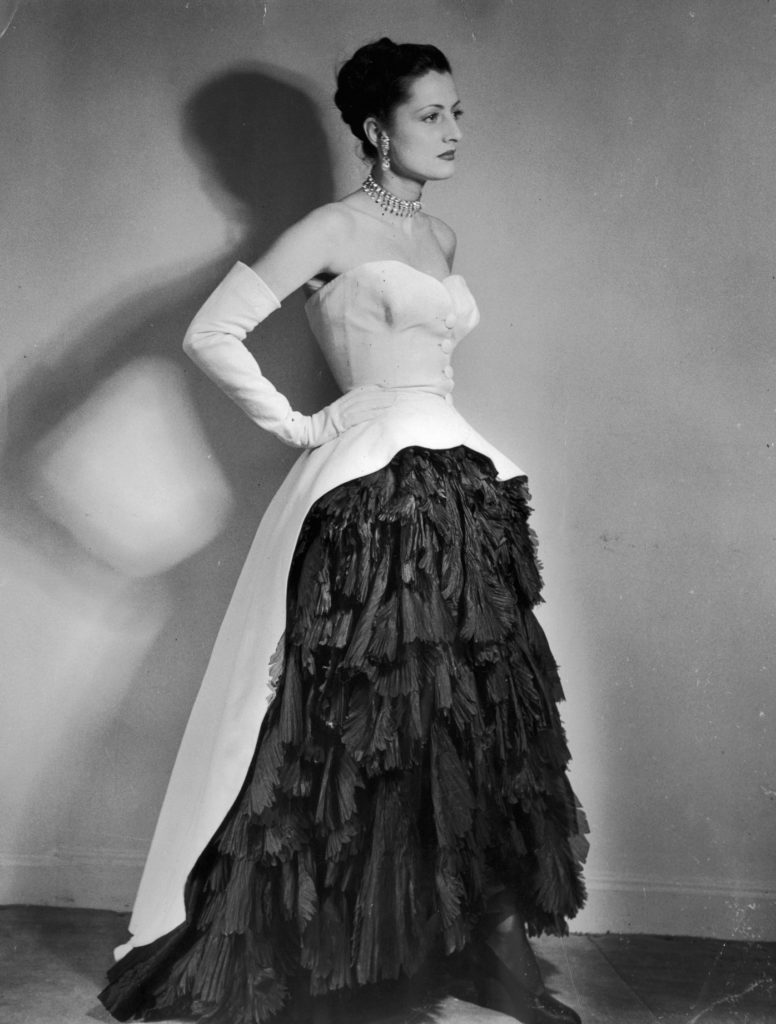 In the 1960s, Cristóbal innovated the fashion of that time, he experimented with his designs and clothes, and people loved them. He used bold materials, heavy fabrics, and highly intricated techniques. His signature styles included keeping the collar away from the collarbone to give a swanlike look and using bracelet sleeves. Some of his famous designs include White cotton pique and black taffeta & organza evening gown (1951), Black lace babydoll dress (1958), and a Printed silk dress (1960).
Cristóbal started a new design that consisted of high-waisted dresses and coats cut like kimonos. Another of his remarkable creations include the wedding dress of Queen Fabiola of Belgium; the dress was made with ivory duchess satin with white mink at the collar and hips. His brand is considered one of the most famous ones out there.
Personal Life
Cristóbal Balenciaga did not marry in his life. However, he was believed to be gay and kept his personal life private. Cristóbal was in love with his long-time partner, a Franco-Polish millionaire Władzio Jaworowski d'Attainville. He helped Cristóbal is funding and setting up his stores.
In 1948, Władzio Jaworowski d'Attainville passed away. This incident made Cristóbal so heartbroken that he considered closing the business. His following collection after d'Attainville's death was designed in all black to mourn his partner's death.
Balenciaga Today
The Cristóbal Balenciaga Museum opened in Getaria, Gipuzkoa, Spain in June 2011.
In November 2012, the company announced that they were parting ways with its creative director Nicolas Ghesquiere, who worked for the brand for 15 years. Alexander Wang became the new creative director. After three years of tenure, Alexander Wang also parted ways with Balenciaga. In October 2015, Demna Gvasalia became the new creative director.
Balenciaga is one of the most successful and well-known brands around the world. It paved the foundation for many fashion houses of the future.
Also Read: Sam Walton | Success Story of the Triumphing Walmart's Founder
How old was Cristóbal Balenciaga when he died?
He was 77 when he passed away.
How did Cristóbal Balenciaga die?
Cristóbal Balenciaga passes away due to a heart attack.