Adani Group | Most Successful Conglomerate business in India
Adani Group is an Indian multinational conglomerate. The company is headquartered in Ahmedabad, India. The group also has annual revenue of over US$20 billion with operations at 70 locations in 50 countries.
History
Adani Group was founded by Gautam Adani in 1988 as a commodity trading business, previously the company was known as Adani Exports. The company started with a capital of Rs 5 lakhs it was a flagship company of Adani Enterprises. In the year 1990, the company also developed its own port in Mundra, Gujarat, India. The company also provided the base for its trading operations. In the year 1998, it became the top net foreign exchange earner for India Inc. In 1999, it started its new venture in refining edible oil later the venture was named Adani Wilmar in 2000.
Adani group established a portfolio of ports, power plants, mines, ships, and railway lines both in and outside India. In the year 2002, Adani handled 4 Mt of cargo and became the largest private port in India. In 2008, the company then bought Bunyu Mine in Indonesia having 180 million MT of coal reserves. 2011, the company also bought the Galilee Basin mine in Australia with 10.4 billion MT of coal reserves. In 2014, the company was termed India's largest private power producer. Its power's total installed capacity now stands at 8,620 MW.
Adani Group Companies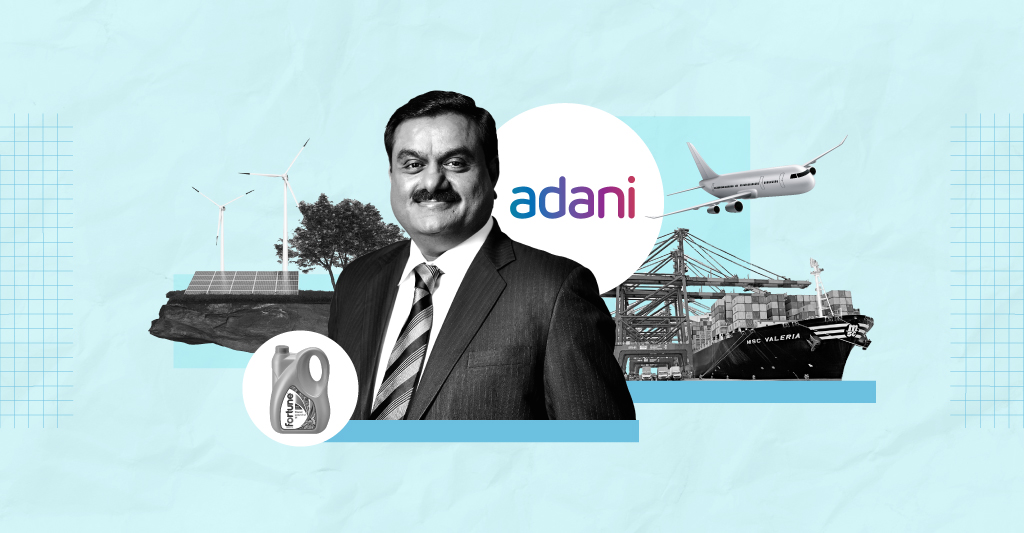 Adani Enterprises Limited
The Company focuses mainly on the infrastructure and the energy sector. The energy consists of sectors like Adani Power, Adani Transmission, Adani Green and Adani Gas Limited demerged from this company. Adani Enterprise established in the year 1994.
Adani Ports and Special Economic Zone Limited
This company is the largest commercial port in India it maintains nearly one-fourth of the cargo movement in the country. Adani Ports is the main company in Adani Group Subsidiaries. The company has 10 domestic ports in six states which are Gujarat, Goa, Kerala, Andhra Pradesh, Tamil Nadu, and Odisha. The company's port facilities are capable of handling the largest vessels calling at Indian shores. It also handles diverse cargo, from dry cargo, liquid cargo, and crude to containers.
Adani Power Limited
Adani Powers is the largest private thermal power producer in India. It has thermal power plants in states like Gujarat, Maharashtra, Karnataka, Rajasthan, and Chhattisgarh and a 40MW solar power in Gujarat. The company was the first company to set up coal-based thermal power projects.
Adani Transmission Limited
This company established in 2006. In 2018 the company then began distribution of space with the acquisition of Reliance Infrastructure's Power Generation, Transmission & Distribution business in Mumbai. Adani Transmission Limited operates more than 11k ckt km of transmission lines and around 18k MVA of power transformation capacity.
Adani Green Energy Limited
This company is also one of the largest renewable companies in India with a current project of 5,290 MW. Adani Green Energy Limited develops, builds, owns, operates and maintains utility-scale grid-connected solar and wind farm projects. It also has a presence across 11 Indian states. Along with 46 operational projects and 18 projects under construction, Adani Green Energy Limited is also driving India on its renewable energy journey.
How many companies are there under Adani Group?
The group has seven listed companies, including Adani Enterprises, Adani Ports, Adani Power, Adani Total Gas, Adani Green Energy, and Adani Transmission.
What does Adani Group deal with?
It was founded by Gautam Adani in 1988 as a commodity trading business, with the flagship company Adani Enterprises. The Group's diverse businesses include port management, electric power generation and transmission, renewable energy, mining, airport operations, natural gas, food processing and infrastructure.