Vin Diesel | Success Story of the Multifaceted Artist
Vin Diesel is one of the most prominent actors in the film industry. He has been a part of the entertainment business for over three decades. Vin rose to fame during the 2000s after starring in the box-office blockbuster The Fast and The Furious. Vin is famous for starring in action-packed movies. Hollywood considers him one of the most talented action heroes of the era. Vin achieved worldwide recognition for portraying Dominic Toretto in the epic Fast and Furious franchise. Since 2014, he has voiced MCU's beloved fictional character Groot. Vin has been a part of over fifty significant projects in his career.
About
Mark Sinclair, better known as Vin Diesel, is an American actor, producer, writer, and director. He is one of the wealthiest actors globally. Vin began his acting career in 1990 but struggled to attain success. However, Vin achieved worldwide acclaim after starring in the Fast and Furious franchise alongside Paul Walker. In his three-decade-long career, Vin has worked with iconic artists like Steven Speilberg, Dwayne Johnson, Tom Hanks, Ben Affleck, Michelle Yeoh, Charlize Theron, and James Cameron. Vin founded One Race Productions in 1995. The production house's feature films have grossed over $3 billion globally.
Early Life
On the 18th of July 1967, Mark Sinclair was born in Alameda County, California, USA. He never met his biological father. Mark's stepfather, Irving H. Vincent, was a theatre manager and acting instructor. In contrast, his mother, Delora Sherleen Sinclair, was an astrologer and psychiatrist. Irving has African-American descent, and Delora comes from an English, German, and Scottish background. Mark has a fraternal twin named Paul. The family moved to New York soon after Mark and Paul were born. Due to Irving's occupation, Mark and Paul grew up in an artistic community. The building they grew up in had everyone from painters to poets and sculptors to musicians. As a result, both started inclining toward performing arts from a young age.
During his childhood, Mark often got into trouble with his friends. He was the neighborhood's mischievous child. Once, Mark, his brother, and their group went into a theatre to vandalize it. However, the theatre's artistic director did not punish them. Instead, she offered them roles in the theatre's upcoming play Dinosaur Door. As a result, little Mark began his acting career. He was seven years old at the time. For schooling, he attended Greenwich Village School. Throughout his schooling years, Mark continued to participate in theatre productions. After completing high school, he joined Hunter College in NYC. While in college, Mark started gaining interest in screenwriting as an English major. Simultaneously, he began working as a bouncer in New York nightclubs to earn extra cash.
Beginning of Career
Mark decided to adopt a new name while working as a bouncer. He took his mother's last name Vincent and the nickname Diesel. His friends often called him Diesel due to his energetic personality. As a result, Mark Sinclair became Vin Diesel. After attending college for three years, Vin decided to drop out. He dreamed of pursuing a career in Hollywood. However, his theatre experience did not help him garner roles. In 1990, he got an uncredited role in Penny Marshall's Awakenings. Throughout the early 1990s, Vin struggled to get good opportunities. But he did not give up. For over three years, he saved money to make a film. Vin continued to work as a bouncer and also began selling lightbulbs.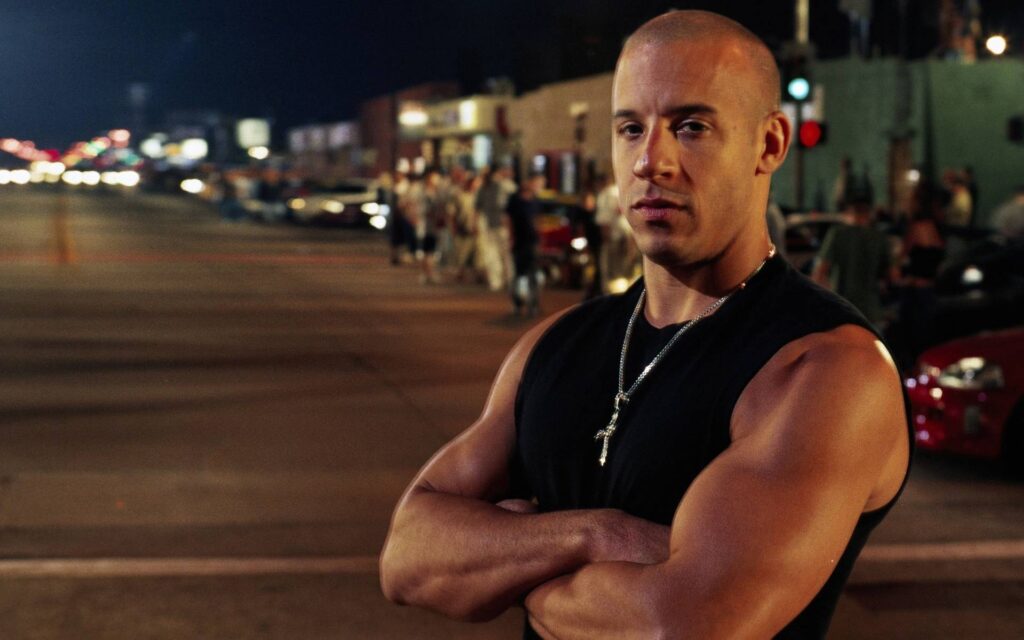 Finally, in 1994, he released the short drama film Multi-Facial. It revolved around a multiracial man struggling in the film industry to get a role. Vin's real-life experiences inspired the film's story. The film's gripping storyline garnered the attention of the legendary director Steven Speilberg. During the mid-1990s, Vin continued to secure funds to make his first feature film. On the 18th of January 1997, he directed, wrote, produced, and played the lead role in Strays. After that, Steven Speilberg decided to give him a role in his war film Saving Private Ryan.
Worldwide Recognition
After starring in Saving Private Ryan, Vin landed a role in Ben Younger's Boiler Room. Vin achieved critical acclaim for his performance. His success came in 2000 after portraying antihero Riddick in David Twohy's Pitch Black. The film was a commercial success and helped Vin gain considerable recognition. In 2001, he played the lead role in the action film The Fast and The Furious alongside Paul Walker. It was a major commercial success grossing over $200 million globally. There was no looking back for Vin after its success. Next year, Vin portrayed Agent Xander Cage in the action movie XXX. It was an even greater success than Vin's last film. During the 2000s, he became one of Hollywood's most bankable stars. Vin's success continued in the 2010s. He reprised his roles in the successful Fast & Furious and XXX franchise. Through these performances, Vin became a globally-recognized actor.
Also read: Dwayne Johnson | Success Story of 'The Rock'
How old is Vin Diesel?
Vin Diesel, born Mark Sinclair, is 55 years old as of 2022. He was born on the 18th of July 1967 in Alameda County, California, USA. Vin never met his biological father. He grew up in NYC with his mother, fraternal twin, and stepfather.
What is the net worth of Vin Diesel?
Vin Diesel's net worth is estimated to be $225 million. He is one of the wealthiest stars in Hollywood. Vin has been a part of the entertainment industry for over three decades. He is most renowned for his portrayal of Dominic Toretto in the Fast & Furious franchise.
Is Vin Diesel married?
No, Vin Diesel is not married to anyone as of 2022. However, he has been in a relationship with Paloma Jimenez since 2007. The couple has three children together. Paloma is a renowned Mexican model.