MS Dhoni | Success Story of the Most Influential Cricketer
Mahendra Singh Dhoni, also known as MS Dhoni, is a former Indian cricketer. He is considered one of the greatest cricketers in Indian history, and has had a very successful career as the captain of the Indian national team. Dhoni is known for his calm demeanor on the field and his ability to lead his team to victory in high-pressure situations. He retired from international cricket in August 2020.
The popularity of cricket in India is widespread. The youth and the elders connect with the players to the point that they regard them as sources of inspiration. Such is the aura around Mahendra Singh Dhoni as well. He has achieved spectacular success as a player, a captain, and a human being as well. However, his road to triumph hasn't been an easy one. The several rejections and setbacks in his life have been the central stepping stones toward his success. So let's dive deep into his story to know what it takes to be someone like him.
M S Dhoni's early life
Mahendra Singh Dhoni was born on Jul. 7, 1981, in Ranchi, Bihar. His father, Pan Singh, is now a retired employee of MECON, while his mother, Devaki Devi, is a housewife. He completed his schooling at DAV Jawahar Vidya Mandir, Shayamali, Ranchi.
Accidental introduction to cricket
As a child, Dhoni was always into sports. He was a district-level badminton and football player. His football coach sent him to fill the position of a wicketkeeper on the school cricket team. He played well and soon bagged a permanent place in the group. This ignited his passion for cricket. Dhoni started focussing more on cricket after his 10th grade. He was very passionate about cricket and wanted to prove himself in this sport.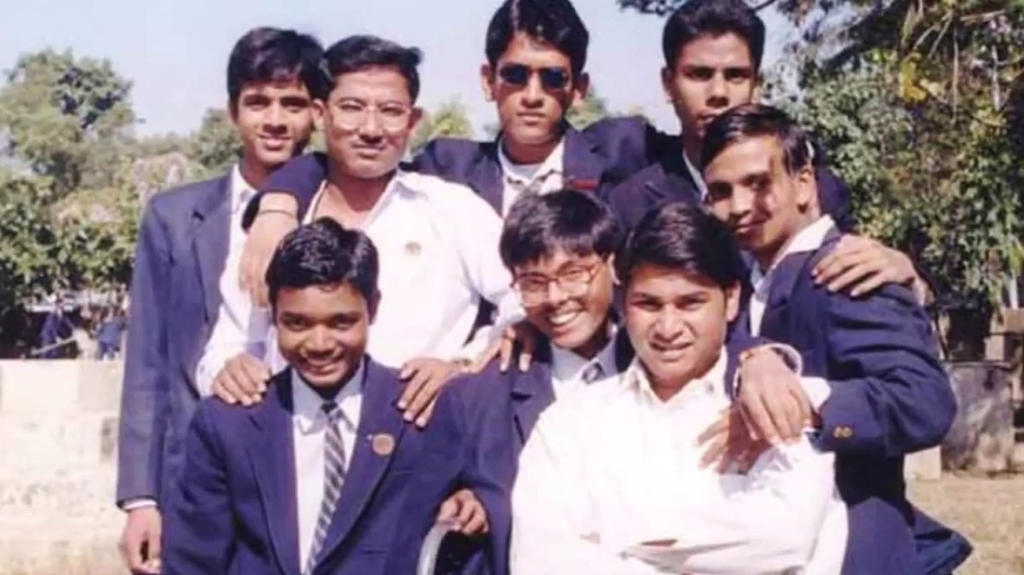 His father was not very fond of his son's growing interest in cricket. He was of the view that there is no future in sports. However, Dhoni was clear-sighted about what he wanted for himself. He struggled against the rigid opposition from his father for prioritizing cricket over studies. But he was confident about chasing his dreams. So, going against his father's wishes, Dhoni fulfilled his dreams instead. After that, he became a part of the Commando Cricket Club and an Under-16 championship. After this point, he pursued cricket seriously, but life had other plans for him.
Railways
After high school, Dhoni searched for a job to fund his growing cricket career. He got selected for the role of a ticket collector at the Kharagpur Railway Station as the SER (South Eastern Railways) cricket team was in search of a wicketkeeper. Thereon, life became a struggle for MSD. He had to run all day collecting and verifying tickets at the platforms and, in the late evening, had to sweat out at the training nets. Dhoni worked a day in and out to fight for his passion. He worked to make the most of the opportunities that came up his way. Half-heartedly he worked, but his heart was all at the games. He was very consistent and hardworking. His determination played a significant role in defining his successful destiny.
While managing his job, Dhoni continued playing tournaments as well. He struggled to manage the two aspects of his life but never complained. After several matches, he got selected to play in the Ranji Trophy and Deodhar Trophy. He performed well in both of these, earning him recognition in the cricket field. Selectors recognized him as a hard-hitting batsman in the Ranji Trophy. He worked for the railways for three years until the India-A team's selectors noticed him. He took up the job to sustain his family and fulfill his father's desire. Despite working, he had a hard time balancing his game as well.
Dhoni's hard work paid off when the Indian team selected him for an ODI series against Bangladesh. However, his luck didn't play well, and he got out for a duck in his first match. The rest of the series did not go as planned for him; it was average. It must have been hard for him because he had worked so hard for this moment, only to be led down again. But this didn't let his spirits down. He was determined to showcase his best and put in a lot more hard work for the later matches. His perseverance didn't let him down.
Breakthrough
The next match was his shot. Luck played in his favor the next time as he was selected for the Pakistan series. In the second match of the series, he scored a massive 148 off 123 to finally establish himself as a known face of the team. After that, there was no looking back. There were a lot more to come. This was the start, and he went ahead to make the most of his hard work and talent. His immense talent gained recognition, and he led the Indian team to the ICC World Twenty 20 Trophy in South Africa. Team India successfully won the trophy by defeating the Pakistani team. He accomplished his talent and made a mark for himself.
Dhoni is the only captain to win the ICC Trophy, ODI World Cup, and Champions Trophy. His leadership is something that is celebrated across the country. Fans regard Dhoni as one of the greatest captains the team has seen. Despite his massive popularity, people knew him as a calm, cool, and composed persona. It must be because he has seen life getting hard and that aggression does not lead to rational decisions.
MS Dhoni's achievements
In 2009, Dhoni was also awarded the Padma Shri, India's fourth-highest civilian honor. In 2011, Dhoni etched his name on the list of 100 most influential people in the world through his persistent efforts and hard work. He was also awarded the Padma Bhushan, the third-highest civilian award in the country, on Apr. 2, 2018.
After winning the Cricket World Cup in 2011, film director Neeraj Pandey decided to make a biopic on the life and achievements of Mahendra Singh Dhoni. The film, titled MS Dhoni: Untold Story – MS Dhoni The Untold Story, became a blockbuster hit and won the heart of many fans.
Besides being a great cricketer, MS Dhoni is also a connoisseur of cars and bikes. He has a collection of many expensive cars and bikes. Some of his luxurious cars are Ferrari 599 GTO, Audi Q7, SUV Hummer H2, Land Rover Freelander 2, and Jeep Grand Cherokee Trackhawk. Apart from this, Dhoni also has a collection of expensive bikes including Confederate Hellcat X132 and Superbike Kawasaki Ninja H2. On Aug. 15, 2020, Dhoni retired from all forms of International Cricket.
MS Dhoni is also the Captain of Chennai Super Kings in IPL and has already won the trophy four times. He was rumored to play his last IPL game in 2021, but he brushed those rumors away. Recently, in 2022 he stepped down from the captaincy of CSK and handed it over to Jadeja. He is expected to play T20 cricket in 2023 too.
Life lessons from Dhoni's life :
If there is one thing that we should take away from his story, then it is the fact that though life might not go the way we desire, we should never give up. Constant hard work will eventually lead us to our goals. Failures and successes are meant to be dealt with the same way. The power to bounce back stronger after every fall is essential. Never lose your confidence. Go ahead and chase your dreams.
Interesting Facts About MS Dhoni
Dhoni was born in Ranchi, Bihar (now in Jharkhand), and he grew up in Almora, Uttarakhand. He originally worked as a ticket collector for the Indian Railways before becoming a professional cricketer.
Dhoni made his debut for the Indian cricket team in December 2004, and he was appointed captain of the team in 2007. Under his leadership, India won the 2007 ICC World Twenty20, the 2010 Asia Cup, and the 2011 Cricket World Cup.
In addition to his cricketing achievements, Dhoni is also known for his philanthropy and charitable work. He has supported various causes, including education and healthcare, through his charitable foundation, the MS Dhoni Charitable Foundation.
Dhoni is a big fan of motorcycles and has a collection of several high-end bikes.
In 2012, Forbes magazine named Dhoni the 16th highest-paid athlete in the world, and he was also listed among the 100 most influential people in the world by Time magazine in 2011.
Dhoni has a helicopter shot that he is known for, in which he hits the ball high over the infield while using his wrist to impart a lot of spin.
Dhoni is the only captain in the history of cricket to have won all three ICC trophies (the 2007 ICC World Twenty20, the 2010 Asia Cup, and the 2011 Cricket World Cup).
Dhoni has a number of endorsement deals and is one of the most marketable sportspeople in India. He has endorsed brands such as Pepsi, Reebok, and Aircel, among others.
Recent Update:
Mahendra Singh Dhoni recently declared that he will return to IPL in 2023. After Chennai Super King's substandard performance in IPL 2022, speculations were going on about MS Dhoni's retirement from the Indian Premier League. However, in May 2022, he said that he'd represent Chennai Super Kings. However, the legendary cricket captain didn't specify whether he'll be returning as a captain or not.
In 2022, Mahendra Singh Dhoni paid a visit to the Indian Cricket Team playing in England. He was seen chatting with the cricketers. On the occasion of his 41st birthday, he attended the Wimbledon game. MS Dhoni and former Indian cricketing legend Sunil Gavaskar watched Indian tennis star Sania Mirza playing in the mixed doubles semi-final in Wimbledon.
Also Read: Sushant Singh Rajput: Story of success and sacrifices
Frequently Asked Questions
When MS Dhoni made ODI Debut for the Indian team?
 MS Dhoni made his ODI debut against Bangladesh. This was at MA Aziz Stadium on Dec. 23, 2004.
Which team did MS Dhoni make his Ranji trophy debut for?
Dhoni made his Ranji Trophy debut for Bihar.
What is Mahendra Singh Dhoni's nickname?
His nickname is MSD, and he is also sometimes referred to as "Captain Cool" because of his calm demeanor on the field.
How many matches has Mahendra Singh Dhoni played for India?
Dhoni has played over 500 matches for India across all three formats of the game (Test, ODI, and T20I).
What awards and accolades has Mahendra Singh Dhoni received?
Dhoni has received numerous awards and accolades for his cricketing achievements, including the Sir Garfield Sobers Trophy (ICC Cricketer of the Year) in 2007 and the ICC ODI Player of the Year award in 2008. He has also been awarded the Padma Bhushan, one of India's highest civilian honors, for his contributions to Indian cricket.