Ashton Kutcher | Success Story of the American Actor and Investor
Ashton Kutcher is a well-known actor and producer who has had roles in many movies. He started his acting career on the hit TV show That '70s Show (1998 – 2006). Outside of entertainment, he is also a venture capitalist who co-founded A-Grade Investments.
Early Life
Ashton Kutcher was born in Cedar Rapids, Iowa. His ancestry includes Czech, German and Irish roots. He has an older sister named Tausha and a fraternal twin brother named Michael, who had a heart transplant when they were young children. Michael also has cerebral palsy and is the spokesperson for the advocacy organization Reaching for the Stars.
Also, Michael's cardiomyopathy caused Kutcher's home life to become increasingly stressful. He told People that "I didn't want to come home and find more bad news about my brother" his parents divorced when he was 16. Kutcher attended Washington High School in Cedar Rapids for his first year. Later he moved to Homestead, where he graduated from Clear Creek-Amana High School as the class of 1986.
In his high school years, he developed a passion for acting. During his senior year, he broke into his school with his cousin. They attempted to steal money but were arrested before leaving the scene. The court sentenced him to 180 hours of community service plus three years probation. After this, he lost all his college scholarships because they found out about it. At the same time, he became an outsider among classmates and members in their town who did not understand what happened that night.
Kutcher enrolled at the University of Iowa in August 1996, where his planned major was biochemical engineering. He wanted to cure his brother's heart ailment. However, he got kicked out of his house because he "partied too hard" and had a few nights that were left unexplained. Since even after waking up, he had no idea what had happened the night before.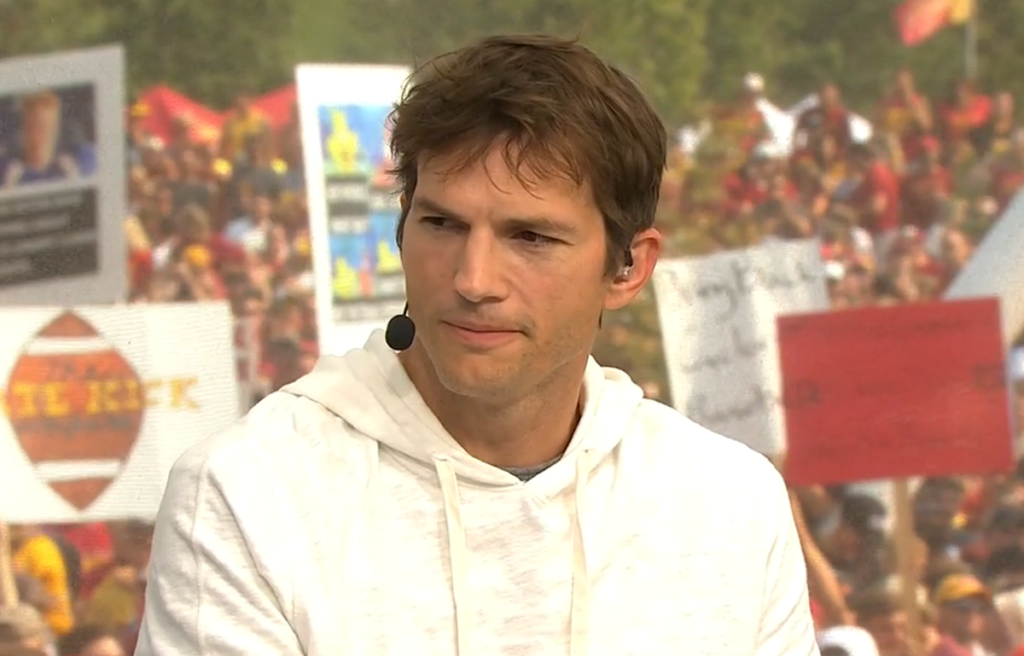 Career of Ashton Kutcher
A model scout approached Ashton Kutcher at The Airliner Bar in Iowa City. Later he entered the "Fresh Faces of Iowa" modeling competition. He won first place, receiving an all-expenses-paid trip to New York City's International Modeling and Talent Association (IMTA) Convention.
Kutcher established himself as a model after his first audition. He was cast in the role of Micheal Kelso on That '70s Show from 1998 to 2006. Kutcher starred in several comedy films like Dude, Where's My Car? (2000), Just Married (2003), and Guess Who (2005).
In 2004 he played a conflicted young man with the ability to time travel in The Butterfly Effect opposite Ashton's ex-girlfriend Demi Moore who is also coincidentally starring alongside him again for this film. Despite receiving negative reviews, The Butterfly Effect was a box office success that racked up more than 100 million dollars worldwide.
Ashton Kutcher was the host for MTV's Punk'd and an executive producer of reality television shows like Beauty and the Geek (featuring Three 6 Mafia), The Real Wedding Crashers, and Opportunity Knocks. Many of his production credits come from Katalyst Films, which he established with Jason Goldberg.
Later, in May 2011, he announced that he would replace Charlie Sheen on Two and A Half Men; his one-year contract is worth nearly twenty million dollars.
Kutcher has been a guest shark on the TV show Shark Tank for several episodes and was in Family Guy's "Candy, Quahog Marshmallow" episode. From 2016 to 2020, he starred as Colt Bennett in Netflix series 'The Ranch' alongside Danny Masterson, Elisha Cuthbert, and Debra Winger.
Also Read: The success story of Mila Kunis | From an immigrant to a Hollywood actress