Bethany Hamilton | Success story of a surfer who survived shark attack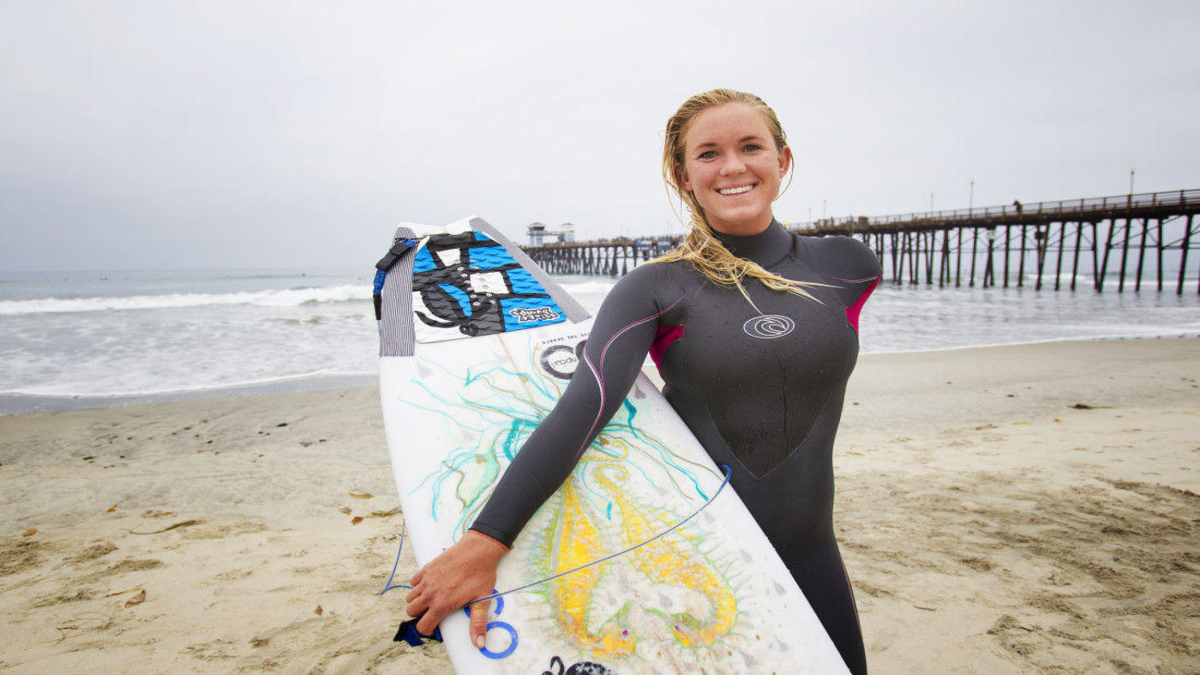 Bethany Hamilton is an American professional surfer. In 2003, at just the age of 13, Hamilton lost her left arm to a 14-foot tiger shark. This seemed like the end of her surfing career. However, one month after the attack, Hamilton returned back to surfing and won her first national surfing title within two years. Her incredible success story of determination and hope is inspiring to many all around the world. She wrote about her near-death experience in her autobiography titled Soul Surfer: A True Story of Faith, Family, and Fighting to Get Back on the Board. In 2011, the book was adapted into the making of a biographical drama film called Soul Surfer.
Early life
Bethany Hamilton was born on February 8, 1990 to Tom and Cheri Hamilton. She started learning how to surf at the age of three. Eventually, Hamilton began surfing competitively at the age of eight. She bagged her first sponsorship at the age of nine. From a very young age, Hamilton was passionate about surfing and wanted to pursue a career in it. Her passion and perseverance helped her recover from the accident and become an inspiration. She has two older brothers, Noah and Timothy. Her father was a waiter at a café.
Bethany Hamilton's tragic accident
On October 31, 2003, 13-year-old Hamilton went for a morning surf with her best friend, Alana and Alana's family. While lying on her surfboard belly-down and talking with Alana, a 14-foot-long tiger shark attacked her. The shark bit off her left arm, just below the shoulder. Alana's family helped paddle her back to shore and wrapped a tourniquet around the stump of her arm. Bethany was rushed to the hospital. By the time she arrived there, she had lost over 60% of her blood and was in hypovolemic shock. A doctor living in a hotel nearby raced to the rescue. In an interview, she stated that she felt normal while she was bitten and did not feel much pain from the bite. Although, she felt numb on the way to the hospital.
Hamilton's incredible recovery
Despite the trauma of the accident, Bethany Hamilton returned back to surfing. Just 26 days after her attack, Hamilton returned to the water and entered her first major competition on January 10, 2004. Throughout her career, she competed in various surfing competitions in the United States and other countries. She also placed first in many events and established herself as one of the best surfers in the world. In 2012, she became the first woman surfer to surf in the Rip Curl Cup.
In 2016, Bethany beat a six-time world champion and the top-ranked surfer in the world at a major competition. She was inducted into the Surfer's Hall of Fame in 2017. Today, she continues to inspire lives all around the world as a professional surfer, author, and motivational speaker.
Awards and Books published
| | |
| --- | --- |
| Nickelodeon Kids Choice | Favorite Comeback Athlete |
| FOX Teen Choice | Courage Award |
| United States Sports Academy | Honolulu Citizens Award, a courage award |
| For Comeback Athlete of the Year | USA Today's Free Spirit Award and an ESPY Award |
Awards
Books Published by Hamilton
| | |
| --- | --- |
| Soul Surfer: A True Story of Faith, Family, and Fighting to Get Back on the Board | 2004 |
| Devotions for the Soul Surfer | 2006 |
| Rise Above: A 90-day Devotional | 2007 |
| Ask Bethany: FAQs: Surfing, Faith, and Friends | 2007 |
| Body and Soul: A Girl's Guide to a Fit, Fun, and Fabulous Life | 2014 |
| Ask Bethany: Bethany Answers Over 200 Questions from Girls Like You | 2014 |
| Be Unstoppable: The Art of Never Giving Up | 2018 |
| Unstoppable me | 2018 |
Marriage
Bethany met the youth minister Adam Dirks through mutual friends and they got engaged in 2013. They got married in August 18, 2013 and had a son on June 1, 2015. Currently, they have 3 sons. Their marriage is featured throughout the documentary "Bethany Hamilton: Unstoppable."
Lessons we can learn
Bethany Hamilton's incredible story teaches us how we can overcome some of the hardest challenges with passion and determination. Bethany never lost hope and pursued her dreams. If you are passionate about something, you find a way to make it happen. With constant hard work and dedication, we can achieve anything and reach new heights. Strength and growth come only through continuous effort and struggle. Apart from being a surfer, Bethany gives mentorship classes on faith, healing, personal health and relationships.
Also read: Tiffany Haddish | The success story of the Emmy-Award winning actress and comedian
How old was Bethany Hamilton when she was attacked?
Hamilton was 13 years old.
Which movie is based on her life?