Kili Paul | The Success Story of Tanzanian Social Star
Many influencers have emerged with bloom in social media. But, few of them became remarkable. One such sensational influencer of the year 2022 is "Kili Paul" from Africa, who gained popularity within a short period. He is a dancer and content creator as well. Let us witness this epitome of success.
EARLY LIFE
Kili Paul, the social star, was born on 9 October 1995 in Umlazi, Kwazulu-Natal, South Africa, to a Christian family. He currently lives in Luboga, Morogoro, Tanzania. Paul has a sister named Neema, known by many for her dance videos on Instagram. He studied at the School of Tanzania and pursued further studies at college in Africa.
CAREER
Initially, Kili Paul, along with his sister, did farming and took care of the household chores. Later, in 2019, he made his career as a content creator. He used to post his videos on YouTube and TikTok. From having only few followers on his channel to 2.8M followers today on Instagram, his journey is truly an inspiration. He did not give up, even after a ban on TikTok in India. So, he started to post his content on Instagram, with which he started gaining popularity.
KILI PAUL'S FAMOUS CONTENT
A lip-sync reel on the song "Raataan Lambiyaan" from "Shershaah" on his profile featuring him and his sister became viral and brought him a lot of fame. People started following his profile on Instagram. He made reels on songs that gained much attention, like Saami Saami and Kacha badam. Also, the duo made a lip-sync video on "Jaane Kya Baat Hai" as a tribute to the late singer "Lata Mangeshkar" on her demise.
Kili Paul seems to be a person, who is culturally driven. Generally, he makes his videos by wearing the ancient Maasai costume. Besides that, the way he expressed his love and respect towards India by lip-syncing the National Anthem on Republic Day, shows that he is culturally rooted.
ACHIEVEMENTS
Paul appeared in various interviews in a row after grooving to the famous Indian beats. He received appreciation from famous Bollywood singer "Jubin Nautiyal" and was also mentioned in one of the Prime Minister's Mann Ki Baat. On 21 February 2022, Paul received felicitation from Binaya Pradhan, the Indian High Commissioner in Tanzania. Grateful for the support he received, Paul thanked all his fans from India. He is now all set to work with an Indian music director "Tanishk Bagchi" on his upcoming music video. His determination and simplicity have made him a star and stand as an inspiration to many.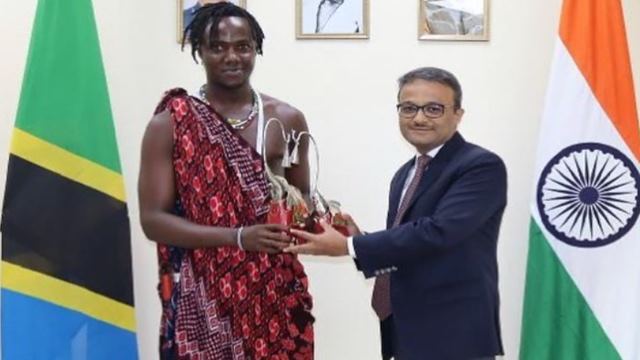 ALSO READ : Yashraj Mukhate | Success story of the Indian Composer
Where is Kili Paul from?
Kili Paul is from Luboga, Tanzania, Africa.
What is Kili Paul famous for?
Kili Paul is a dancer and content creator on Instagram. He got popularity with lip-sync video of the Bollywood song "Rataan Lambiyaan".
Who is Neema Paul?
Neema Paul is Kili Paul's sister. She also appears in his videos.