Maria Sharapova | The Legendary Russian Tennis Star
Maria Sharapova is one of the biggest names in tennis history. In her career, she has won multiple Grand Slam Titles. She was one of the highest-paid tennis stars for over a decade, and she became an Olympic medalist in 2012 at the London Olympics. Time has named her one of the "30 Legends of Women's Tennis."
About
Maria Sharapova became the number one tennis player in the world at 18. She became the first Russian woman to top the singles rankings. Forbes has listed her name in the "Highest-paid Athletes in the World" list. Throughout her career, Maria won more than 35 titles. In 2007, she became a Goodwill Ambassador of the United Nations Development Programme associated with the Chernobyl Recovery and Development Programme.
Early Life & Struggles
On the 19th of April 1987, Maria Yuryevna Sharapova was born in Nyagan, Russian SFSR, Soviet Union. Her father, Yuri Sharapova, worked in a construction company and her mother, Yelena, was an avid athlete. Her parents met in Gomel, Belarus. Gomel was roughly 120 miles away from the Chernobyl Nuclear Reactor. The world's worst nuclear accident happened in April 1986. The couple decided to move out from Gomel after Yelena became pregnant. They wanted to escape from the hazardous, radioactive effects of the nuclear catastrophe. They moved to Nyagan, Siberia. After a few months, Maria was born. Maria's father started working in the Siberian oilfields. However, the weather conditions were harsh. The couple saved money for four years and finally moved to Sochi, a resort city in southwestern Russia.
Maria's parents liked to play tennis. When she was young, her parents gave her a racket and taught her how to hit the ball. The couple couldn't afford to buy a child-size racket, so they gave her an adult-sized racket by cutting off its handle. Maria started learning quickly, and soon she mastered how to hit the ball with a racket. In 1993, the family traveled to Moscow to attend a Youth Tennis Clinic. Martina Navratilova, a former tennis player and coach was present at the tennis clinic. Young Maria caught her attention. Martina suggested to her parents that they contact Nick Bollettieri from Bradenton, Florida, to train Maria professionally.
Nick Bollettieri had previously trained legendary tennis players like Andre Agassi and Anna Kournikova. Maria's parents didn't have enough money to travel to the United States of America. None of them could speak English. Moreover, Russia was in a financial crisis, and middle-class families struggled to make ends meet.
1994-1997: Life in the USA and Beginning of Professional Training
Maria's father, Yuri, borrowed some money and used all his savings to enable his daughter to travel to the States. The couple applied for a visa, but Yelena couldn't join her husband and daughter due to visa restrictions. In 1994, Maria and her father arrived in Florida. Yuri had $700. Upon reaching the States, he went to the Nick Bollettieri Tennis Academy. However, after arriving, he learned that the admission is done by invitation only. Thereafter, he started looking for part-time jobs. Yelena stayed back in Russia and waited for her visa to get approved. Yuri struggled to find a job in Florida because the state did not provide jobs to all citizens back then. He also faced trouble getting a house and healthcare.
Admission Into The Nick Bollettieri Tennis Academy
Finally, Yuri found a part-time job and started working as a waiter. To provide for his family, he did several other jobs. Soon, he admitted Maria to English classes, and she learned English in just four months. After that, he started looking for a coach. Maria's tennis skills began improving. Two years later, Yuri and Maria returned to the Nick Bollettieri Tennis Academy. On the tryout, nine-year-old Maria showed impressive skills. The management group associated with the academy recognized young Maria's talent and rewarded her with a full scholarship.
Soon, Yelena's visa got approved, and she reunited with her family after two long years. After admission into the Bollettieri Academy, Maria had to stay in its boarding school. The atmosphere at the academy was highly competitive, and Maria often got bullied by older girls. Her routine consisted of regular academic classes and practice sessions for six hours at the tennis court. In 1997, Robert Lansdorp, a tennis coach that trained Tracy Austin, Lindsay Davenport, and Sampras, signed Maria. Simultaneously, IMG signed her. As a result, Maria grabbed her first deal with Nike at 11.
Breakthrough
At 13, Maria won the Eddie Herr International Junior Tennis Championship in November 2000. She made her professional debut at the age of 14. She reached the finals of two significant girls' singles events in 2002, the Australian Open and Wimbledon. In the same year, she reached the third round of the French Open. The following year, she played an entire season as a professional and won the "WTA Newcomer of the Year" Award. In 2004, Maria created history by winning against defending champion Serena Williams at the 2004 Wimbledon. She won her first Grand Slam Singles title and entered the top 10 rankings. Between 2005-06, Sharapova won many titles and ranked in the top 10.
2007-14
Sharapova entered the Australian Open as the top seed in 2007. Upon reaching the finals, she regained her World number one position. She peaked in the rankings for seven consecutive weeks. However, due to a shoulder injury, Maria had to miss out on many tournaments. In 2008, she made a memorable comeback to the court. She lifted her third Grand Slam title without losing any set at the Australian Open. As a result, she regained her top spot at the rankings, which had dropped due to the shoulder injury.

However, in August 2008, it was revealed by an MRI scan that she had been suffering from another shoulder injury. Two months later, she had to undergo surgery. The following year, she did not participate in the Australian Open because her shoulder was still recovering. She missed a few events and couldn't win any significant title that year. She finished the year at the number 14 spot in the world rankings.
In 2012, Maria made a successful comeback to the clay court. She won her fourth Grand Slam title at the French Open. Following that, she made her Olympic debut. Serena Williams defeated Maria. However, Maria won the Silver medal and became world no. 2. In 2013, Maria withdrew from the US Open due to a recurring shoulder injury. The following year, she made a strong comeback. She lifted her fifth Grand Slam title at the French Open by defeating Simona Halep.
2015-Present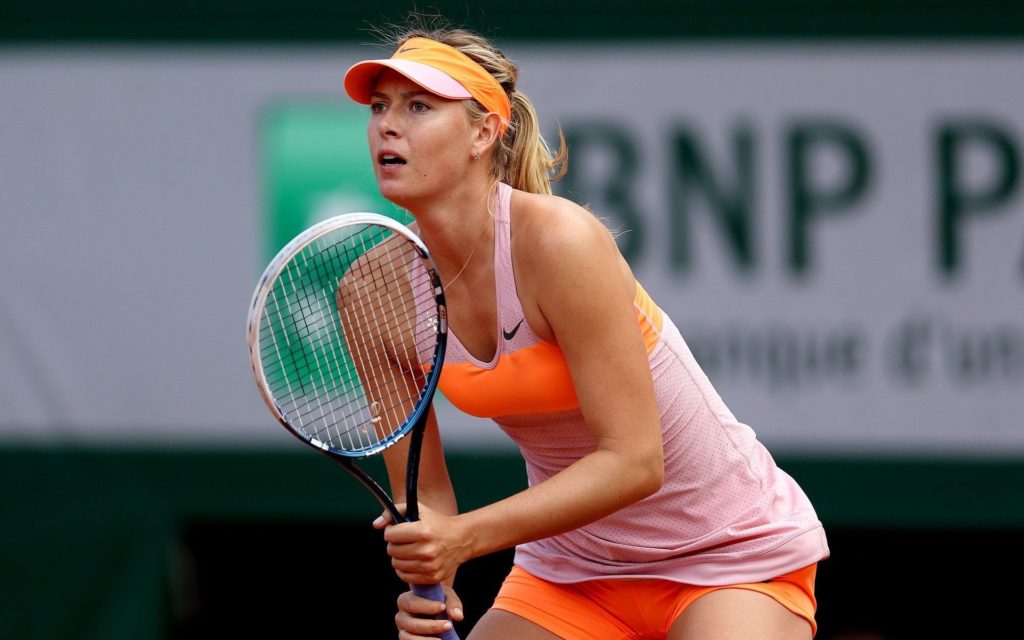 Maria began her 2015 season by winning the Brisbane International Tournament. She reached the finals without losing any set. In 2016, Sharapova was suspended for two years after testing positive for meldonium. However, in October 2016, the period of two years was reduced to 15 months upon appeal. Notably, Sharapova had taken the drug on her doctor's advice, while the ITF did not ban the drug.
In 2017, Maria returned to the tennis court after 15 months. She lifted her first WTA title in two years after defeating Aryna Sabalenka in the finals of the Tianjin Open. In 2019, Maria played her 800th match at the Shenzhen Open. She was going to appear in the French Open. However, Maria had to withdraw from many significant events due to another shoulder injury. She had to undergo minor surgery and returned to court after 4 months. Maria received a wild card entry at the Mallorca Open but lost in the second round. Later on, at the US Open, she was defeated by Serena Williams. She ended the year at 131, her lowest ranking in 17 years.
2020: Retirement
At the 2020 Australian Open, Maria lost in the first round. Her ranking went down to number 369. In February, she announced her retirement from tennis. In the same year, she got engaged to a British businessman, Alexander Gilkes. Recently, on her 35th birthday, she announced her first pregnancy.
Also read: Sania Mirza | The Star of Indian Tennis
How old is Maria Sharapova?
Maria Sharapova is 35 years old as of now.
What is the net worth of Maria Sharapova?
Maria Sharapova's net worth is $285 million.
Where does Maria Sharapova live?
Maria Sharapova lives in Florida.