Pedri Gonzalez | The Golden Boy
Pedri Gonzalez is a Spanish footballer who plays as a Central Midfielder. He plays for the Spanish National team and in the Spanish League for FC Barcelona. He won the Kopa Trophy and Golden Boy in 2021.
Personal Life
Pedro Gonzales Lopes, known as Pedri Gonzales, was born on 25th November 2002. He was born in a Spanish family in a small town in Tegueste, Spain. He has an elder brother named Fernando Gonzalez. His grandfather is the founder of FC Barcelona's supporter's club in their hometown. Pedri's family were always a fan of FC Barcelona. Their eating plates had FC Barca's badge inscribed on it. Pedri used to admire Andres Iniesta a lot.
He often played in the streets of Tegueste. Pedri worked hard but was not getting opportunities in a bigger academy.
Club Career
At the age of 13, after a successful trial, Juventud Lagua's youth team selected him. He kept on improving and he joined UD Las Palmas's youth team. After playing for a few months in the youth team, Pepe Mel, promoted him to the first team in 2019 by Pepe Mel. The month he made his debut he broke the record and became the youngest goalscorer for Las Palmas. As Pedri was getting better offers from clubs his family decided to shift to the mainland.
In 2019, Barcelona reached an agreement with Las Palmas for Pedri's transfer. Pedri signed a two years contract with FC Barcelona which paid 5 million euros for the deal. He became a part of the main squad and was given the number 16 shirt. Pedri made his debut in Barcelona on 27TH September replacing Philippe Coutinho. He scored his first goal for the club on his UEFA Champions League debut and they won the match. He scored his first La Liga goal on November 7th.
Pedri won his first trophy in April by winning the Copa del Rey Final. He became the youngest player to reach 50 appearances for FC Barcelona. Pedri signed a new contract with FC Barcelona in the middle of 2021 which contained a release clause of 1.57 million euros. He became the fastest goalscorer in Derbi Barceloni in the 21st century.
Midfielder Pedri is getting a new number for the 2022-23 season as he will swap the number 16 with the number 8. The club had a ceremony on the 8th of July to declare that Pedri will be be now given the number 8 jersey which was followed by autographs and photoshoots with the fans. The number 8 was worn by Dani Alves , Phillip Courtinho , Pjanic and Pedri's Idol Andres Iniesta.
International Career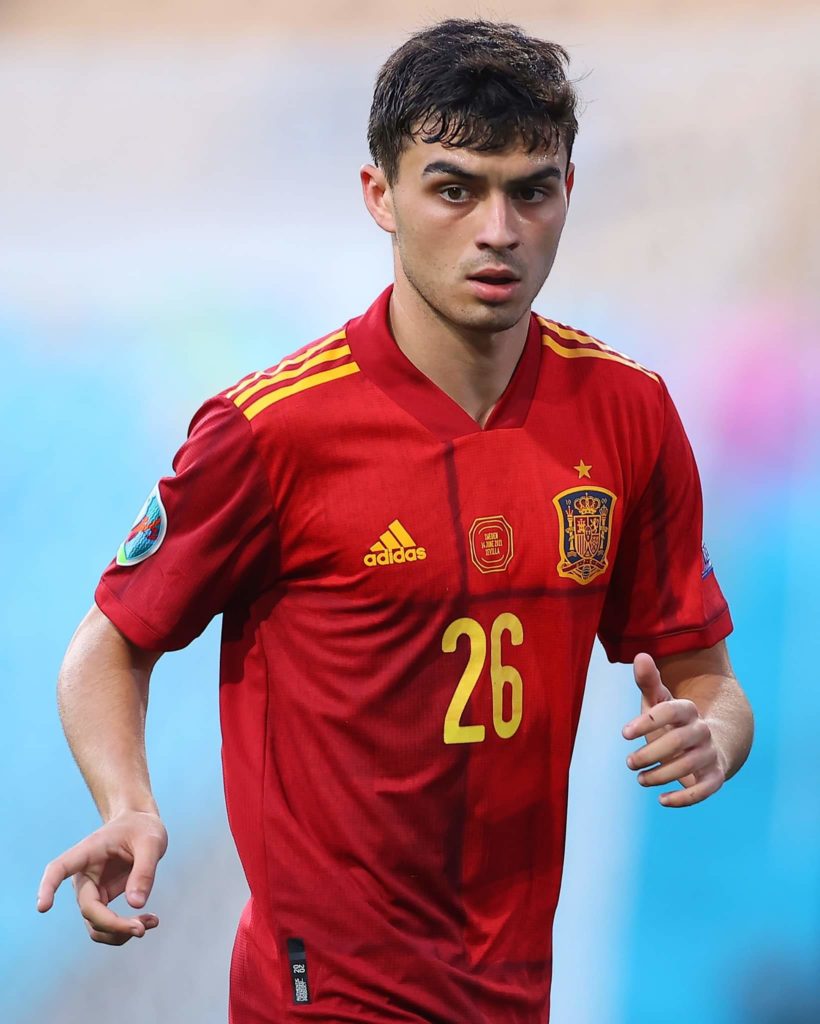 In 2020, the Spain U-21 squad called him up. He made his debut in 2021 for UEFA European Under 21 Championship. Later that year the senior team then called him and made his debut against Greece for the 2022 FIFA World Cup qualification.
Pedri became the youngest player to ever represent Spain in a Europen Championship. He also became the youngest player to feature in a knock-out game in a European Championship. He was again called up by Spain for the 2020 Summer Olympics in 2021.
Style of Play
Pedri is a young enthusiastic player mainly known as a Winger by pundits. Further, he was given a role with Midfield occasionally used as central, attacking, defensive and center-forward making him an effective playmaker. His slight frame, qualities, position, and playing style have led him to be compared to former Barcelona players such as Xavi, Lionel Messi, etc.
Achievements
Pedri won his first senior trophy with FC Barcelona by winning Copa del Rey in the 2020-21 season. He also won a silver medal for Spain in Summer Olympics in 2021.
Apart from collective awards he also won some individual awards like Golden Boy 2021, Kopa Trophy 2021, UEFA European Championship Team of the Tournament 2020, UEFA European Championship Young Player of the Tournament 2020, UEFA Champions League Breakthrough XI 2020, IFFHS World's Best Youth (20) Player 2021 and Trofeo Aldo Rovira 2020-21 season.
Also Read: Lionel Messi | The Greatest Footballer of all Time
What is Pedri's jersey number?
He wears 16 for Barcelona, and 26 for Spain.