Prithvi Pankaj Shaw | Second- youngest professional Indian cricketer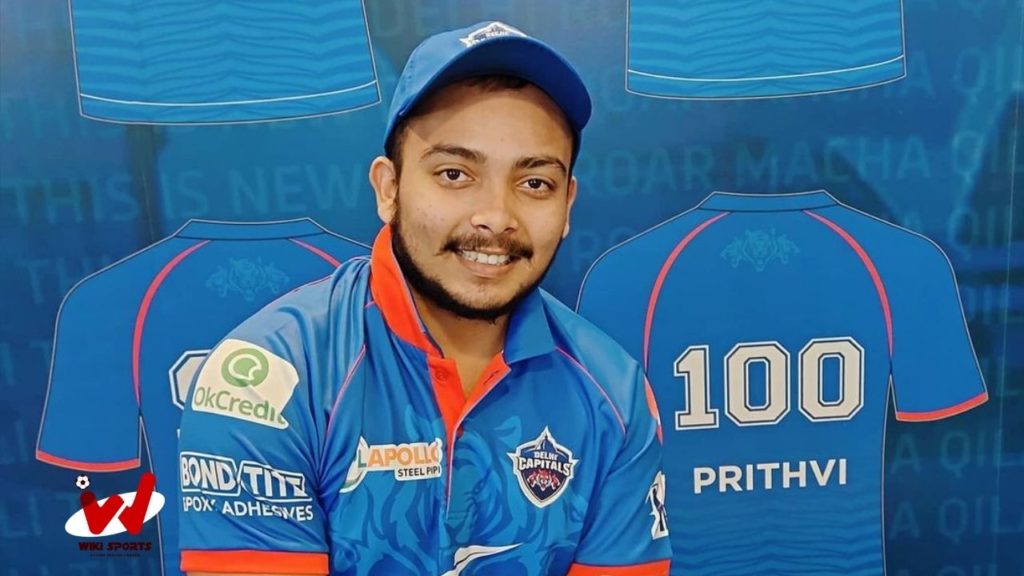 Prithvi Pankaj Shaw is one of the most talented suitable hand openers traversing through rank in recent times. He was also mainly known as the next Sachin Tendulkar, for his better score and centuries through his initial matches. 
The early life of Prithvi
Prithvi Pankaj Shaw was born on 09 November 1999 in Gaya, Bihar. His father, Pankaj Shaw, moved to Thane, Maharashtra, in search of employment. At the age of 3, only he started playing cricket, but too bad it happened his mother passed away. When to overcome, he focused himself on cricket.
He did his schooling at A.V.S. Vidyamandir, Virar, Mumbai and Rizvi Springfield High School, Mumbai. Currently, he is pursuing his graduation from Rizvi College of Arts, Science & Commerce, Mumbai. At 11 years old, he received a contract offer from AAP Entertainment Limited that let him shift to Mumbai along with his father to continue his cricket studies.
Career
After moving to Mumbai in 2010, Nilesh Kulkarni, a retired spinner, sponsored Shaw INR 300000. At a tender age, it was hard for Shaw to grow in the stricter part of Scoring runs at the first-class level. He knocked the door into the realm of junior cricket when he played in the school circuit in England and scored 1446 runs over two months.
Prithvi opened his cricket score in the 2013 Harris Shield elite division match by scoring 546 out of 330 balls at 14. He under-19 captain Rizvi Springfield to two Harris Shield titles in 2012 and 2013, the most prestigious trophy in Indian youth cricket.
In 2013 he played for Cryptics vs. Middleton Stoney Cricket Club in Oxfordshire and Julian Wood Cricket Academy in England with 68 runs following 73runs parallel. As under-19, he hit his first century in his fifth ODI in 2017. He scored his second consecutive century in the 2017–18 Ranji Trophy, he scored his second successive century. In 2018 he was captain U-19 Indian cricket team, and the team won the world cup in New Zealand. 
Indian Premier League
Prithvi Shaw, for long, has been touted as the next big thing in Indian cricket, and judging by that, Delhi bought him at an excellent price of 1.2 Crores.
On 27 April 2018, Prithvi Shaw scored IPL fifty against the Kolkata Knight Riders, knock of 62 runs helped Delhi Daredevils secure a comfortable 55-run victory against KKR. On 29 April 2021, Shaw became the second player to hit six boundaries in IPL.
National and International career
His first national record was Rizvi Springfield in a Harris Shield match. Shaw's innings lasted six hours and seven minutes and contained 85 fours and five sixes. Rizvi scored 991 runs, having bowled out their opponents, St Francis d'Assisi, for 93.
This innings attracted significant media attention. Meanwhile, Sachin Tendulkar was officially on retirement from international cricket. He wrote for Shaw, "Less than a week after India bid its final farewell to the Little Master, the Master's Apprentice conjured an innings of almost supernatural brilliance," wrote Howard Swains in a Freaky Good Futures profile of Shaw.
As mentioned earlier, he made his debut in England match in 2018. In September 2018, India's Test squad for their series against the West Indies. A first debut only, he made his maiden century in tests, and India won it, and he got  "Player of the Series." January 2020, Shaw was named in India's One Day International (ODI) as his first debut squad for their series against New Zealand. In June 2021, he played in both ODI and T20 international teams against Srilanka.
Summon up
With the correct guidance, enough chances, and reasonable workload distribution, he may well be his batting prodigy, who could make the cricketing world bow down to him in the coming years.  Looking at his cricket graph, one can easily see his potential to reach the highest level possible.
Also Read: Hardik Pandya | The success story of popular Indian cricketer
Prithvi Pankaj Shaw ipl team in 2022?
Delhi Capitals in the Indian Premier League. He was retained by Dehli Capitals ahead of the auction of the Tata IPL 2022.