Sandeep Maheshwari: Success Story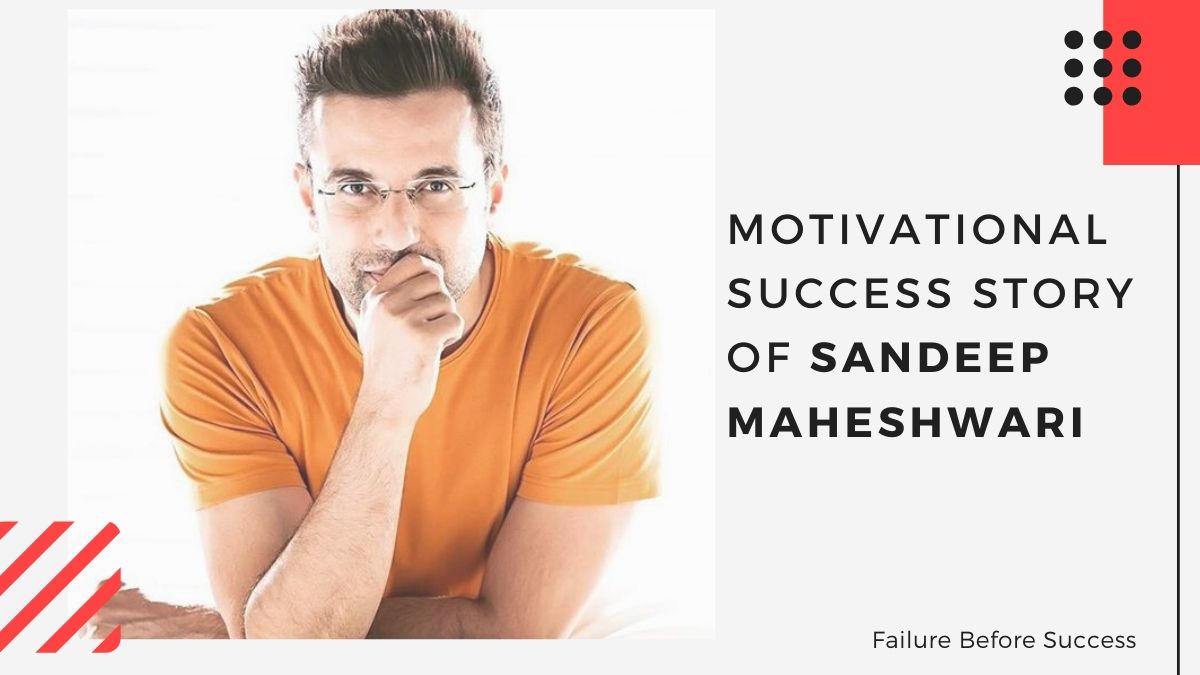 Sandeep Maheshwari not only motivates some people but the whole India country. He is in the top 10 list of most subscribed channels in India.
Did you know? That person also fails in his life many times, but he didn't give up. We all know his current position but let me talk about his failures before success.
Early life
Sandeep Maheshwari was extremely naughty in his childhood days. You can say he was totally opposite to his present character. Many times he tried to change his life, but his image on his school was not good, so he decided to change his school after 10th class.
On his new school, he got his soulmate which is his current wife. Everyone born with a unique talent, but Sandeep Maheshwari always sees his positive things into the negative, cause of his low self stream.
He was a bit different from others; he used to bunk his class with his girlfriend in his 11th standard. But in his 12th standard, He feels that his family financial condition is not good. So he decided to study hard. His hard work paid off, and he qualified 12th exam with 85% marks.
First earning
Here is a fun fact about Sandeep Maheshwari just after his 12th complementation he opened a helpline service. In which he used to give career advice to 12th pass students. He Invested 2.5k INR ($32) to open his helpline, and with the 20% of commission of enrolment, he earns 4.5K ($58) INR. He felt that to earn money, and he doesn't have to complete his graduation. It was his first earning of his life. He realised that he not only earn 2000 INR he earns experience.
This incident changed his life because it made him realise that to earn money study is not necessary. So he drops out his college.
He was standing on the point of his life where he has no job, is not studying, no money in his pocket.
MLM journey
Later he joined a multi-level marketing company. According to Sandeep Maheshwari, MLM was his life-changer decision. He said, "I was dreaming for a job of 10k INR ($130) to 15k INR ($196) per month, but after joining MLM I realised that earning money is not a big deal" MLM thing increase his brain limit about earning money. He failed in MLM business, but he learns many things from MLM, especially he grows his mentality about money.
First product by Sandeep Maheshwari
Later he launched his own liquid soap product. And he used to sell it to his family on the road some random people even he gifted his girlfriend that liquid shop on valentine Day. But it was not a great idea he failed again.
Still, after his failure, I got some experience. He always knew that his failure gives him some experience, so he never stops trying.
Photography
One day he saw his friend images portfolio. He fell in love with his friend images portfolio and decided to pursue his career in the photography field. He did many photoshoots for free.
Sandeep Maheshwari was earning 20k to 25k with his photography work. But he was still in love with MLM. By referral of a friend, he decided to join an MLM company again. But this one extremely expensive but potential. New MLM company cost was too high, so for joining it, he sells his camera and invests his saving on it.
Again MLM
In just 11 months he got massive success in MLM marketing and were earning estimate 1.25lakh INR. He sees the potential in MLM business, so he decided to open his own MLM company for this he left his existing joined company. With his three friends, he opened an MLM company, but it was a failure. Later he writes a book on MLM, but no one purchased it.
In his life is see many time up and downs. Again he was on his down position.
Images Bazaar
Then he sees his friend portfolio and again decided to get back on the photography field. With his left money, he purchases a camera and lights. He has no money to rent a studio, so he converts his house room into a studio. This time he worked 15 hours a day on his goals. And finally, he created a world record of taking more than 10,000 shots of 122 models in just 10 hours and 45 minutes. After the world record, he becomes famous in his photography field. He was at his peak moment. But he is never satisfied with his work; he always wanted to do unique and different. So he launches first website "imagesbazaar".
At starting a website was very slow and broad. But Sandeep Maheshwari continuous work on it and make it one of the best photography website all over the world.
Sandeep Maheshwari net worth?
Sandeep Maheshwari has a Net worth of about $2.5 Million
How much Sandeep Maheshwari earn from YouTube?
Sandeep Maheshwari don't earn from YouTube, because he didn't enable YouTube ads.