Amish Tripathi | A Famous Indian Historical, Mythological-Fiction Writer
Amish Tripathi mainly known as "India's Tolkien" is a writer of fantasies with unique religious symbolism. A book series writer who made his debut with Shiva Trilogy, following by the Ram Chandra series. Evidently known as influential young Indian. His two books have been the fastest-selling book series in the history of Indian publishing.
Biography of Amish Tripathi
Amish Tripathi belongs to the middle-class family of Late Vijay Kumar Tripathi and Usha Tripathi. Born on 18th Octomber 1974, in Mumbai. In his family, they encouraged religious and worldly learning. He had to make a different career choice in order to support his family with financial aid.
On graduating from St.Xavier from St. Xavier's College, Mumbai, in Science, he completed his MBA degree from the Indian Institute of Management, Calcutta. Afterwards he worked in marketing as product manager in various firms for around 14 years.
He worked for a variety of financial firms. Such as Standard Chartered Bank, IDBI Bank, and Development Bank of Singapore. Later, he worked as Head of Marketing, Product Development and Service Quality. Also as a member of the Senior Management Committee at IDBI Federal Life Insurance.
Initial Career Journey as Author
In the year 2014, he started a career as a writer. His first book is a eventual inspiration of the Indian Mythological concept of Asuras and Devas. With his family's support, he at last put down his first story of The Hindu God Shiva into words. In the year 2010, after his hard work of 5 years, finally published his book. Not only in English, but also in other 19 languages he published the books. While writing his first book he balanced it against his professional work.
Writing a book is history, but publishing it is a big trouble of mysteries. He got rejected by 20 publishers. Besides he thought to publish his own, now his books are best-selling books in India. In 2011–13, he published two more sequels to the same book. The Secret of the Nagas and The Oath of the Vayuputras. Called sequels of the Shiva Trilogy. These sold so rapidly that they became the top-selling books in India.
Journey as Writer
With the successful publication of 1st sequel. He started and released the 2nd sequel to Ram Chandra series' first book "Scion of Ikshvaku" in 2015. Next books Sita – Warrior of Mithila and Raavan: Enemy of Aryavarta completed by 2017-19. Surprisingly he sold over 5.5 million copies in the Indian subcontinent from 2010 to presently.
In June 2020 he released the first Indic Chronicles "Legend of Suheldev: King Who Saved India", which won the Golden Book Awards in 2022. Furthermore from historic Amish Tripathi wrote his first non-fiction book Immortal India – Young Country, Timeless in 2017, and Dharma: Decoding the Epics for a Meaningful Life in 2020.
In 2019, he also appointed as Director for a diplomatic role in The Nehru Centre in London, India's premier cultural center abroad.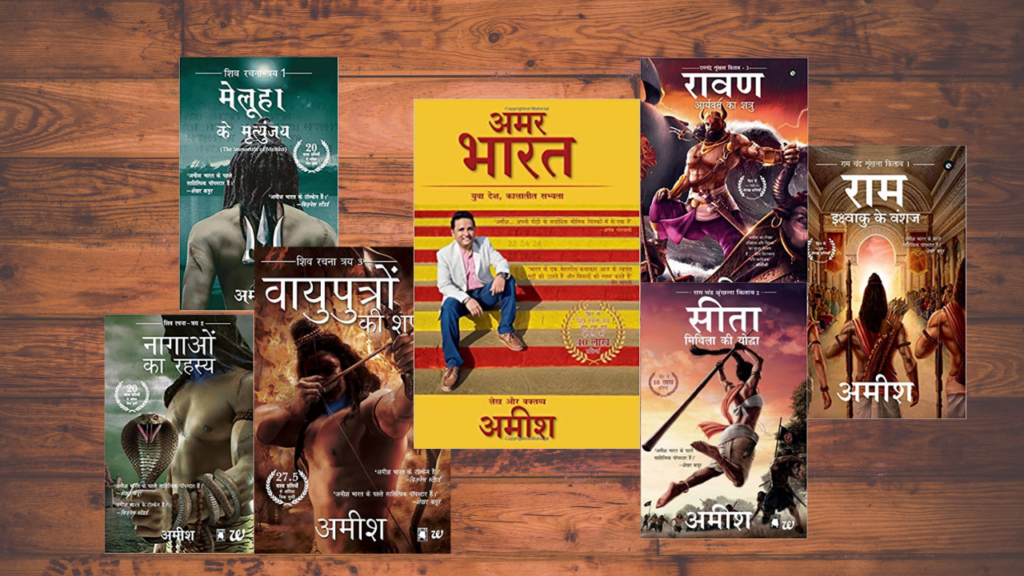 Notable Accolades and Achievements
| | |
| --- | --- |
| 21st Century Icon Awards, London | 2021 |
| Golden Book Award – Legend of Suheldev | 2022 |
| Listed among Top-50 Most Powerful People by India | 2019 |
| Honorary Doctorate by Jharkhand Rai University for outstanding contribution to Art & Literature | 2019 |
| Hello Hall of Fame Awards for Literary Excellence | 2019 |
| Jashn-e-youngistan Award | 2018 |
| Ustad Bismillah Khan Award for contribution to Indian culture | 2018 |
| Kalinga International Literary Award | 2018 |
| Distinguished Alumnus Award from IIM – Calcutta | 2017 |
| Raymond Crossword Popular Fiction Award for his book Scion of Ikshvaku | 2016 |
| Icon of the Year | 2017 |
| GQ 50 Most Influential Young Indians Pride of India Award | 2014 2015 |
After a long success journey firstly, he selected as Eisenhower Fellow, secondly as prestigious American program for outstanding leaders from around the world. He was amongst the 100 Most Influential Celebrities in India by Forbes Magazine from 2012-to 2018.
Personal Life of Amish Tripathi
Tripathi had active interests in gymnastics, athletics, and boxing in his student life. Likewise, he was the lead singer of the Baro-C bank at IIM Calcutta. He claims that Amir Khan is a role model in terms of creativity and success. Even though out of much struggle no one was ready to publish his book. At thats time his wife, showed him wave to publish his books to print a sample chapter and distribute it for free until it reaches people. Unfortunately, they separated in the year 2020.
He equally says that to be a good writer, one has to be a good reader. In one of the interview that he reads 3-4 books per month. From books to the screen he made the choice to be a producer. He selected his own written story "Legend of Suheldev" September 2020.
Also Read: Varun Grover | Success story of the Indian write and comedian
Amish Tripathi new book
Suheldev & the Battle of Bahraich
Amish Tripathi Books Buy link?