Ankur Warikoo | Indian Internet entrepreneur and Digital Educator
Ankur Warikoo founder of the e-commerce platform is an internet entrepreneur, and at present, he is an author along with a digital educator. Besides he is the founder and CEO of Groupon from 2011-to 2015. He also teaches about entrepreneurship and career management on an online platform which made him a digital educator.
Being a great business he is also famous for his motivational speaking and for the Startup plans ideas given to younger people. And also help in investment through Angel Investor, he wrote a book called Do Epic Shit on 27 December 2021. So let's read some of the parts of his life book.
Early Life of Ankur Warikoo
Ankur Warikoo was born in Delhi on 25th August 1980, to Ashok and Neeraj Warikoo . Where the father worked in a medical firm and the mother as housework. Also, he has a younger sister.
He did his initial, schooling at Don Bosco School, New Delhi. Then he joined Hindu College (BSc in Physics). After that pursued Ph.D. in Physics from Michigan State University (MS in Astrophysics), which he dropped out from after completing his MS. Post coming back from the US, he pursued his MBA from The Indian School of Business, graduating in 2006.
Ankur Warikoo Career
Two years, five websites, and over a decade of market research down Ankur Warikoo sure is high on the internet. He started a career in 2004, as a consultant in NIS Sparta a corporate training consultancy. Later in 2006, he joined a management consulting firm Kearney Chicago. Then he started his journey of internet firm through the Accentium Web, where he worked as co-founder. And carry forwarded the journey to real-time e-commerce platform Groupon in APAC Emerging Markets around the different corners of the world.
Accentium Web runs many websites such as SecondShaadi (a matrimonial service for remarriages), and Gaadi.com (a car portal which got later sold to Naspers Group in 2011 and was acquired by CarDekho.com in 2015). Ankur Warikoo exited the venture in September 2010.
In 2015, he started the company nearbuy.com, which was funded by Sequoia being CEO until 2015. Running over entrepreneurship and learning for 9 years in different firms about building businesses, fundraising, about investing.
As YouTuber, Content Creator, and Educator journey
In 2016, he as a student learned a people's psychology in their profession and found out what drives people to work their best. Finally, he started what he loved for a long time online video series "Warikoo Wednesdays" on LinkedIn. Where he spoke about fast experiences as a founder, CEO, manager, and entrepreneur.
This wasn't his stop he opened the YouTube channel "Warikoo" where he uploads motivational speeches, business enhancement ideas, and start-up ideas and he also educates with his fast experiences.
As of now, more than 1.26 million followers are on Youtube. Also, other social media accounts have millions of followers. Ankur has also attended various seminars and educational events. In his interaction with the students in different colleges, he believed that "awareness is everything."
Achievements and Awards
| | |
| --- | --- |
| LinkedIn India PowerProfile | 2018 |
| ISB Young Leader Award Indian School of Business | 2005, 2006 |
| LinkedIn India's Top Voices | 2018, 2019, 2020 |
| 30 Entrepreneurs of the year by SiliconReview | 2017 |
| LinkedIn India Spotlight | 2019 |
| Top Executives Below 40 Years Business Today Magazine | 2014 |
| India's Most Promising Entrepreneur Award Enterprise Asia March 2014 | 2014 |
Along with these achievements he has also been a great author for his book "Do Epic Shit" which is the top-selling book in 2021. Being a motivational speaker Ankur has written very famous quotes here are some glimpses and pics of his quotes
-What would you attempt to do if you knew you could not fail.
-Define your own success and your failure.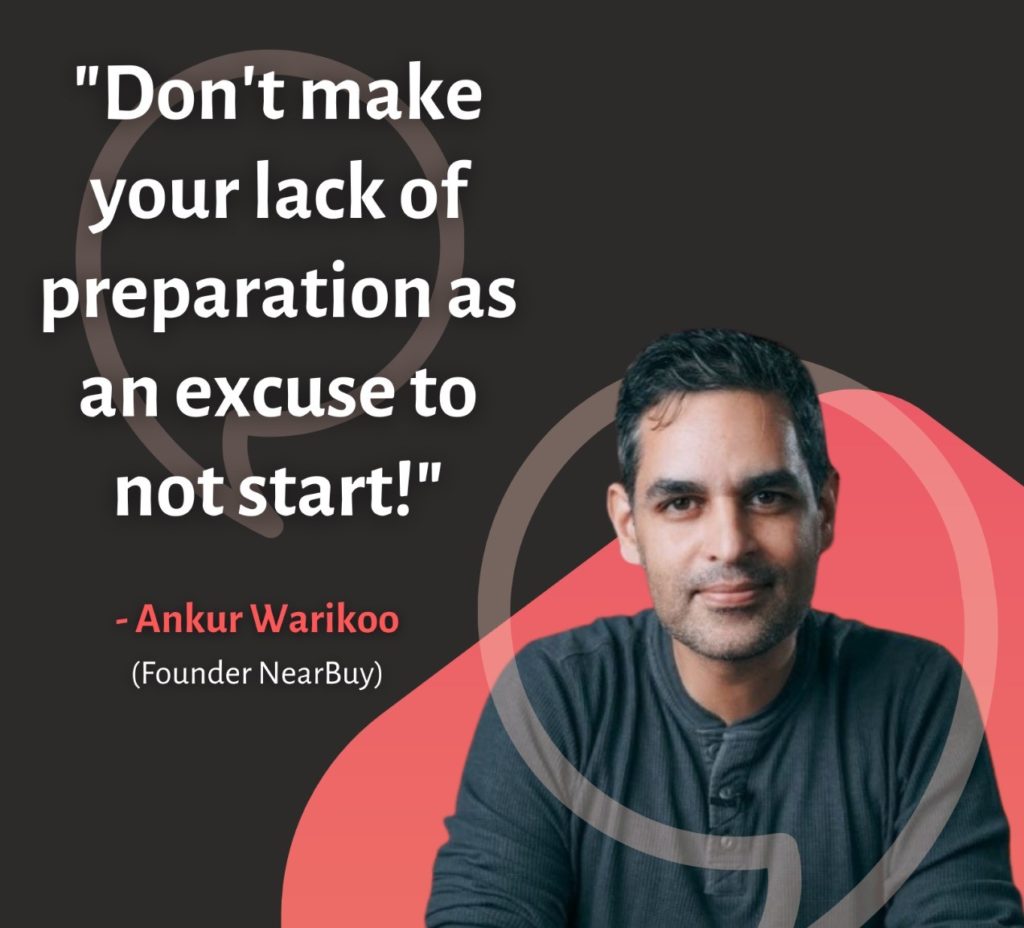 Ankur Warikoo net worth?
Net Worth as of 2022, $15 Million
Where can i get Ankur courses?
Also Read: Ranveer Allahbadia | Proficient Young Entrepreneur of India