Bella Thorne | Success Story of the American Actress and Singer
Bella Thorne is an American actress, model, singer, and writer. She was born on 8 October 1997 in Florida, United States. She began her career by playing Margaux Darling in the series Dirty Sexy Money from 2007 to 2008. Bella then played the character of Ruthy Spivey in the drama series My Worst Enemy. In 2010, Bella gained recognition when she got the role of Cece Jones in the Disney original series Shake It Up. She also won an Imagen Award for the role. In 2019, Bella Thorne made her directorial debut.
Early Life
Bella Thorne was born on 8 October 1997 in Pembroke Pines, Florida, the United States, to Tamara Thorne and Delancey Reinaldo "Rey" Thorne. Bella is the sister to three siblings, who are all actors. In 2007, her father passed away in an accident. Bella started working as an actor to support her family.
Bella Thorne was diagnosed with dyslexia at a young age. She was home-schooled after being bullied because of her problem. In April 2010, she overcame her dyslexia after practicing a lot.
In January 2018, Bella revealed that she was a victim of abuse when she was a child. It started when she was fourteen. Bella Thorne did not tell the abuser's name but said it was someone she grew up with.
Career Beginnings
In 2003, Bella Thorne made her first appearance in the film Stuck On You, which was an uncredited role. She then joined the cast of Dirty Sexy Money for the part of Margaux Darling in 2007.
In 2008, Bella joined Christian Slater and Taylor Lautner in the series My Own Worst Enemy. She won the Young Artist Award for her portrayal of Ruthy Spivey. It was Bella Thorne's first significant breakthrough, as this was her first recurring role.
In 2009, she appeared in the series Little Monk. In the same year, Bella played her first vengeful antagonist role in the horror film Forget Me Not.
Breakthrough With Disney
In 2010, Bella Thorne starred in the Disney Channel sitcom Shake It Up. The show was initially named Dance, Dance Chicago. She played the part of CeCe Jones. The show is a buddy comedy centered on a teen dance show co-starring Bella Thorne and Zendaya.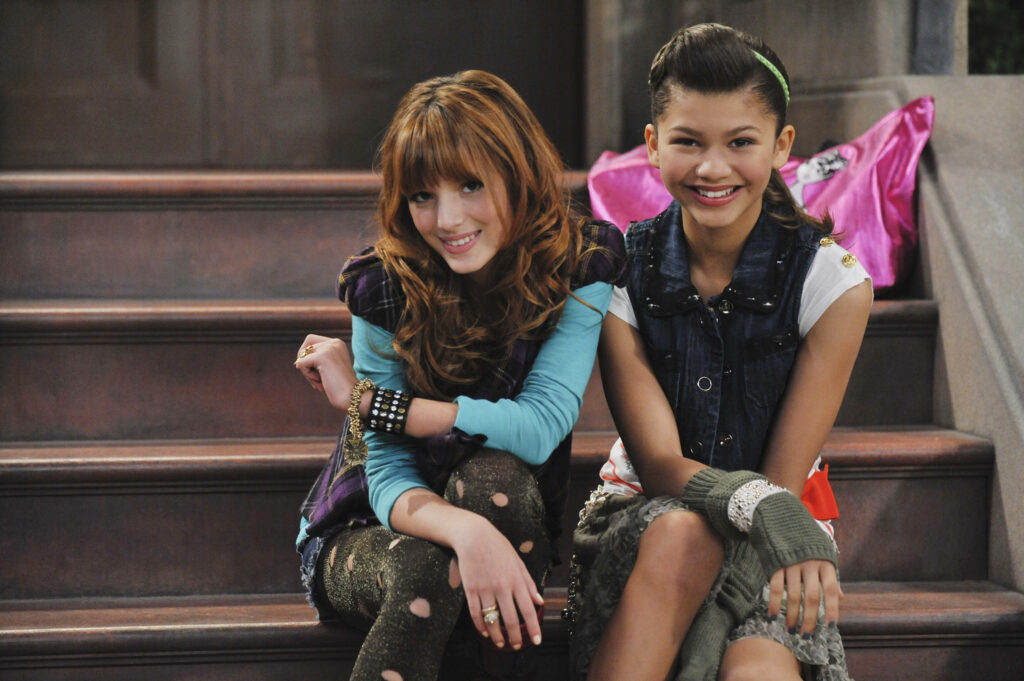 Bella had no experience of dancing before appearing on the show. After signing Shake It Up in October 2009, she started taking dance classes to improve her role. In 2012, Bella Thorne was cast in the Disney Channel Original Movie Frenemies alongside Zendaya.
On 25 July 2013, it was announced that Shake It Up would be canceled after completing three seasons on television.
Personal Life
In November 2011, Bella Thorne was dating the then-student Tristan Klier. The pair broke up in 2014 after three years of dating. From 2014 to 2016, she dated English actor Gregg Sulkin.
Sometime after the breakup, she came out as bisexual. In 2017, she dated emo rapper Lil Peep for a short period and was in a relationship with musician Blackbear in August that same year. Bella said she identifies as pansexual in July 2019.
In a 2021 interview with Bloody Disgusting, Bella stated that she had been a life-long fan of the horror genre.
Also Read: Zendaya | Success story of the talented American actress and vocalist
How old is Bella Thorne?
Bella Thorne is 24 years old.
How much is Bella Thorne's net worth?
Her net worth is $12 million.