Bruno Mars | Success Story of the Iconic Singer
Bruno Mars is one of the world's most renowned music artists. He began his musical journey in 2004. Bruno is responsible for chart-topping singles like Just the Way You Are, Grenade, The Lazy Song, When I Was Your Man, 24K Magic, and Locked Out of Heaven. He rose to fame in 2010 after collaborating with American rappers B.o.B. and Travie McCoy. The music industry considers Bruno one of the most talented musicians in history. Bruno has garnered several prestigious accolades for his record-breaking singles. His achievements include fifteen Grammys, eleven AMAs, and four Brit Awards.
About
Peter Gene Hernandez, better known by his stage name Bruno Mars, is an American singer, songwriter, record producer, dancer, and director. He has been a part of the music industry for nearly two decades. Bruno has sold over 130 million records worldwide. Billboard has included him in its Greatest of All Time Artists list of 2019. Globally, Bruno is regarded as the pop icon of today's generation. In his long and successful career, Bruno has collaborated with iconic artists like Eminem, Dr. Dre, Jay-Z, Kanye West, Adele, Alicia Keys, Beyonce, Cardi B, Ed Sheeran, and Justin Bieber. He is one of the top-earning musicians globally, with an estimated net worth of $175 million.
Early Life & Struggles
On the 8th of October 1985, Peter Gene Hernandez was born in Honolulu, Hawaii, USA. His father, Peter Hernandez, was a percussionist. In contrast, his mother, Bernadette San Pedro Bayot, was a singer and dancer. Bruno has Filipino, Puerto Rican, Spanish, and Ashkenazi Jews ancestry. Born in a musical family, Bruno began performing with the family band at a young age. At age two, he got the nickname "Bruno" from his father. Little Bruno loved performing on songs by Elvis Presley and Michael Jackson. He was already spending five days a week on stage by age four. In 1990, a weekly Hawaiian tabloid featured Bruno as "Little Elvis." He spent his childhood learning musical instruments and doing stage performances.
Bruno did a cameo in the American rom-com Honeymoon in Vegas at age seven. The film featured renowned actors like James Caan, Nicolas Cage, and Sarah Jessica Parker. While Bruno was in grade school, he continued to perform in the family band. However, things took a turn in 1997. Bruno's parents decided to split, leading to the family band's end. After the divorce, Bruno moved out of the house with his brother and father. His father tried setting up several businesses but failed. As a result, they lived in the slums of Hawaii. Bruno used to spend his nights in the back of a car, in abandoned parks, and on rooftops. He had to transfer schools and faced difficulty in making friends. Initially, children used to bully Bruno. But gradually, he started gaining recognition as a talented artist in school.
Beginning of Career
While Bruno was studying at President Theodore Roosevelt High School, he began performing in a group. Bruno continued to perform throughout his high school years. Gradually, he started gaining recognition in the Hawaiian music industry. Bruno performed the opening gig at a renowned magic show. He impersonated Michael Jackson at the event and earned $75. Later, Bruno's sister introduced him to Mike Lynn. He was the A&R's head at Dr. Dre's record label. After graduation, Bruno moved to Los Angeles to pursue his musical aspirations. Soon after that, he adopted the last name "Mars." Things were not easy for Bruno in LA. He had to face several obstacles to sign a record deal. In 2004, Bruno signed a contract with Motown Records. However, it did not result in a debut album. Motown dropped Bruno within a few months. But he earned a music publishing deal shortly at Westside Independent.
Initial Years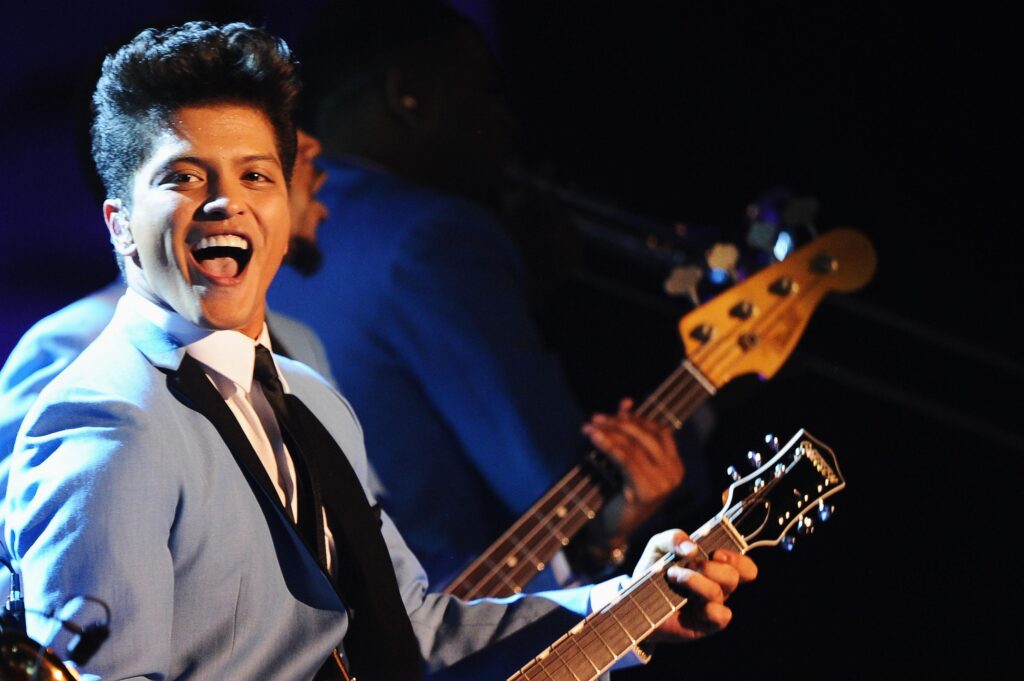 While Bruno was at Westside Independent, he learned about writing pop music. Record producer Steve Lindsey mentored Bruno along with Brody Brown and Jeff Bhasker. For the next five years, Bruno studied pop music extensively. He continued to perform cover songs with a band in LA. Bruno's brother Eric and friend Jeff Bhasker were also a part of the band. In 2006, Philip Lawrence introduced Bruno to an A&R manager from Atlantic Records. Bruno and Philip met while they were signed to Motown. The A&R manager immediately wanted to sign Bruno after hearing him. However, Bruno failed to launch his professional music career. The record label felt that Bruno needed artistic development.
Pathway to Success
In 2008, Bruno was about to give up on his musical aspirations. However, he received a call that changed his life. Brandon Creed from Epic Records contacted Bruno to buy a song written by him. One thing led to another, and Bruno's songwriting career began. Within a few years, he started writing songs for top artists. But it wasn't until 2009 that Bruno gained recognition as a singer. American rapper B.o.B. collaborated with Bruno for the single Nothin' on You. The song was a global hit. There was no looking back for Bruno after the single's success. During the 2010s, Bruno released chart-topping hits like Treasure, The Lazy Song, Billionaire, Count on Me, 24K Magic, and Uptown Funk. Consequently, Bruno Mars became one of the world's most successful musicians.
Also read: Charlie Puth | Success Story Of The Melodious American Singer 
How old is Bruno Mars?
Bruno is 37 years old as of 2022. He was born on the 8th of October 1985 in Honolulu, Hawaii, USA. His parents belonged to a musical background. Bruno spent his childhood in Waikiki. From a young age, he began performing on stage.
What is the net worth of Bruno Mars?
Bruno Mars' net worth is estimated to be $175 million. He has been a part of the entertainment industry for nearly two decades. Bruno has won fifteen Grammys for his record-breaking singles.
Is Bruno Mars married?
No, Bruno Mars is not married. However, he has been in a relationship with Jessica Caban since 2011. She is an actress, model, and fashion designer.