Colonel Harland Sanders | Man who became a billionaire in '60s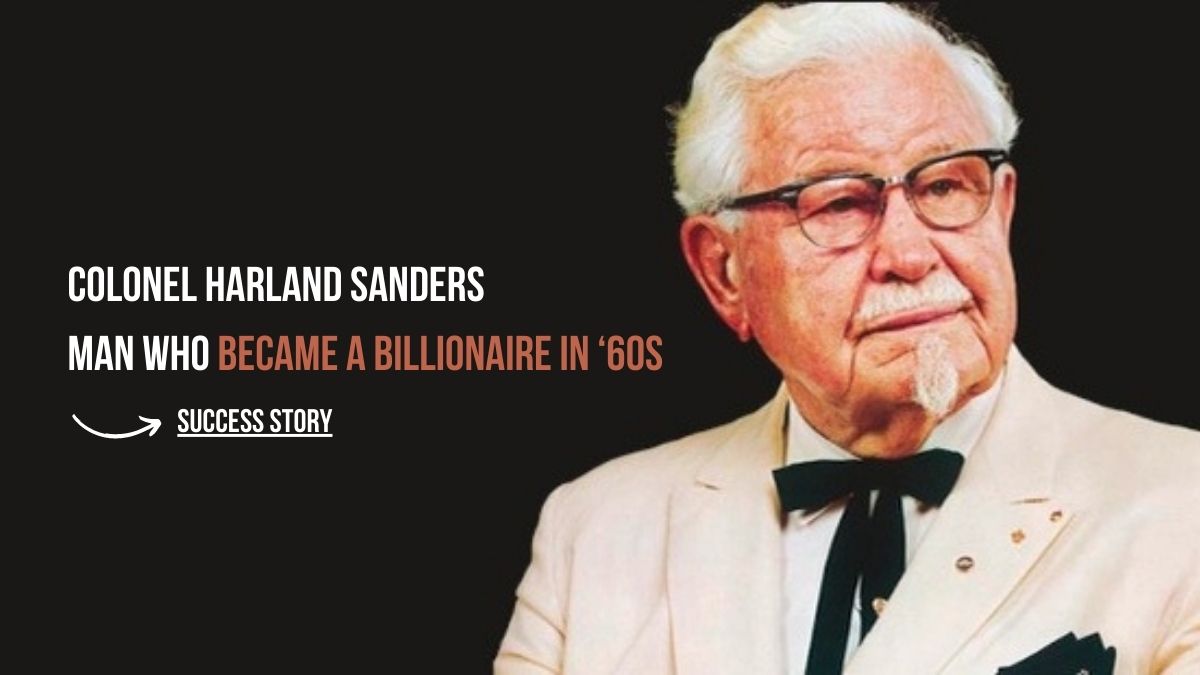 Colonel Harland Sanders is the recognizable icon in food industry. He was the man who doesn't leave any stone unturned in his life. And eventually his all hard works paid off. He believed in hard work and determination not in age. Colonel Harland is an example of how dedication, ambition and hard works lead towards the path of success.
EARLY LIFE OF COLONEL HARLAND
Colonel Harland Sanders was born on 9 September 1890 in Henryville, Indiana. He was the elder one among his siblings. When Colonel Harland was 6 years old his father died. After his father death Colonel Mother took a job in Canning factory and was busy to provide for the family. Because of which Colonel had to take care of his siblings. And this forced the Colonel to learn how to cook so he could feed them. At the age of 10 Harland began to work as a farmhand. In 1902 his mother remarried and his family moved to Greenwood, Indiana. Harland had a bad relation with his father because of which he left his house.
HARLAND BUCKETS OF FAILURE
After left the house Colonel Harland Sanders took a job of painting horse carriages. Shortly after, at the age of 14, he landed a job as farmhand. Initially, Harland balanced his work and school. But after completed his sixth grade, he dropped out from the school and decided to work full-time. And at the age of 15 by lying about his age he enlisted in the US army. But after 1 year he fired from US Army. He also took a job in Railway with the help of his uncle. At the age of 18 while working in railway he married with Josephine king. But unfortunately, his life as railway worker would not be long along with this his married life was also end. During his days as a railway worker Harland was taking correspondence courses in law and had managed to obtain a law degree.
Having being fired from railway He decided to put his degree to work and started his carrier as a lawyer. But his legal carrier ended after a courtroom brawl with his own client. After these many failures, Harland moved towards his mother house and went to work as a laborer. In 1916 Harland got a job as an Insurance agent in Insurance Company. But for disobeying the order he fired from there too.
In 1920 he founded a Ferry Boat Company. Later he tried to cashing in his Ferry Boat Business to create a lamp manufacturing company. But in the meantime another company launched a better version of lamp poor guy didn't catch a break. Despite of facing thousands of failures Harland never loses his hope.
HARLAND JOURNEY TOWARDS THE SUCCESS
Harland might be sad from his failures but he never stops trying. In 1930, The Shell Oil Company offered Harland a service station in North Corbin, Kentucky. In return Harland had to pay the company a percentage of sales. While running that service station Harland opened a small food stall near his station.  And began to serve chicken dishes and other meals such as Country ham and steaks. In 1935 Kentucky governor Ruby Laffoon tasted Harland Chicken and by impressing from his chicken taste governor gave him the title "COLONEL". His local popularity grew. And in 1939, food critic Duncan Hines visited Harland's restaurant and included it in Adventures in Good Eating.
But after 4 years Due to some issues, Harland's first restaurant shut down. And then he opened his second restaurant but he had to close his second restaurant too because of world war second.
And then for the first time in his life, he had to sign for Social Security. So he was 65 Retired and broke. But he didn't give up. He used his Social Security cheque of $105 to travel across the world with a motive to expand his business. By offering his secret recipe to various restaurants in return for 4 cents on every chicken sold. But this phase was not easy for Harland as he had to live in his car and survived with little food. And finally after 1009 Rejections his recipe was accepted. Soon Colonel Sanders had 600 Franchises selling his Kentucky Fried Chicken. And the company was expanding rapidly and became overwhelming for Harland. And In 1996 Harland sold the company for US $ 2 Million. He died at the age of 90.
Imagine if he didn't try and lost in his failures so his name would be pressed in the crowd of millions. But he believed in his hard work because of which he never lost in his failures. If you are fed up with rejections or failures then remember the story of Colonel Harland Sanders.