Deep Kalra: Hope is important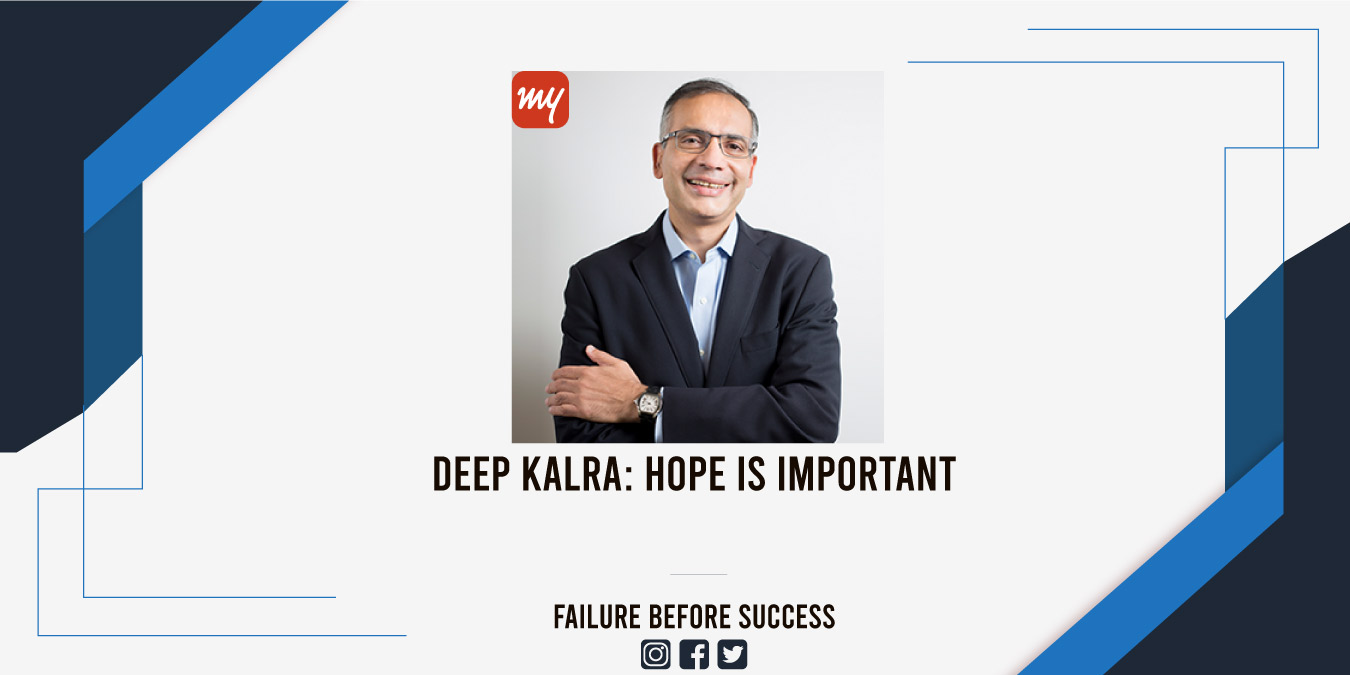 Success is never guaranteed with the first try. What the first try assures to provide us are new lessons to learn, different methods to approach the problem, and novel ideas to explore. Success is a constant battle to achieve stability in a way of life; thus, it takes time. Determination, discipline, and passion are the ammunition of this battle. If you win, you're termed successful. If you lose, you get in line for another battle; the cycle repeats until you succeed. Let us take the story of a successful entrepreneur, founder of MakeMyTrip.com, Deep Kalra into account.
Deep graduated from IIM-Ahmedabad with an MBA degree. He decided to join ABN Amro Bank and worked there for three years. He quit his well-payed job and instead took an unusual route by venturing into entrepreneurship. It was a risky domain to get into; it still is, but the availability of the internet has made stuff easier now.
Beginnings
The first venture that Deep explored was based on the concept of AMF Bowling, a very quirky idea for the Indian market. Gathering funds for this venture proved to be a troublesome task as well, because not many investors showed interested in it. Nevertheless, he continued to work in this domain for four years following which he quit, because the business was not yielding profit.
First failure
The failure was hard to take on but he viewed it from a positive perspective.
"It was a great entrepreneurial experience but a financial disaster."

Deep kalra on his bowling venture
After this stint, Deep realized that he has more to learn about the corporate lifestyle and how businesses are operated. Thus, he decided to work in the private sector again and bagged a job at GE Capital. Internet was new at the time and he was starting to realize its true potential. Thereafter, when he had gained enough experience, he decided to make something big out of the ever-expanding concept of the internet.
Bounce back with new experiences
In 2000, Deep Kalra started the website MakeMyTrip.com that would take care of all needs of a traveler; be it hotel reservations or plane tickets. But before the idea could develop, he had research a lot on which processes and businesses could be brought online. He landed upon two ideas; online stockbroking and online travel and decided to settle on the latter.
Also read: OYO's founder Ritesh Agarwal's success story.
A team effort
MMT's journey in the first few years was not an easy one. Indian consumers weren't very sure of the online modes of payment back then. Many times, the founders used to debate on the topic of closing the venture altogether. They somehow survived this project without any income for almost 18 months!
MMT's became successful only when IRCTC rolled out its online platform for railway bookings. The consumers started trusting the online mode now because the government had stepped in. Thus Deep Kalra and his team's efforts paid off well. It took almost 7 years for MMT to establish its place in the market.
One thing that remained constant throughout the ups and downs that Deep faced was the hope that he had upon himself. Life gives us many opportunities to prove ourselves, only if we value ourselves correctly in our own eyes. Never lose hope, good luck!