Edgar Allan Poe | Success story of 'The Raven'
Edgar Allan Poe is a master of the macabre. His success story is about poverty, not getting a four-course meal, and numerous sleepless nights. He wrote horror, fiction, mystery; basically, he was a master of suspense. Edgar Allen Poe was called the father of the detective story. His books have a different air in them, it's so original and intimidating.
Early Life
On January 19, 1809, Edgar Allan Poe was born in Boston, Massachusetts. His mother passed away when he was two. And his father had already abandoned the family. After this, the Allan family took him in as a foster child. He has been writing poetry since about the time that he was 13. He worked very hard on his writings and letters provided that he constantly wrote in 1826.
Poe enrolled at the University of Virginia; he went into debt. Later he tried to gamble to pay off those debts but found himself in even greater debt. And ultimately, Edgar Allan Poe had to withdraw from the University in 1830. After that, he enrolled at West Point that, and he turned into a full-time writer. Before settling down in Richmond, Virginia, he lived in several East Coast cities.
The middle years of Poe
Edgar Allen Poe secretly married his 13-year-old cousin and then in 1836. Later he married her publicly in a more open ceremony; he loved her very much. They lived together always until around; she died of tuberculosis. When she was about 20, Poe's primary occupation was a writer. He was a literary critic, he worked at several newspapers and literary magazines, and he had quite a reputation for being a harsh critic. One of his editors called him the tomahawk man.
During his lifetime, he barely made a living from his writing. Howe published some of Poe's most famous short stories in his 1840 collection. Edgar Allan Poe wrote the tales of the grotesque and arabesque.
Some of his stories are written in the first person and talk about opium. So people assumed that he dabbled in drugs. The stories were so creepy there were ghost stories taken to such a brilliant extreme. It made people think he had to be a little strange to write stuff like this.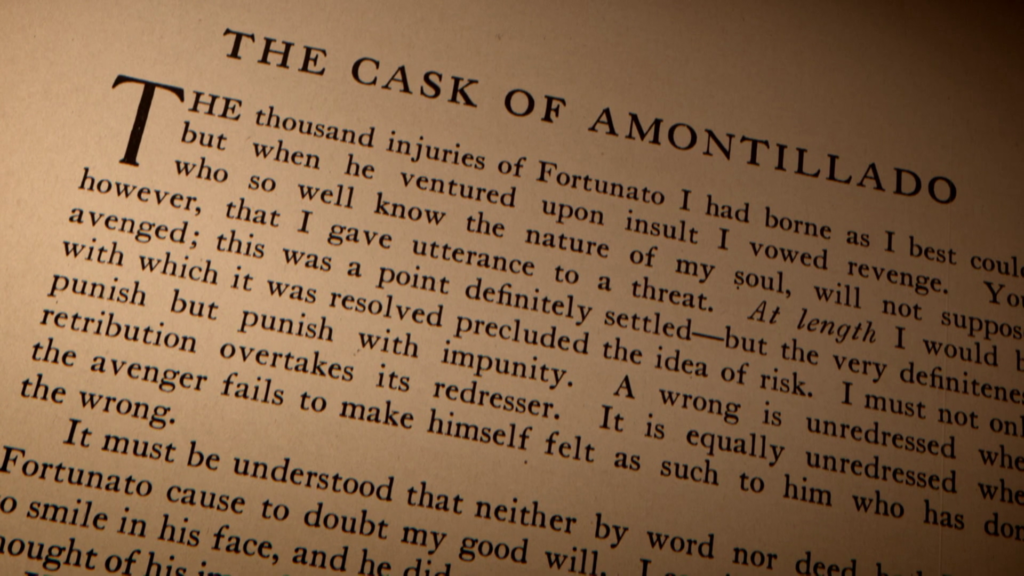 His Later years
Poe invented detective fiction when he wrote "The Murders in the Rue Morgue" in 1841. The Murders in the Rue Morgue deserves to be called the first detective story. It is the pioneer of the whole tradition of detective fiction. The Raven, which was published in 1845, was a huge breakthrough in his career. It became an enormous bestseller. His life wasn't stable; it went up and down quite often.
On October 7, 1849, Edgar Allan Poe died at 40 under mysterious circumstances. Poe's death may be one of the most bizarre things about his life. He left Virginia for New York and disappeared for a week. Later, he was found on the streets of Baltimore; no one knows what he was doing at the end of that week. He was found in a tavern ill drunk and was taken to a hospital. It turned out he was wearing clothes that didn't belong to him, and a couple of days later, he died in delirium. Nobody knows what exactly killed him, but his heritage lives even today. Edgar Allan Poe's legacy in American literature is very detectable in mystery dramas and stories.
Lessons to Learn
Poe was able to harness the imagination in his writings. Poe's an American icon; he's more than a writer, even today more than 150 years after he died. When Poe started publishing his work and got its first copy, they criticized his imagination as abnormal. But today, everyone with an appetite for literature knows him, annotates his works. He didn't see his success when he was alive. But after his death, people gave him the crown of the father of detective fiction. So you must trust your work and be honest with it.
When he worked as a critic, he was called harsh and brutal. None of this made him feel he should stop writing or experimenting with new things. All of this added up and because of his non-giving-up attitude. Today, we have masterpieces like 'The Raven,' 'The fall of the house of Usher,' and many more because he didn't give up.
Also Read: Jane Austen | Success Story Of The Most Adored & Praised Female Writer
What did Poe call himself?
Was Edgar Allan Poe an athlete?