GARY VAYNERCHUK: from 0 to $100 Million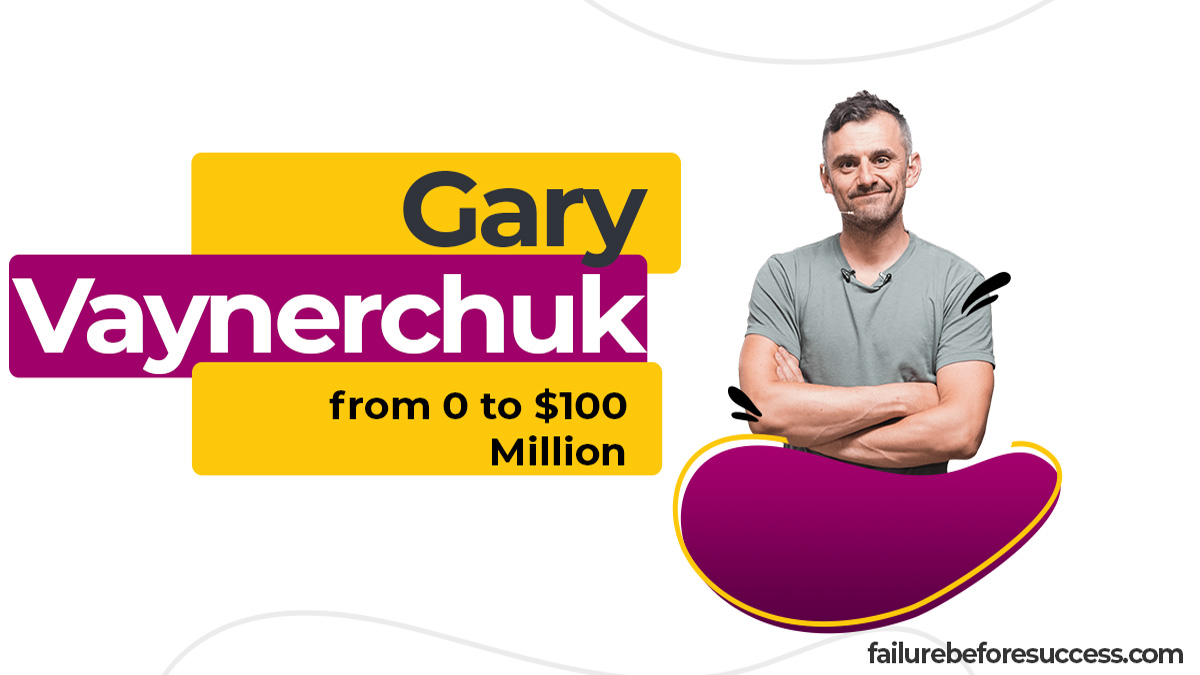 Gary Vaynerchuk, also known as Gary Vee on Youtube, is an entrepreneur, motivational speaker, author, and internet personality. Moreover, he is the CEO and co-founder of Vayner Media. He is the perfect example of how one can go from being a zero to becoming highly successful. His constant struggle is a motivational story for us, and we hope it inspires you as well. 
Humble background
Gary was born in the Soviet Union. His relatives were imprisoned because of their Jewish descent. As a result, his family migrated to the US in hopes of a better future when he was 3. However, they were poor. His family of 8 members lived in a studio apartment, which was very small. His father worked at a wine store as a stock boy, but still the income was not very high.
No interest in studies
Gary Vee had difficulty adapting to the American standards of education. He wasn't much interested in studies, but he was aware of other skills that he possessed. He keenly observed people and trends to know where they would like to spend their money. 
His entrepreneurial approach helped him earn a little bit to support his family's income. He plucked out flowers from his neighbors' houses' gardens and sold them to the same neighbors. At 6, he had eight stands of lemonades in different areas in New Jersey where his friends worked for him.
Learning trade through sports cards
His passionate mindset didn't let him stop at any age. He was just 13 when he learned about trading through selling baseball cards. He used to earn thousands of dollars in a week by selling those cards. Consequently, Gary became wealthy enough for a teenager. However, after a few years, his father bought a wine store and put Gary to work there.
Gary observed his father while working at the store. He realized that the wine business could use his trading skills. Gary worked hard twelve hours each day, six days a week, and 360 days a year at the store. He soon became a wine critic or a wine expert. 
Wine Library and VaynerMedia
Vaynerchuk got to know about the Internet in 1998. It highly fascinated him. He stood in a line for 5 hours to see how people use the Internet. When it was his turn, within 20 minutes, he realized that he could trade baseball cards easily on the platform. Moreover, it gave him the idea that he could take his wine business online too.
He launched Wine Library in 1998 for online sales. Through his great marketing and advertising skills, he expanded the business. It grew from $3 million a year to $60 million a year by 2003.
Within a few years, Vaynerchuk realized that he was more inclined towards building business strategies that involved digital advertising, marketing, creative strategy, etc. He founded VaynerMedia with his brother and grossed over $100 million in 2016.
Gary's story is the prime example of how a person with bare necessities and no interest in education and can thrive to become highly successful in his/her domain. It requires hard work, passion, and creative visualization of new ideas.