Geetanjali Shree | Success story of an International Booker Award Winner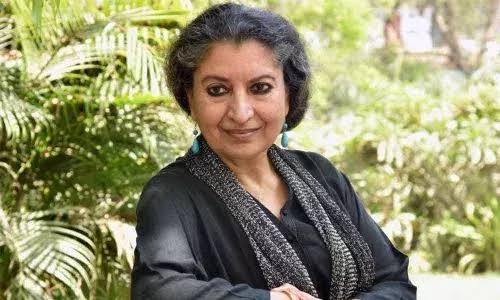 Geetanjali Shree is an international Booker Prize-winning Indian author. She is the first Hindi author to meet this fate. Although she was not a literature student during graduation. She left her job to become an author. She followed her passion despite several hurdles. Let's dig into the story of Gitanjali Shree.
Geetanjali Shree Biography
Gitanjali Shree was born on 12 June 1957. Although her birth name was Geetanjali Pande, she kept the first name of her mother as her last name. Since her Mother's name is Shree Kumari Pandey. And her father's name is Anirudh Pandey. Her father is a civil servant. She has two sisters. Born in the city of Mainpuri in Uttar Pradesh, she subsequently lived in different places in U.P. Commonly known as a short story writer and a novelist, Geetanjali has won the International Booker prize for the novel 'Tomb of Sand'. She is 65 years old. She is an alumnus of Lady Shri Ram College for women, Delhi University. Her Ph.D. thesis was 'Between the worlds; intellectual biography of Premchand' at Maharaja Sayajirao University, Baroda.
How Geetanjali became an author
Geetanjali had resided in different parts of UP, it made her childhood enriched by different cultures. Apart from being a civil servant, her father was also a writer; which inspired her in this field. While in Allahabad, she was deeply interested in Hindi and Urdu literature. She read Sumitranandan Pant, Firaq Gorakhpuri, and Mahadevi Verma's work. She was an enthusiastic reader in childhood. Among many Hindi literature, she read Panchatantra, ChandaMama, Parag, and Nandan. Her friendship with Munshi Premchand's granddaughter made her familiar with the literature. Due to this friendship, she was in contact with the Premchand household. It made her root grounded in the culture. For higher education, she moved to Delhi. History was her core subject while graduation. But her passion for Hindi literature never faded. Afterward, she opted for a Ph.D. in Munshi Premchand's work. Subsequently, she started writing short stories and novels.
Geetanjali Shree's journey as an author
Geetanjali compiled the literary works of Munshi Premchand into a single book during her Ph.D. After completing Ph.D., Geetanjali got a teaching job at Jamia Millia Islamia. Later, she left that job to become a full-time writer. In 1986, she started her career with a Hindi publishing house, Rajkamal. One year later, a leading literary magazine 'Hans' published her first work 'Belpatra' in 1987. In 1991, the world read her first collection of short stories 'Anugoonj'. She further went on to write a Hindi adaptation of the famous Chinese play Lao Jiu: The ninth born by Kuo Pao Kun. Subsequently, it was staged at the New National Theatre of Tokyo.
Her first novel was 'Mai'. It reflected the thoughts of three generations of women in society and the men around them. Its English translation has won the Crossword Book Award 2001. Afterward, her second novel was Hamara Shahar Us Baras. It shows the scrutiny of a city. In 2006, Khali Jagah novel became the talk of the tongue; which was based on violence, loss, and a quest for identity in the contemporary world. Her novel Ret Samadhi (2018) depicts the impact of borders between religion, country, and gender on someone's life. In this story, an eighty-year-old woman gets exposed to a completely new place. An old lady's journey to Pakistan post her husband's demise is shown in the novel. Its translation by Daisy Rosewell 'Tomb of Sand' has won the International Booker prize 2022.
Her other noteworthy works are- Agyey Kahani, Sanchayan, Vairagya, and The roof Beneath their feet.
Next, She is writing the novel 'The name of the Rose'.
Geetanjali Shree struggles
Adjustment in society was one of the major problems due to continuous change of residence. As a result, Geetanjali faced acculturation every now and then. This made Geetanjali more adaptable. Her thoughts and understanding of society became very much enriched. The formal schooling of Geetanjali was in English Medium. Due to a lack of formal Hindi education, she has to opt for history for her graduation. She was under peer pressure to opt for a career in the same subject, but she never let that pressure overcome her desire. Even after hurdles, she still pursued her passion. Post-graduation, her Ph.D. in Munshi Premchand fueled her passion. One another setback was she never learned creative writing professionally, but she says that she evolved while writing. As everybody writes crap for the first time and thinks it is an amazing piece, but then they evolve and start writing really amazing pieces.
Awards and Achievements
Her Awards are enlisted below.
1.Indu Sharma International Katha Samman
2.Krishna Baldev Vaid Samman
3.Hindi Academy Sahityakar Samman
4.Dwijdev Samman
5.International Booker prize (2022)
Life lessons for us
Never leave an opportunity to learn something new.
You can always work for your passion simultaneously with other work, you just need the drive to fulfill your passion.
Never work to get appreciation, Work for your enjoyment. If you enjoy it while working, it will automatically reflect in your work.
Also Read-Ankita Agarwal | An inspiring story of UPSC Rank 2
Who is Gitanjali Shree's husband?
What is the name of the first novel of Gitanjali Shree?
The first novel of Gitanjali Shree is 'Mai'.