Hima Das | Success story of the Indian sprinter
Hima Das, aka Dhing Express, is an Indian sprinter from the state of Assam. She holds the current national record for 400m with a timing of 50.79 s. She made this record during the 2018 Asian Games in Jakarta, Indonesia. Hima is also India's first athlete to win gold in a track event at the IAAF World U20 Championships.
Early Life
Hima Das was born at Kandhulimari village, near the town of Dhing. Her parents are farmers by profession, and she belongs to an Assamese family. Hima attended a school in her hometown and Jawahar Navodaya Vidyalaya after clearing the entrance exam in 5th grade. Initially interested in playing football, she later shifted her focus to running on tracks, which eventually made her one of India's best athletes.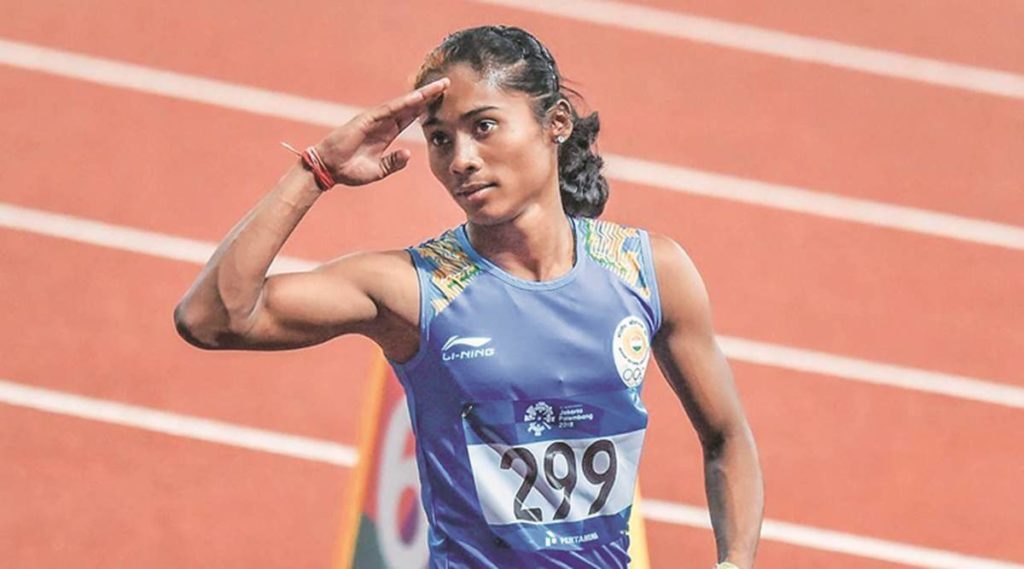 Early in her life, she was always a die-hard football fan. She used to play with the boys at her JNV school and wanted to pursue a career in football. However, when she realized there were no prospects of pursuing it as an athlete on the women's scene because Indian women weren't doing well enough internationally, she changed sports from soccer to sprinting on advice from a teacher at her school.
Career of Hima Das
Das won a silver medal in the 400 m final at the Commonwealth Games. At the World Junior Championships, she became India's first to win gold at an international track event and set a new national record by clocking 51.00 seconds for her heat of 1. Hima then improved this further at Gold Coast with 50.79 seconds. But she lost out on winning another gold medal due to being disqualified from running outside of lane lines during one lap starting from lane 8. Later, she has vowed never to do it again as it cost her both world junior and Asian games titles.
Hima Das competed in the Women's 400M Relay at the 2018 Asian Games and won with a time of 3:28.72. She also competed in the 400m Mixed Relay, which was held for the first time at this event, and she snatched up the silver medal with an impressive clocking of 3:34.74 seconds! In 2019 Hima successfully won 200m gold in Poznan Grand Prix on 2 July 2019, Poland, with a speed of 23.65seconds, then again won 200m gold Kladno Meet on 13 July the Czech Republic in 23.43seconds.
Also Read: Dutee Chand | Success Story of the Indian Professional Sprinter
What is Hima Das famous for?
Nicknamed 'Dhing Express', Hima Das is a 19-year-old Indian sprinter from the state of Assam. She became the first Indian woman — indeed the first ever Indian athlete — to win a gold medal in any format of a global track event at IAAF World U20 Championships when she clocked a speed of 51.46 seconds.
How old is Hima Das?
Hima Das is 22 years old.