Jessica Chastain | Success Story of the Elegant Actress & Producer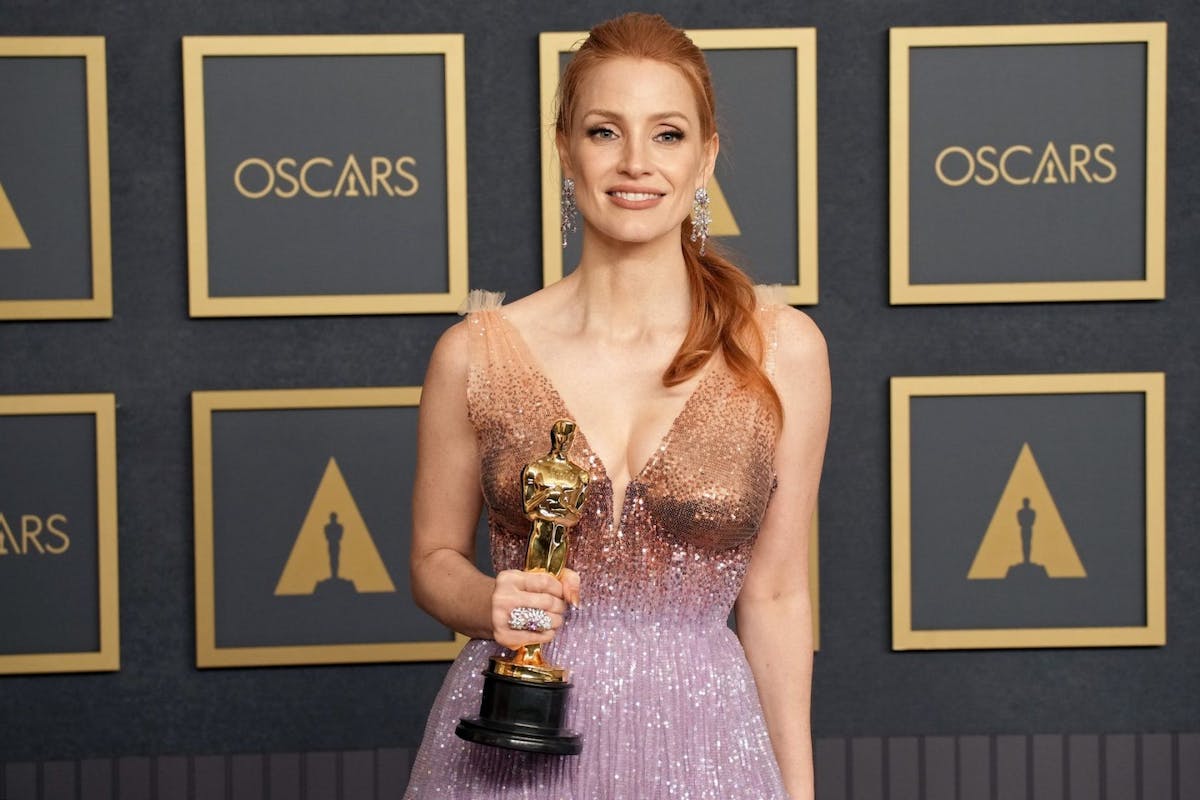 Jessica Chastain is one of the most prominent American actresses. She is famous for her convincing acting skills and philanthropic works. Jessica has been a part of the film industry for nearly two decades. In 2022, she received the prestigious Academy Award for portraying Tammy Faye Baker in the biographical drama film The Eyes of Tammy Faye. Moreover, Time has included Jessica on its 100 most influential people in the world list. 
About
Jessica Chastain is an actress and producer born in Sacramento, California, USA. She made her acting debut in 2004 with Dark Shadows, a Warner Brothers TV network show. Throughout her career, Jessica has starred in critically and commercially acclaimed films like Zero Dark Thirty, The Help, Interstellar, Mama, The Martian, It Chapter Two, and Dark Phoenix. She has received several accolades for her contribution to the film industry. In her successful and exemplary journey, Jessica has worked with iconic stars like Andrew Garfield, Matthew McConaughey, James Franco, Emma Stone, Matt Damon, and Anne Hathaway.
Early Life
On the 24th of March 1977, Jessica Michelle Chastain was born in Sacramento, California, USA. Her father, Michael Monasterio, was a musician. In contrast, her mother, Jerri Chastain, was a chef. At the time of Jessica's birth, Jerri was sixteen, and Michael was seventeen. Her parents did not stay together for a long period, and eventually, Jessica grew up with her mother and stepfather. Her stepfather, Michael Hastey, was a firefighter. Jessica has four siblings. Growing up, she shared a great bond with her grandmother. Her grandmother would often take her to musical plays. As a result, from a young age, Jessica developed a liking for performing arts. For schooling, she attended the El Camino Fundamental High School in Arden-Arcade near Sacramento. During her school years, Jessica was not an academically driven student. However, she often participated in the school's performing arts ventures.
Things at home were not easy for Jessica. Her mother had to do several jobs to provide for the family. Many times, young Jessica had to sleep without eating anything. At school, she did not have any friends. The kids in her neighborhood were involved in smoking and other drugs. However, Jessica was always busy reading Shakespeare and playing with her sister. She started liking Shakespeare after attending the Shakespeare festival in Ashland, Oregon. Jessica did not like going to school because she felt like a misfit. Consequently, Jessica could not qualify for graduation due to low attendance during her senior year. Later, she attended an adult high school facility to get a diploma. After that, Jessica joined Sacramento City college.
Beginning of Career
In 1998, Jessica began her acting career with the role of Juliet in the iconic Shakespeare tragedy Romeo and Juliet. Jessica performed the play at TheatreWorks, a renowned professional theatre company in Palo Alto, California. Later, she applied to the prestigious Juilliard school in NYC. The fee structure for Juilliard was high, and Jessica struggled to get admitted to the college. Her entire family helped her to get into college. She became the first person in her family to go to college. However, her first at Juilliard was difficult. From anxiety to financial struggles, Jessica endured it all. But things changed when she won a scholarship from legendary actor Robin Williams. In college, Jessica participated in the famous Russian play, The Seagull. The play helped her in gaining confidence as an actor. After graduating from Juilliard, Jessica moved to Los Angeles to audition for television and film roles.
Initial Years
In 2004, after spending a year in Los Angeles, Jessica finally landed an acting project. She had auditioned for several roles, but she faced difficulties in getting cast as a redhead. However, the Warner Brothers television network cast her as Carolyn Stoddard in the remake of Dark Shadows, an American soap opera. Later, she appeared in several TV shows but did not gain recognition. Jessica continued to participate in plays. However, she couldn't get critical or commercial success in the industry. In 2008, Jessica got the opportunity to make her big screen debut. She played the titular character in Dan Ireland's Jolene. The film failed to achieve commercial success, but Jessica garnered critical acclaim.
Worldwide Recognition
In 2010, Jessica starred in John Madden's The Debt alongside legendary actress Helen Mirren. The film received positive reviews. However, it was in 2011 when Jessica started gaining recognition as an actor. She starred in Tate Taylor's blockbuster comedy-drama The Help. The same year, she appeared in The Tree of Life alongside Brad Pitt. Through these groundbreaking successes, Jessica received multiple nominations for the Academy Awards, BAFTA, and Golden Globe. By the end of 2012, Jessica had become a global icon with the release of Zero Drak Thirty, an American thriller revolving around the intensive hunt for Osama Bin Laden. In the following years, she appeared in box office hits like Mama, Interstellar, Dark Phoenix, It Chapter Two, and Molly's Game. The film fraternity considers Jessica as one of the most iconic actresses of the era for these groundbreaking successes.
Also read: Brenda Song | The Journey From Disney To Dollface
How old is Jessica Chastain?
Jessica Chastain is 45 years old as of 2022. She was born on the 24th of March 1977 in Sacramento, USA. Her parents were teenagers when they had her. Jessica's childhood was full of struggles. However, she found happiness in watching plays and reading Shakespeare.
What is the net worth of Jessica Chastain?
Jessica Chastain's net worth is estimated to be $50 million. She began her acting career in 2004 with the WB television network's remake of the soap opera Dark Shadows. In her career, she has won several prestigious accolades like the Academy Award, BAFTA, and the Golden Globe.
Is Jessica Chastain married?
Yes, Jessica Chastain has been married to Gian Luca Passi de Preposulo since 2017. He is an Italian-American brand executive hailing from Montebelluna, Italy. The couple has two children together.