Karsanbhai Patel | The success story of the founder of Nirma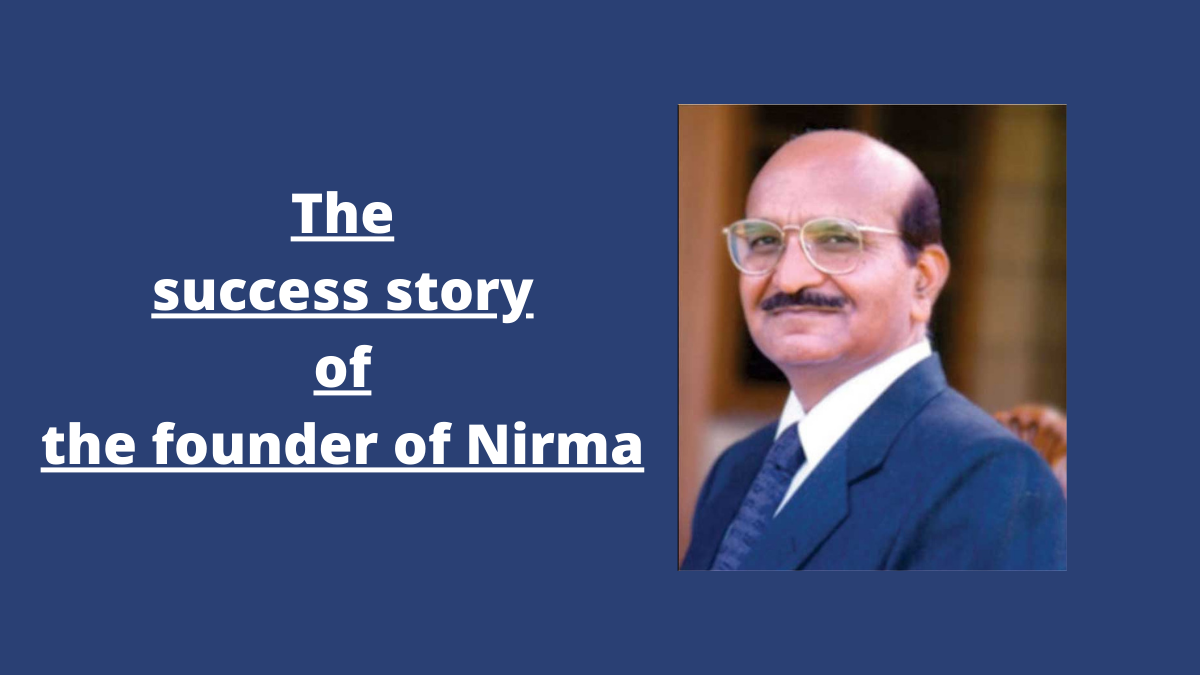 Karsanbhai Patel is an Indian businessman and industrialist who founded the Nirma group. The company deals in cement, detergents, soaps, and cosmetics. As of 2021, Patel's net worth is US$ 3.9 billion. In addition, Patel also founded a leading pharmacy college, Nirma Institute of Pharmacy, and a leading engineering college. From selling detergent door-to-door to building an Rs. 52,500 crore company, here's his success story.
Early life and career
Karsanbhai Patel was born in 1975 into a farmer family in north Gujarat, India. At the age of 25, he finished his Bachelor of Science in Chemistry and worked as a lab technician. Initially, he worked at the New Cotton Mills in Ahmedabad. Later, at the Geology and Mining Department of the State Government. Karsanbhai decided to open a detergent business all by himself. 
In 1969, Karsanbhai started selling detergent powder which he manufactured and packed in his backyard. He cycled through his neighbourhood selling handmade detergent powder door-to-door. He ran his company all by himself. At just the price of Rs. 3 per kg, his business became an instant success. Soon, he named the company Nirma, after his daughter. He did all of this as a side hustle while working at his day job. Finally, Karsanbhai quit his job after three years and decided to focus on his business full-time. He set up his own detergent shop in an Ahmedabad suburb.
Nirma's success
Soon, Nirma started gaining popularity and become an established company in Gujarat and Maharashtra. The low price and high quality of the detergent made the company gain instant success. During that time, the detergent and soap industry was dominated by multinational corporations with expensive products. Within a decade, Nirma became the largest selling detergent in India. In 2004, Nirma employed around 14,000 people and became a leading employer.
In 1995, Karsanbhai Patel established the Nirma Institute of Technology in Ahmedabad. It grew into a leading engineering college in Gujarat. He also opened a management institute, which later consolidated under the Nirma Institute of Science and Technology in 2003. According to Forbes, in the year 2004 Nirma's annual sales were as high as 8,00,000 tonnes. His net worth is US$ 3.9 billion. 
Awards and Achievements
Karsanbhai is ranked 30 by Forbes magazine in the list of India's richest persons. He also got awarded an honorary doctorate degree by Florida Atlantic University. He received this for his entrepreneurial achievements. In 2010, he also got the Padma Shri Award by the Government of India.
The Gujarat Chamber of Commerce awarded him with the Outstanding Industrialist of the 80's. He was also appointed as the Chairman of the Development Council for oils, soaps and detergents.
He was the third Ahmedabad-based industrialist to buy a chopper after Gautam Adani and Pankaj Patel.
Lessons we can learn
From manufacturing his own detergent and selling them door-to-door to building an empire all by himself. Karsanbhai Patel's success story is an inspiring one. When he quit his job to focus on his detergent business, Karsanbhai said, "The lack of any such precedent in my family made the venture fraught with failure. The farmers from North Gujarat are known for their spirit of enterprise." Karsanbhai is a true example of a self-made billionaire.
With hard work and passion to succeed, we can achieve anything. Karsanbhai was determined to succeed and did everything he could. Passion powers the hard work, determination, and creativity that make great accomplishments possible. There is no shortcut to success. Hard work is the only key to achieving it. It teaches us discipline, dedication, and determination.
Recent Update:

Recently, Karsanbhai Patel's son Hiren Patel, the chairman of Nuvoco Vistas Ltd., filed a DHRP for Rs. 5000 crore IPO. The company is backed by Nirma. Moreover, it acquired the assets of Lafarge India and Emami Group. Currently, Nuvoco Vistas is situated in the fast growing eastern and northern Indian regions. It is competing with big brands like Ultratech Cement and Dalmia Bharat.
Also read: Chandan Roy | The success story of Panchayat's Vikas Shukla
What is Karsanbhai Patel's net worth?
As of 2021, it is US$ 3.9 billion.
What businesses does the Nirma group deal with?
The company deals with cement, detergents, soaps, and cosmetics.
How old is Karsanbhai Patel?