Kenzo Takada | Success story of the French-Japanese designer
Kenzo Takada was a French- Japanese fashion designer. His success story is getting above the racial and other discriminations. Kenzo was famous for his impeccable style of designing clothes. He explained that he wanted to make women feel freedom through fashion.
Early Life
On 27th February 1939 Kenzo Takada was born in Himeji, Hyōgo, Japan. Growing up, he loved fashion magazines and reading about clothes. He attended Kobe City University of Foreign Studies for a year. Kenzo's father passed away during the first year of his college. After this event, he withdrew from attending university.
He enrolled in Bunka Fashion College instead, where he won a design competition, the Soen Award, in 1961. After that time, Takada gained experience working as a girl's clothing designer at the Sanai department store. Later he invested his time creating high-end luxury items like dresses for private clients.
Takada loved Paris, especially the designer Yves Saint Laurent. His interest was further fostered in the city after he met a mentor from Bunka. She advised him to go on a trip to Paris. In 1965, when Takada arrived in France for the first time, it felt dismal and bleak. But then he witnessed Notre Dame de Paris. It made him feel welcome and warmly accepted into this new environment.
Career
Kenzo Takada initially worked as a freelance fashion designer. He sold his designs for very little money. But later, he found a place to start his studio in the Galerie Vivienne. Kenzo's first collection inclined towards eclectic and bold fashion. He organized his first fashion show at the Galerie Vivienne. But due to lack of money, Kenzo couldn't hire professional models. So they painted their models in green color.
Takada began his career in the late 1960s. By 1970, he got featured on Elle magazine's cover. And by 1971, his brand was at New York Fashion Week and Tokyo Fashion Week. Later in 1974, he took a major step forward with the "Big Look" fashion trend, which became the primary high fashion trend of the mid-1970s. He then opened his flagship store in 1976 called Kenzo Place des Victoires.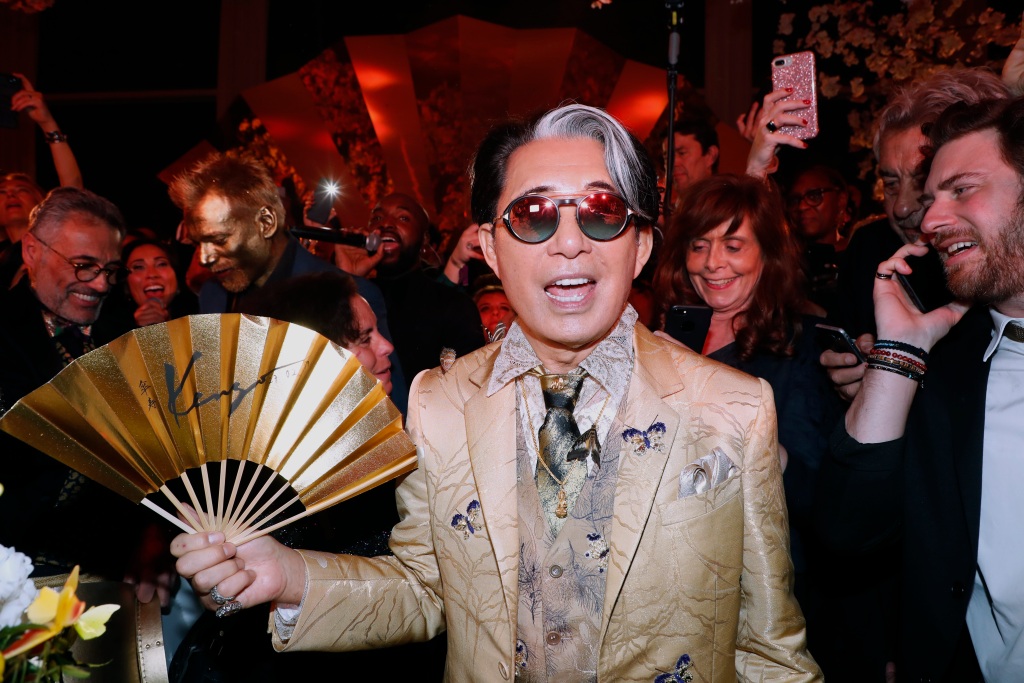 The following year Takada went big again and hosted an unusual show. His fashion show was under a circus tent with horsewomen wearing transparent uniforms. The wild moves to start it off before concluding strutting on top of an elephant himself!
In 1999, Takada retired from Kenzo to pursue a career in arts. He left the business to Roy Krejberg and Gilles Rosier, who were responsible for men's and women's clothing design. In 2005 he reappeared as a tableware designer for Gokan Kobo. Later in January 2020, he launched a new lifestyle brand named K3. This brand made its first appearance on 17 January 2020 at the Parisian showroom during Maison et Objet trade show.
Lesson to Learn from Kenzo Takada
Kenzo Takada once said, "But I am influenced by the world that says I influence it. The world I live in is my influence." He started from scratch left his country and land to find his dream world. Kenzo didn't achieve it one day; it took years. Like it is said, "Rome wasn't built in a day, but it burned in one."
Similarly, even you need to trust yourself. Rushing into things will only make things worst. Take it slow, and don't compare your success to someone else's. Everyone is on their own journey. We can't know what one is going through. Hence we must focus on ourselves first.
Also Read: Anna Wintour | Success story of the Iron lady of gloss
Whom did Kenzo Takada marry?