Rajat Sharma | Rise of India's most popular journalist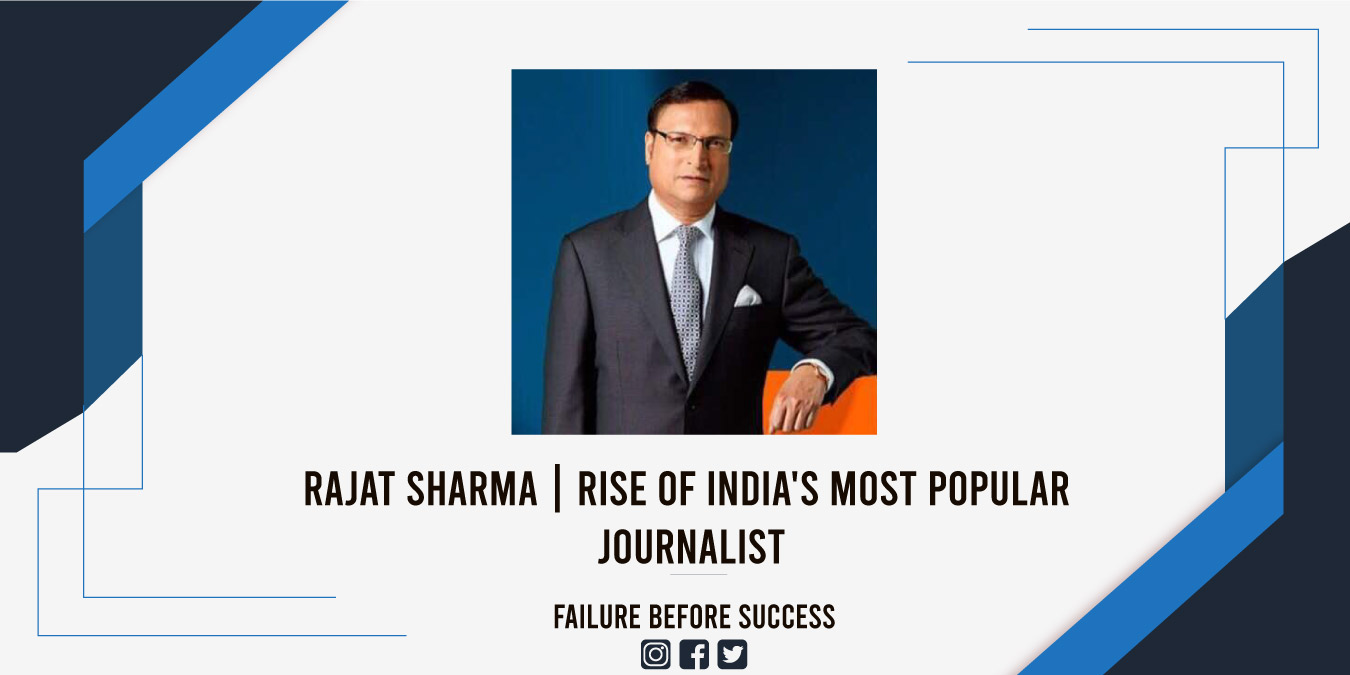 Success stories shouldn't just comprise of the rosy parts of someone's life. Instead, they should focus on the hardships and the struggle they had to endure to achieve something in life. This is our sole motive at Failure Before Success; to inspire. This article features the highly inspirational life story of the famous journalist Rajat Sharma before we knew him as the host of the show "Aap Ki Adalat."

The majority of people who have seen Rajat Sharma on TV have the same question in mind, "Is he a lawyer?" People question this because of his efficient skills in the domain of journalism and mass communication. He derived those skills whilst living in poverty and struggling through life.
Humble background
Rajat comes from a family with humble beginnings. The family of ten people, which comprises of his seven siblings and ailing parents, lived in a 10X10 house in Delhi. They had to use a community washroom as they did not have one in their house. His father could not afford expensive education for his children so Rajat went to a community school. Absence of electricity from the house forced him to go to the railway station in the night to study under a lamppost.
Hardships in the midst of poverty
The family struggled to make the ends meet. They did not own a television set so Rajat Sharma used to go to the neighbor's house to watch TV. This dates back to the time when a single movie was broadcasted over the weekend; first half on Saturday and the other half on Sunday. On one such Sunday, Rajat's neighbor closed their doors and did not allow him to watch the movie. This made the young boy sad and he had tears in his eyes. When he narrated the incident to his father, he told Rajat something that stuck with him for a long time.

"Why should you go to some other person's house to watch a different person on a screen? Do something big in life so that one day you would be on the same screen."

These words motivated him to work hard in life so that he could make his father proud. He studied hard and got into Shri Ram College of Commerce. To pay the fees, his family had to save even the smallest amount that they could, be it notes of two or five rupees. While he was in the line to deposit his fees, the accountant scolded him for being short of five rupees. It was a humiliating moment for him. His college senior, Shri Arun Jaitley, who later became an inspiration for him in life, helped him with the fees.
Idea for Aap Ki Adalat
In 1992, he bumped into Zee TV's Subhash Chandra during a flight and it was in the midst of a casual conversation that the concept of Aap Ki Adalat took shape. By that time, Rajat Sharma had successfully established himself as an editor and had shifted entirely to Bombay. However, in 1993, after the first episode was aired, his life changed completely; for the better.
Also read: Sushant Singh Rajput's motivating story.
Struggle thereafter
In 2004, he started his own news channel, India TV which for the first two years, drained his investments. He had to sell off his properties to pay the salaries. However, he did not give up and changed his strategies accordingly; today it is one of the most-watched news channels.

Rajat Sharma was awarded the Padma Bhushan in 2015 for his contributions in the field of Journalism. His entire story is a true example of going from rags to riches. We hope that it positively impacted you. Remember, today's struggle is tomorrow's success!