Roman Saini | The incredible success story of the founder of Unacademy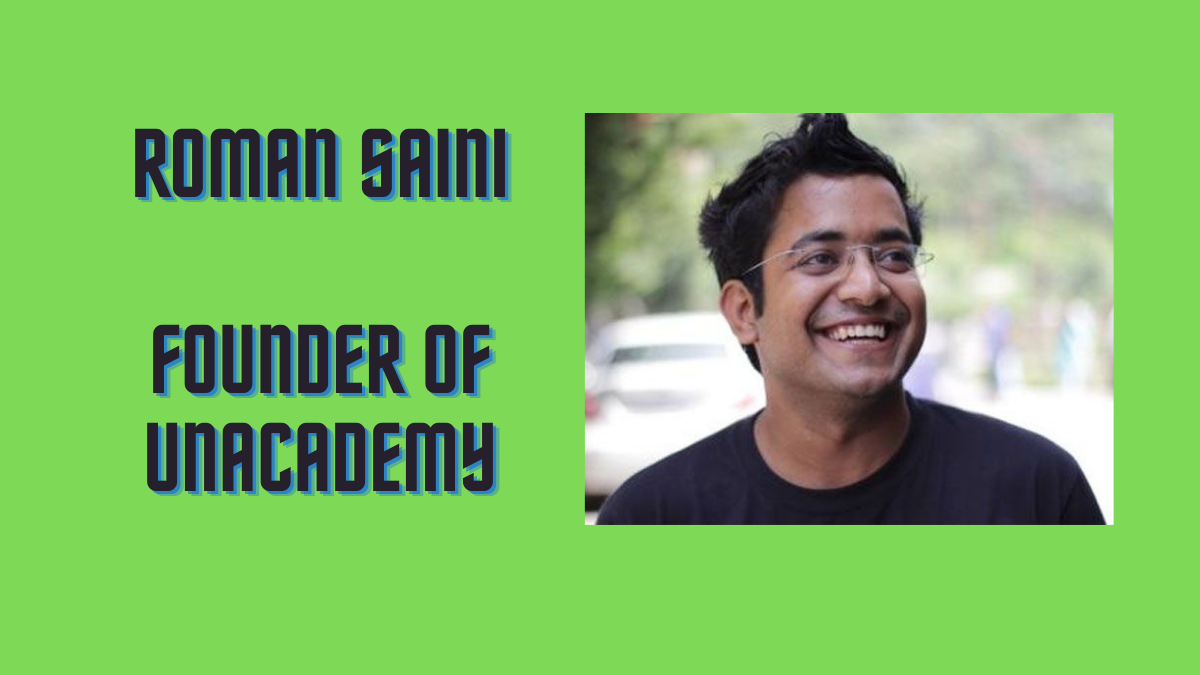 Roman Saini, the co-founder of Unacademy, is an incredible entrepreneur, doctor, and former civil servant. Working as an assistant collector for two years, he quit his IAS job to pursue his passion for teaching. It is not easy to resign from a high-profile job and work on something that is completely new. But, Saini proved that you can do anything if you stay focused and positive. Roman Saini's success story from doctor to IAS to entrepreneur is inspiring to people all around the world.
Early Life
Roman Saini was born in Raikaranpura village, Jaipur in a middle-class family on 27 July 1991. From a very young age, Saini dreamt of changing the education industry. At only 16 years old, he cleared the AIIMS examination. He also published a research paper in a reputed medical journal before the age of 18. That's not his only achievement. At 22 years old, He cleared UPSC Civil Services, one of the toughest examinations in the world.
After completing his MBBS, he worked as a Junior Resident at NDDTC in Psychiatry. But, he resigned within six months as he cleared the UPSC Civil Services in 2014. He was the youngest IAS appointed as a collector in Madhya Pradesh.
Roman's Life Before Unacademy
The journey of Unacademy started in the year 2010. Back then, Unacademy offered free online live lectures on YouTube to someone who wishes to learn. To start his own entrepreneurial journey, Saini resigned from his IAS job. Quitting a high profile and comfortable is not easy. In 2015, Unacademy was officially registered as an enterprise, and hence officially it became a company. Roman Saini established its headquarters in the startup capital of India, Bengaluru, Karnataka.
Roman loved IAS and what it offered and the impact he could create there. But being an educator and solving the education problem was something he loved as a child. Teaching was his calling. His parents were disappointed in him but they had faith and knew that they could trust him. After a few discussions, they supported him and started giving ideas around Unacademy. Roman is just doing what his true calling is and what he always loved as a child. He's learning and imparting that learning and in the process fixing what's broken. Roman believes that no one is a born genius and everyone has the knowledge, talent, and calibre to achieve whatever they want in life.
Unacademy
Unacademy app was officially launched in 2016. Roman co-founded this startup with Gaurav Munjal and Himesh Singh. Before this startup, Gaurav was already teaching at his youtube channel named Unacademy. Gaurav along with Himesh was also running a company, Flatmate, which they sold to work full-fledged on Unacademy. Finally, their hard work paid off and today Unacademy has over 10,000 educators and 13 million students.
Personal Life
Roman belongs to average Indian family where father is engineer and mother a house maker. And also have brother Avesh Saini, is a pediatrician and his sister, Ayushee Saini, is a medical student. Career kick-up Started in junior resident doctor at AIIMS, where he came across poverty-ridden areas and struggling people that made him to decide to do something overcome these problems in India.
Lessons we can learn from Roman Saini
Today, Unacademy is among India's fastest-growing ed-tech startups and one of the largest online learning platforms. Roman Saini says that that in order to succeed the first thing you need is to learn how to learn. Before taking up a challenge, you need to train for the challenge. While taking risks, one should take a calculated risk. Quitting a high-profile job must have not been easy but Roman trusted himself and his abilities. Luck also plays an important role. We are lucky to be born in this generation with access to knowledge in any discipline. We just need to work hard and justify it.
Also read: Domino's Pizza | The success story of one of the leading restaurant chains
At what age did Roman Saini clear the UPSC Civil Services Examination?
When was Unacademy founded?