Domino's Pizza | Success Story of the Famous Pizza Chain
Domino's Pizza is one of the most prominent restaurant chains in the world. Tom Monaghan founded the restaurant in 1960. For almost six decades, Domino's has been running at a steady pace in the restaurant world. But, they did not achieve success overnight. Where they are today is a result of years and years of hard work, commitment, perseverance, and dedication.
The beginning of Domino's Pizza
In 1941, Tom Monaghan's father died and he spent most of his childhood days in an orphanage and his relative's house. He had big dreams and saved up his money to invest it in something good. In 1960, Tom and his brother Jim bought a local pizza business, Dominick's, for sale in their hometown of Ann Arbor, Michigan. Tom took out a $900 loan from the Post Office. They did have a business background and everything was new to them. A few months after starting the business Jim backed out which left Tom as the only owner. During the early years of business, Tom invested all his time and energy into growing the business. He kept the name Dominick's pizza for several years till the original owner intervened and eventually, he changed the name to Domino's Pizza.
Steps towards success
In the late 1970s, Domino's collaborated with several other pizza joints which helped them in expanding their areas of operation and get access to each other's customers. After a few years, they opened almost 200 stores globally. Beginning in 1973, Domino's Pizza offered a guarantee to customers that their pizza would be delivered within 30 minutes of placing an order or they would receive the pizza free. According to Tom Monaghan, the half-hour guarantee was dropped in 1993 because of the "public perception of reckless driving and irresponsibility". In the year 1975, Domino's faced a lawsuit alleging trademark infringement and unfair competition. On May 2, 1980, the court found in favor of Domino's Pizza.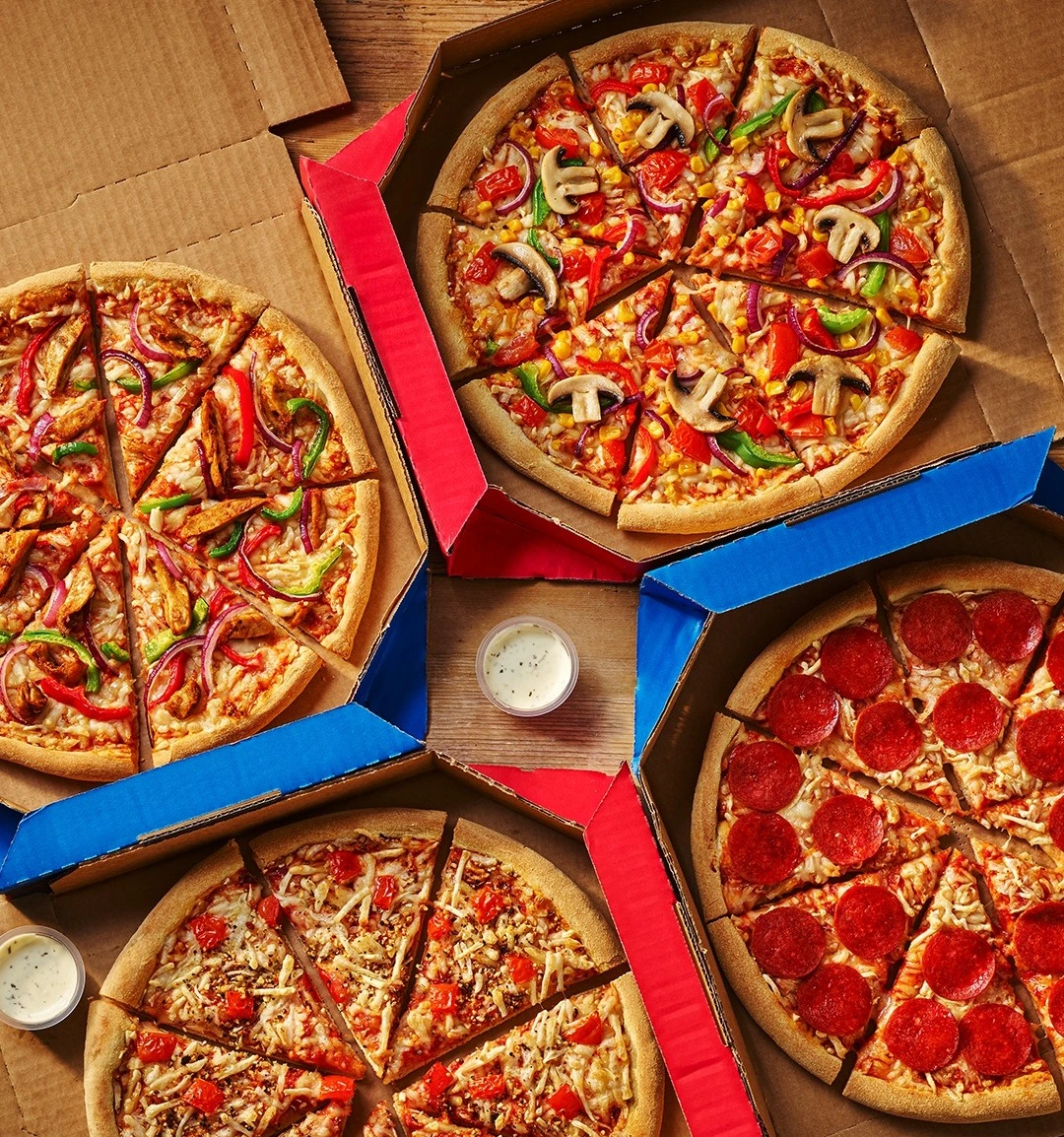 By 1983, Domino's opened 1000 stores in America and it slowly started opening shops in other countries as well. By 1995, Domino's expanded to 1,000 international locations. In 1997, Domino's opened its 1,500th international location, opening seven stores in one day across five continents. In 1998, Domino's founder Tom Monaghan announced his retirement and sold 93 percent of the company.
At the beginning of 2004, Domino's had to go through many hardships. They were $943.2 million in debt. It was paid off later. By 2007, customers started preferring Pizza Hut over Domino's and the competition became stiff. Hence, they decided to introduce online mobile ordering. They became the first pizza delivery company to come up with such an innovative strategy. This strategy was a mega-hit among people and the customers loved this idea.
The present
Today, Domino's has over 17,000 stores across more than 90 countries with retail sales of $14.3 billion. Domino's has various products on its menu, making it one of the best pizza delivery services in the globe. More than half of Domino's sales now come from outside the U.S. More than 94% of Domino's stores in the U.S. are franchise-owned. Domino's is the market leader in the pizza segment in India.
Tom Monaghan did not know anything about business but he still managed to create an empire. Therefore, when starting a new venture from the scratch doesn't necessarily require us to have knowledge in the field. Hence, The most important thing is to keep working hard and get good results. Dominos used technology to their advantage by innovatively engaging with the customers which helped in the success of their business.
Corporate Governance
Richard Allison is the current CEO of Domino's Pizza. The chairman is the previous chief executive Dave Brandon. A board of directors under Brandon handles all the operations related to Domino's Some other members of the board are Allison, Andy Ballard, Andrew Balson, James Goldman, Patricia Lopez, Diana Cantor, Richard Federico and Corie Sue Barry.
Recent Update:
Recently, India's largest food services company Jubilant was in the headlines. Jubilant is the master franchise owner of Domino's Pizza in India, Bangladesh, Sri Lanka, and Nepal. Jubilant declared that the world's leading pizza chain may take some of its business away from food delivering apps like Zomato and Swiggy. Not long ago, many restaurants in India accused these food delivery apps of running alleged hurtful practices. As a result, Jubilant has declared that it will be focusing more on its in-house orders now.
Also read: Betty Cohen | The success story of the founder of Cartoon Network, one of the most favorite cartoon channels
When was Domino's Pizza founded?
Domino's Pizza was founded in1960.
Who is the current CEO of Domino's?
The company is led by CEO Richard Allison.
Currently, how many stores of Domino's are there in the world?
Today, there are over 18,000 stores – including more than 11,000 outside the United States.