Samyang Foods | First instant ramen company in South Korea
Love for food is never less than loving a person, which hits differently. Similarly, a global market leads to creating a new food culture with the value of "joy to challenge." Hence people are trying new things over curiosity, and majorly social media is trending over Ramen. Thinking of Ramen comes to mind as Korean Samyang Ramen, Korea's first instant noodle produced by Samyang Foods. Ramen set a new trend for noodles worldwide, but how did this happen to reach the top just with noodles, or something else also made it famous?
Start Samyang Foods
Samyang Food was founded on September 15, 1961 by Jeon Jung Yoon. Before it was Samyang Dairy Corporation later changed to Samyang Industrial Co., Ltd. Initially, it started as a Ramen business with 10won, growing the marketing it reached as it primarily helped post the war. Samyang solved the major crisis of food shortage that occurred during the war. Hence that led to increasing the employment rates. Soon they produced instant noodles. In 1963 it was the trigger point for mass production.
Further 2012 Samyang Foods released its Buldak Spicy Chicken Ramen. With that, it made me step into the restaurant favorite. Down the year, it made its first oversea exploration with Samyang Japanese. That resulted in $5.4 billion US dollars of ramen consumption.
Later year launched kimchi products with on-demand fire noodles. They broke the stereotypes of Korean noodles and expanded their overseas sales, strongly pushing their Hot Chicken Flavor Ramen in 2014, doubling the sales.
Samyang ramen (Hot Chicken Flavor Ramen), Samyang bowl & cup noodles, Samyang snacks, and Refined sugar are primarily available in different products.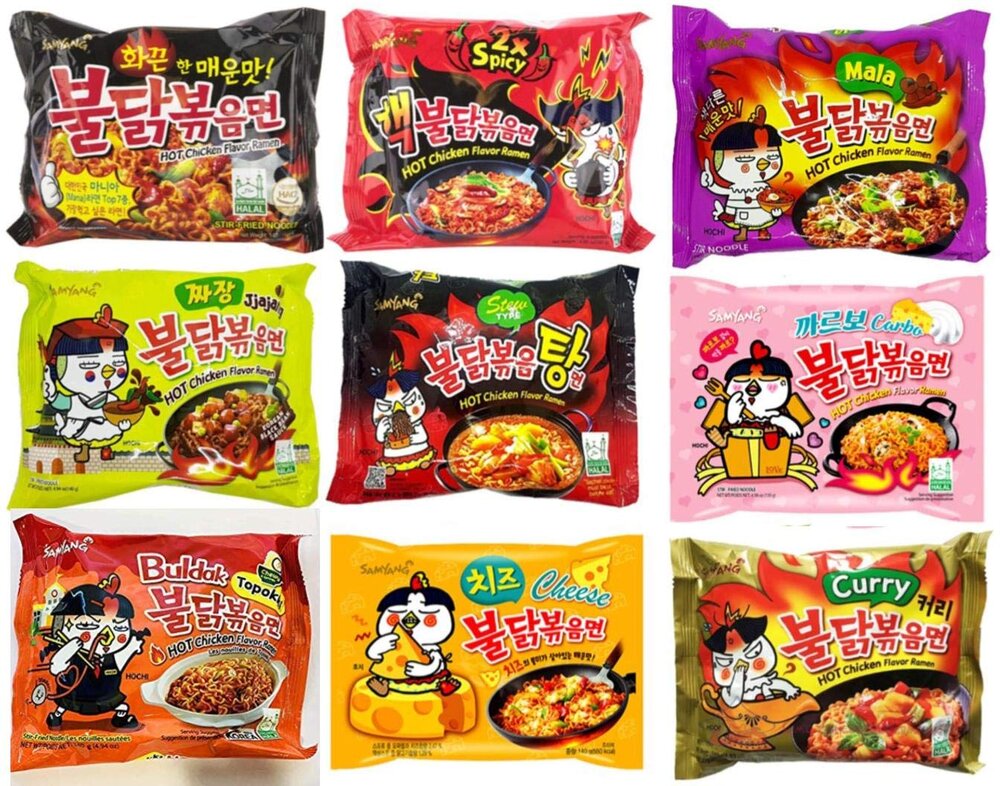 Controversies
It faced its first controversy during those times as the food production used industrial oil in its Ramen. So in 1989, the market went down on display, but soon the investigation certified that its safe for human consumption. Another throw-down happened in competition with Nongshim product development. One more scandal in 2012 came to light: ramen companies in South Korea had been conspiring to fix prices for the past ten years. Four major instant noodle makers were fined a total of 135.4 billion won.
Samyang Food strategies
Jeon Jung Yoon, the Founder of Samyang Food. He built and developed it to the level that it's getting recognized over the sea. Current CEO Kim Jeong Soo is observing the efficiency significantly amid the Covid-19 business slowdown. She ensured that rapid decision-making and enhancement in business expansion and new factory construction would gather speed upon her return.
Kim was behind the invention of the global hit instant noodle Hot Chicken Flavor Ramen or Buldak-bokkeum-myeon, leading to Samyang Foods' worldwide success.
The company's operating profit also spiked 21.9 percent annually to a new record of 95.3 billion won. And overseas shipments spiked 35.8 percent annually to 370.3 billion won last year, accounting for slightly over 57 percent of its top line.
Samyang Food short journey
Since the journey served more than half a century, it has made quite good hype in the market with its varieties and spiciness. The expansion overseas shows that it surpassed domestic sales for the first time since its foundation. Recently, the company took over several restaurant chains to expand into the food service industry. It's just never-ending craving for noodles when Samyang Food is here.
What is the net worth of Samyang Foods?
May 12, 2022, In 2021, Samyang Food's net income amounted to about 56.66 billion South Korean won.
What is Samyang ramen?
Samyang Ramen, Korea's first instant noodle, has established a new food culture by showing ramen as a second staple and is leading the K-FOOD craze through Buldak Ramen, which has grown into a world-class brand.