Sharmili Ghosh | Self Acceptance- The War Within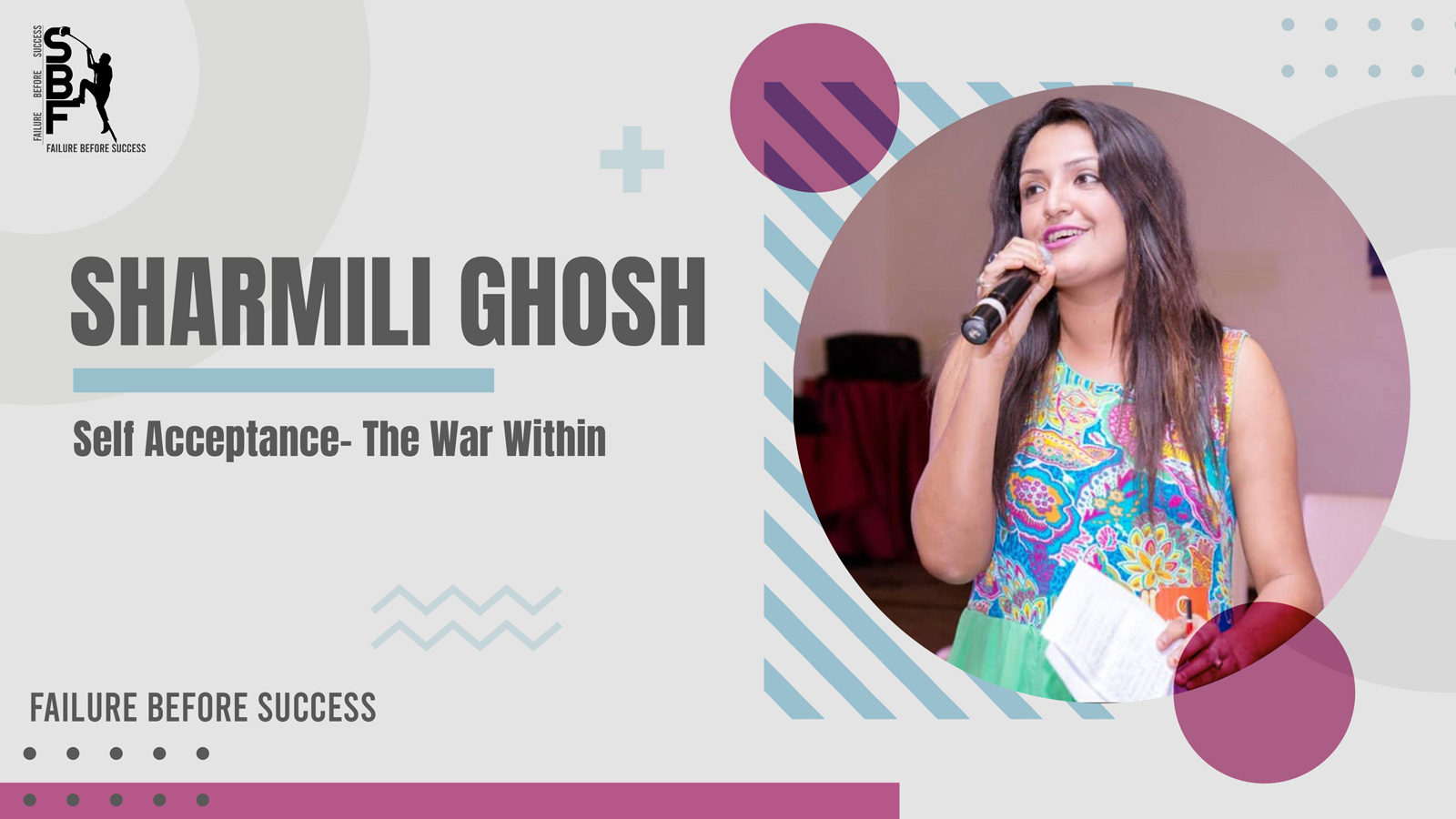 "Sharmili Ghosh, have you ever looked at your face? You are too ugly to even think of being Cinderella. We can't take a fat girl in our play to do the lead role."
They told this to a 12-year-old girl. Can you imagine the shattering of the self-esteem of that girl?
This write-up is about the journey of that little girl, her battles with our so-called society, where people laugh at your failures and never leave a single chance to exploit your weakness.
Moreover, it is the story of a girl fighting her life's toughest battle- the war within. This story is about people like you and me.
As the legend has it, to attain peace, you have to win over self-doubts. And Ms. Sharmili Ghosh is a classic example.
Her self-acceptance journey started at the tender age of 12 when she was rejected to play Cinderella at her school's annual function. It was then self-doubts took over her personality. A fun-loving girl turned into a timid, sad girl who thought herself as lesser than others.
"But the divine power never differentiates. "
"What do you want to become in your life?" asked the elderly, she met when traveling on a train.
"I want to become fair and beautiful." Sharmili said.
"Why?"
"Because I am ugly and I cannot play the part of Cinderella."
"What if you can be much more than beautiful? What if you become kind to others?"
"I guess I can."- replied Sharmili
Sharmili Ghosh asked that stranger who he was, and he replied that he is a Principal of a school in Chennai, Tamil Nadu. She asked him if he can give her admission to his school.
"Yes, Child."
She asked if she can play Cinderella in his school.
"Of course, dear."
Sharmili never met that man again, but this incident changed her completely. She knew she was no less than others. She developed this mindset if she was kind to others; good things will happen to her. It was not the end; it was just the mere beginning towards her journey of self-acceptance.
She was 16 and no longer an under-confident girl. Yet the bullying and fat-shaming never stopped, but it didn't hurt like before. Now, public speaking was her thing. She was winning medals on various occasions, both at school and district levels. But being celebrated at the stage was never the hard part.
The problem was she had no interest in studies but loved extra-curricular activities. She managed to pass the 10th boards with 81% and took up Commerce because science was not her cup of tea. But it was just another barrier. After two years, she scored a whopping 91% in her senior year exams. She also went on to become the School Captain.
She completed her bachelor's with flying colors and even had the scholarship to study abroad in her dream university for masters. Just when everything was happening as planned, life happened. She came to know that her mother was not keeping well. Being the elder among her sibling, she made a tough choice of staying back in India. With no further plans or hopes, she took admission at Lovely Professional University to pursue her MBA hoping things would get better.
Little did she knew what was on her way?
She became a popular student in no time because of her public speaking skills, but people started catcalling her as an opportunist and an attention seeker. Still, she didn't bother and continued to ignore them.
Last semester of college life and her long term relationship broke. Her confidence shattered, and there was no goal in her life. The move on was not smooth, and being a known face on campus made it worse. The insults and humiliations in college were taking a heavy toll on her life.
She only had her family and best friend by her side. She was not at her best, but she didn't give up and managed to get one of the highest packages on campus. That was surely a slap on those faces who wanted to see her fail.
Her professional life had just started, and she was recovering from all past hurts and fell in love again. Things were going okay, but the Universe wanted to test her again. She met with an accident on 04th June 2017 that left her with 20% compression in the spinal cord and broken bones and was bedridden for a few months. She expected her loved ones to be near, but that was the time her partner decided to leave her.
Another failed relationship, and this was a rock bottom.
With time her broken bones healed, but her broken heart couldn't. All those years of bullying, fat-shaming, fears, self-doubts, and heartbreaks came together like a tsunami, which ultimately led to mental illness. It led to an emotional and mental breakdown. The time was not far where she would have hurt herself.
"No one can describe the pain you feel when there is no hope, and you only see darkness."

Sharmili Ghosh

She had sleepless nights and thought of attempting suicide many times for 365days and finally took help from a psychiatrist. There were thoughts of admitting her to the hospital.
"I felt like if I would sleep, someone will kill me."
At this point, only two things could happen. Either she could kneel, or she could fight the toughest battle of her life. Sharmili Ghosh chose the latter.
"Yes, one can say, how is this even possible- To change yourself suddenly?
Life is no maths. There is no particular reason or explanation about how these things work. "
She went to her psychiatrist and asked her to wait for 30 days and promised her she would recover. She started taking one day at a time. Positive affirmations and meditation were in her routine. Eventually, she started feeling good (not totally, but it was significant for her survival).
She even left her well-paying job in sales, and the plan was to start fresh.
"Universe has always helped me."
During this tough time, some students came to her and asked her help for preparing for interviews, and she reluctantly took this opportunity to train them. Surprisingly, 8 out of 10 students got selected in the corporates. Sharmili had finally found her calling- Training.
She did a certification course, and within no time, there was a job offer. It was as if the Universe pushed her into this journey. The designation was of a Soft Skills Trainer in her own University, LPU. The salary was less than her previous jobs; people around her tagged her as a fool, but nothing affected her. She joined the institution in July 2018. This time as a mentor to help the students where she went wrong.
She worked there for 1.5 years, honing her training skills. Today, she is a Certified Soft Skills Trainer, a Certified Emotional Intelligence Specialist, and a Certified Professional in HR Analytics and Metrics. Sharmili is currently a Training Manager in a healthcare MNC handling the training for five states with her trainers' team.
She recently completed her 100th Soft Skills and Personality Development workshop and has trained more than 4000+ people, including graduates, entry-level professionals, mid-level managers, and senior management, all just in two years.
She believes she has just begun, and the road ahead will be filled with many more challenges, but this time she will not give up so easily.
Sharmili always says that only people who have experienced immense pain can help others, which has kept her going through the toughest periods in life. It was all about accepting her strengths and weaknesses that helped her realize that confidence is beauty, and no one can dim the light that shines from within.
You can connect with Sharmili Ghosh on her Social Media accounts: LinkedIn, FaceBook