Srinidhi Shetty | The Success story of Miss Supranational 2016
Srinidhi Shetty is a model and a south actress. After the massive success of KGF, Srinidhi became a well-known actress in India. She is also the winner of miss supranational 2016. We all know her destination, but little about her journey. So let's see how an IT Engineer working at Accenture quit her job and became a well-known Indian model and actress.
Srinidhi Shetty Biography
Srinidhi Ramesh Shetty was born on 21 October 1992, in the City of Mangalore, Karnataka. By profession, she is a model and a well-known Kannada actress. The appearance of Srinidhi as Reena in KGF has made the audience fond of her. She will also be seen in the movie cobra. By far, she has shooted three movies in total. She is the daughter of Ramesh Shetty and the late Kushala Shetty. The demise of her mother hit her while she was in 10th standard. She has two elder sisters- Amrita Shetty and Priyanka Shetty. Srinidhi's hobbies include dancing, yoga, traveling, and swimming. Apart from this, Deepika Padukone is one of her favorite Bollywood actresses. She was a brilliant student. She scored 93.5% in her senior secondary exam and 85% in engineering. She also worked as a model while employed at Accenture.
Srinidhi Shetty's entry into movies
During her college, Srinidhi used to be an NCC cadet. She was also into modeling. After finishing college, she worked in an IT Consulting company, Accenture. But, later, she resigned to pursue her pageant dream. Her father supported her throughout the journey. The incredible pageant journey started in 2012 when Srinidhi made it to the top 5 contestants of the clean and clear fresh face contest. Alternately, she worked very hard in the modeling industry. Later in 2015, she won several titles subsequently. Those titles were Manappuram, Miss South India, Miss Karnataka, and Miss Beautiful Smile. In Manappuram's miss queen contest, although she could not win the show, she made it to the first runner-up and was named Miss Congeniality. Srinidhi also participated in Yamaha Fascino Miss Diva Supranational, and on 2 December 2016, Srinidhi was crowned Miss Supranational. As a result of her hard work, she is the winner of supranational Asia and Oceania.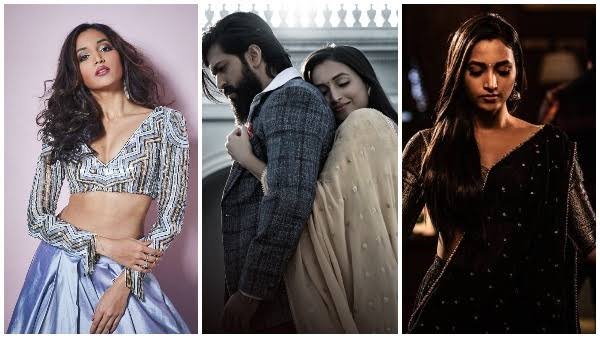 Consequently, Srinidhi started receiving several offers and entered into movies.
Srinidhi acting journey
She started receiving offers for movies as she became miss supranational. To begin with, she made her debut in Kannada movies with KGF. Further, She is about to debut in Tamil with the movie cobra. It is yet to be released. Srinidhi has also taken part in some product advertisements recently. She shared a review of "TheMomsCo."
Srinidhi's journey so far has been awesome. she wanted to work in movies and for her, this dream came true just after winning the pageant. She made her Kannada debut with the movie KGF chapter 1. She played Reena in KGF. This character was very much loved by the public. Srinidhi later said that she felt humbled to be a part of the KGF universe.
She has also appeared in the movie's sequel, KGF Chapter 2. Where her role was again very much applauded. She is playing the female lead in Chiyaan Vikram's Cobra and is being paid Rs 7 crore. She will make her Tamil debut with this movie. This upcoming movie is supposed to release on 11 August 2022.
Srinidhi struggles
Like everyone else, Srinidhi's journey has also gone through several ups and downs. First of all, switching careers from engineering to modeling was not an acceptable decision in society. Still, Srinidhi stood strong by her decision. While beginning her journey as a model, she used her first salary to sustain herself. As she had earned 23000 earlier while at Annexure. In 2015, Srinidhi broke her leg in an accident in the audition for Miss Diva. Consequently, It was followed by three-month complete bed rest. She was not able to participate for 3 months. Srinidhi was criticized for her communication skills. He was told to work on her fake accent various times in her pageant journey. She took criticism as motivation. And we all know the result.
Awards and achievements
Among many of her achievements, Srinidhi is the successor of the 52nd Edition of Femina Miss India.
Let's look at her pageant journey
| | | |
| --- | --- | --- |
| Year | Award | Result |
| 2012 | Clean & Clear Fresh Face Contest | Among the top 5 contestant |
| 2015 | Manappuram Miss South India | Won |
| | Miss Karnataka | Won |
| | Miss Beautiful Smile | Won |
| | Manappuram Miss Queen | First Runner Up |
| 2016 | Yamaha Fascino Miss Diva Supranational | Won Miss supranational |
| | Miss supranational Asia and Oceania | Won |
Awards For Movies
| | | |
| --- | --- | --- |
| Movie | Award | Result |
| KGF Chapter 1 | 8th SIIMA Award | Nominated |
| | 66th Filmfare Award | Nominated |
Life lessons for us
As an actor, she also does social work and recently posted an Instagram post about #Savesoil. To learn something from Srinidhi, it will be apt to put one of her favorite quotes here. She always looks up to this quote – " if you want to be successful, don't seek success, seek competence, empowerment; do nothing short of the best you can do. Work hard and let your success speak for you."
Also Read-Naveen Kumar Gowda (Yash) | The Success Story Of 'KGF Star'
What is the age of Srinidhi Shetty?
Who will be the heroine of KGF 3?
KGF makers have not announced anything about it yet.
What is Srinidhi Shetty's husband's name?
Srinidhi Shetty is unmarried.
Will Reena come back in KGF 3?
It is not certain. Although Reena was shot dead in KGF 2. There is a probability of the re-entry of Srinidhi