Naveen Kumar Gowda (Yash) | The Success Story Of 'KGF Star'
Naveen Kumar Gowda is also known as 'Rocky Bhai' from KGF. KGF has made Yash a Pan India star. But, this star has slept on the bus stand once. He was left with just 300 rupees. But, planes always fly against the air, likewise, he fought all the odds for his passion. Let's see how this middle-class guy went on to become one of the most famous Kannada stars.
He was born on 8 January 1986 in Bhuvana Halli, Hassan, Karnataka. Naveen belongs to a middle-class family. His father's name is Arun Kumar. He is a bus driver in BMTC. His mother's name is Pushpa, she is a homemaker. Naveen has completed his schooling at Mahajan High School, Mysore. He tied the knot with Radhika Pandit on 9 December 2016. He has a 3-year-old daughter, Ayra, and a 2-year-old son, Ayush. Naveen had a keen interest in acting and singing since childhood. He participated in several dramas and skits during school, where he was applauded for it.
Naveen wanted to start theatre just after completing junior school. But his family wanted him to continue his studies. So, he continued with his studies. After schooling, he moved to Bangalore to work as an assistant director. Due to the project's failure, he fell into a critical situation neither had a choice to return home, not to stay, as he left with three hundred rupees. Hence, he had to sleep on the bus stand occasionally.
Further, he joined the troupe of B.V. Karanth for backstage work and as a backup artist for fifty rupees per day. He subsequently worked hard to establish himself in the industry without contact. Graduated with BA from K.E.L. College, Bangalore, simultaneously. Then, he started working in Kannada teleserials. There has been no turning back since then. He entered the Kannada cinema. He is so down to earth that he drove an auto-rickshaw across the roads of Bangalore to promote his movie Kallare Santhe.
In 2004, Naveen's first TV serial' Nanda Gokula' was aired on Udaya TV. It was a transition from theatre to the small screen. Afterward, he worked in several Kannada teleserials. He has also sung many Kannada songs like 'Annthamma', ' Annange love Aagide', etc because of his singing skills. In 2007, he made his debut in the movie' Jambada Hudugi' in a supporting role. Next came the superhit movie ' Moggina Manasu' opposite Radhika Pandit. The success of this movie helped Yash in earning fame. Afterward, he worked in many Kannada hit movies. Soon he became a well-known Kannada star. Later, Yash's work in KGF: chapter1 made him a pan India star. This 2018 release delivered Yash acting to every Indian household due to its universal appeal. KGF Chapter 2 has also released on 14 April 2022 which is much admired by fans.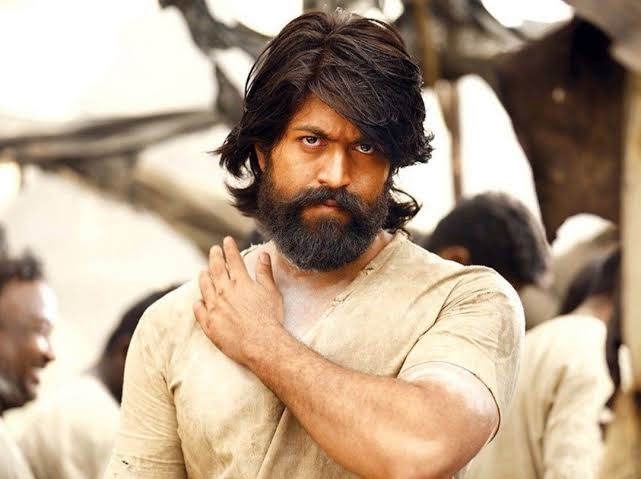 Uttarayana, Nanda Gokula, Male Billu, Preeti Illada Mele
Jambada Hudugi, Moggina Manasu, Kallara Santhe, Gokula, Modalasala, Bhama, Rajadhani, Kirataka, Lucky, Jaanu, Drama, Googly, Raja Huli, Gajakesari, Mr and Mrs Ramachari, Masterpiece, Santhu Straightforward, KGF; chapter 1, KGF; chapter 2
Awards And Achievements
Filmfare Award for Best supporting actor Kannada
Filmfare Award South for Best Actor Kannada
South Indian International Movie Award for Best Actor Kannada
IIFA Utsavam for performance in Leading role in Kannada
Zee Kannada Dashakada Sambhrana hero of the decade award
South Indian International Movie Award for Best Actor Kannada
South Indian International movie award for style icon of South India
Filmfare Awards South for best actor in Kannada
Personal Life
Naveen has a younger sister, Nandini, who is married to a computer engineer. He is married to Radhika Pandit. Whom he met in the first serial couple gradually fell in love and. But kept their relationship private for years. Finally, with families approval, we tied the knot on 12 August 2016 and have a daughter named Ayra, born on December 2018, and a son, Yatharv Yash, born on October 2019.
Inspiring Thoughts
Naveen Kumar Gowda, famously known as "Yash," is well known for his high-pitched and monotonous acting. His stardom is not a one-day achievement. He started with a small screen and gradually sought opportunities; he became a star. This journey made him cost food and a bed sometimes. Even though he is struggling a lot now, his fanbase shows his success and the millions of hearts he won. with this; he stands as inspiring to budding talents.
Also Read- Rakul Preet Singh | Star of South Indian Cinema
How much money did Yash take for KGF chapter 2?
Yash is also known as Rocky has given around rupees 30 crores for KGF chapter 2
What is Rocky bhai's real name?
Rocky is also known by his stage name Yash. His real name is Naveen Kumar Gowda.
What is Yash's salary?
It is around 6 crores per year.