Thierry Mugler | Success story of the French brand 'Mugler'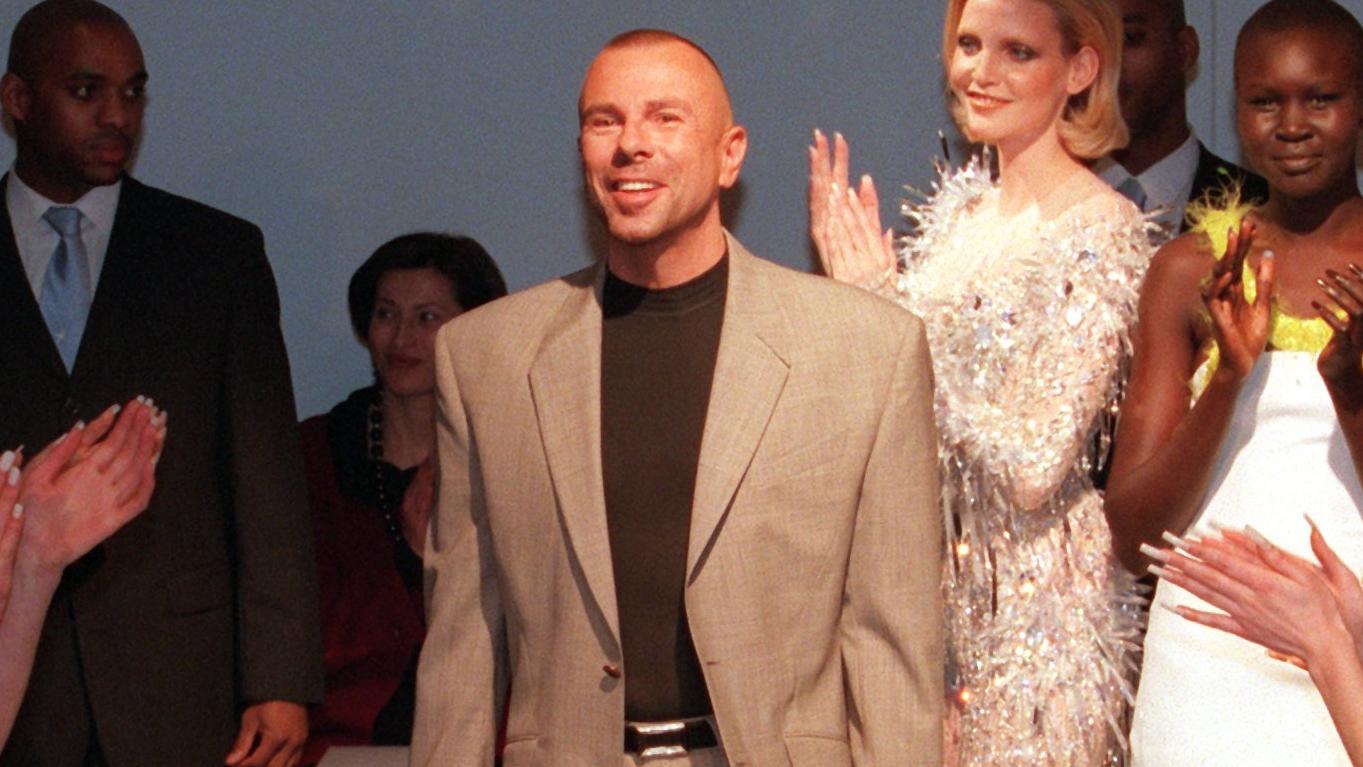 Thierry Mugler is a French fashion designer, creative director, and adviser of Mugler. This fashion icon passed away on the 23rd of January, 2022 leaving a long trail of his legendary work behind. Mugler had the power to make clothes that accented nature's beauty in the clothes he designed.
Early Life
Mugler was born in Strasbourg, and his passion for drawing led him to focus on that instead of school. By the time he turned 9, he had begun studying classical dance. When he turned 14, Mugler joined the ballet corps of the Rhin Opera (Opéra national du Rhin). As a side project during this time, Mugler began formal interior design training at the Strasbourg School of Decorative Arts.
Career of Thierry Mugler
In 1971, Mugler was just twenty-two years old and had already shown that he could create the 1940s inspired clothing for which he would later become famous. At 24, Mugler moved to Paris and began designing clothes for Gudule. Thierry Mugler began working with many large fashion houses in Paris, Milan, London, and Barcelona at 26 years old.
1940s and 1950s
"Café de Paris" was Mugler's first personal collection.
It was sophisticated and urban, while Melka Tréanton helped launch Mugler's career. In 1976, he showed his work in Tokyo for an event organized by Shiseido. The following year he opened his first store in Place des Victoires in the 1er Arrondissement of Paris.
Followed by quick attention as one of the most extreme designers among the Fall 1978 broad-shoulder brigade with a penchant for the mid-20th century. Sci-fi themes exaggerated the 1940s – 1950s style, glamour marked by sharply constructed tailoring suits. At the same time, Mugler launched a men's fashion collection, which continued into the decade 40s styled shoulders on 1950 tailored suits amid retrograde Wagnerian showmanship.
1980s and 1990s
During the 1980s and 1990s, Mugler was an internationally recognized designer often grouped with Claude Montana and Azzedine Alaïa. He is most well-known for his shapely suits, often featured in many of his collections; they garnered much commercial success.
There are a couple of instances where he showed sedate salon presentations (in the late eighties). But otherwise, his fashion shows were extravagant affairs held in arena-like environments. The collections associated with them also had sci-fi themes during the late seventies; Africa theme one season, vampire devil theme another season, aquatic-themed yet another time around. At request of La Chambre Syndicale de la Haute Couture, he completed haute couture collection in 1992 as well!
Late 1990s
Mugler has published two photography books, Fashion Fetish Fantasy and Thierry Mugler: Photographer. He directed short films, advertising films, and video clips. Mugler also designed costumes for musical comedies, concerts operas (including Macbeth). He has worked with Robert Altman on a film he directed called "Alien," released in 1992. Alongside George Michael, he even directed the music video to "Too Funky" from the same year.
The retirement of Thierry Mugler
In 2002, Mugler collaborated with the Cirque du Soleil to create costumes and characters for "Zumanity," one of the scenes in their show. In 2008, Thierry Mugler Beauty was launched as a high-end cosmetics line.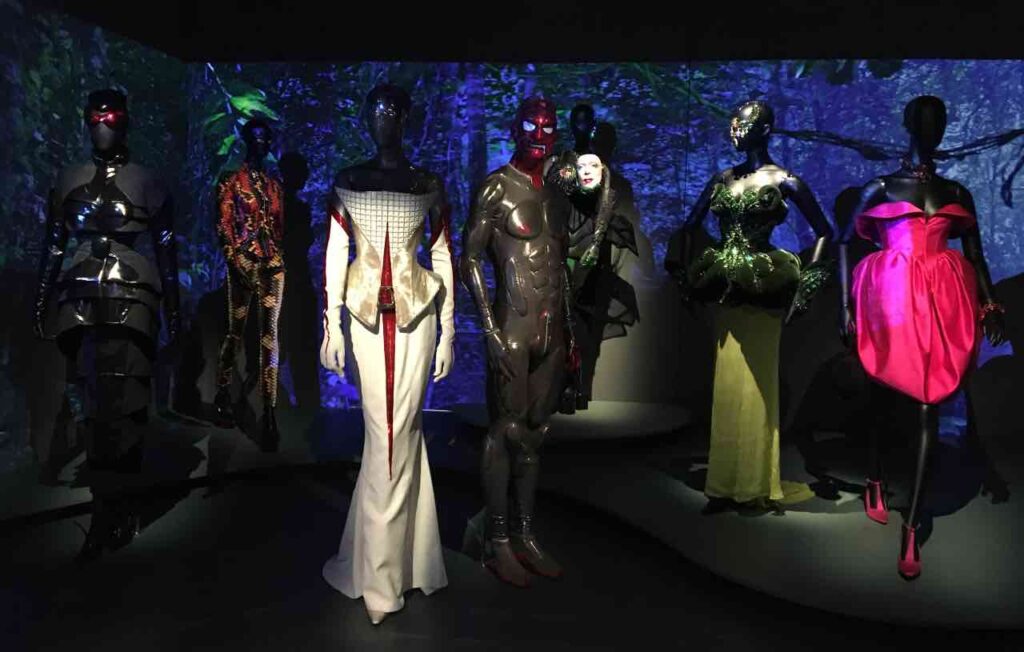 The following year he served as artistic advisor for singer Beyoncé and created her show's costumes. In 2010 Nicola Formichetti became Creative Director at MUGLER after Titi de Koven changed his name to just MUGLER and focused on menswear collections instead of women's.
David Koma became the new artistic director of House of Mugler in 2013. He directed and made the music video for San Marino's Eurovision Song Contest entry 'I Didn't Know' with Serhat. Mugler is best known for its wet couture dresses designed by Mugler himself since his retirement from his brand in 2003. Except for when he created a dress specifically for Kim Kardashian to wear at Met Gala 2019. He said he got inspiration from Sophia Loren's character Boy on a Dolphin for that wet dress.
The chapter of Thierry Mugler and Fragnance
Angel was Thierry Mugler's first perfume, and it contained combinations of praline, milk chocolate, and a strong accord of patchouli. The second major fragrance would be A*Men, including caramel, coffee, vanilla, honey, and patchouli notes.
In 2005 Thierry Mugler launched Alien- the second major collaboration with perfumers worldwide. Mugler also announced Angel Perfume Workshop launched in 2005. To teach about creating your own fragrance using natural products for people interested or skilled enough to learn more about this art form known as perfumery.
In 2006 he completed a project for Tom Tykwer's "Perfume" film where Mugler created 15 compositions together with IFF company. And made box sets available through various stores globally at the launch date of 2007.
Following his metamorphosis theme from 2002-2007, Mugler released five fragrances under the Mirror Mirror collection. Some reviewers have described it as an experience that takes you into virtual reality due to its holographic effect when sprayed onto the skin. Despite mostly negative reviews, this product still has high demand among customers.
Mugler made about $280 million from Angel and Alien in ten years. In 2010, they released their newest fragrance Womanity. They made a new fragrance called Angel Muse in 2015, and also one called Angel Nova was released in 2020.
Also Read: Marc Jacobs | Success Story of a man who knew self-worth