Usher | Success Story of the Reputed R&B Artist
Usher is one of the world's most prominent musicians. He has been a part of the music industry for over three decades. In his long and successful career, Usher has sold over 100 million records worldwide. In 2009, Billboard titled him the second most successful musician of the 2000s. Usher rose to prominence during the late 1990s after releasing singles like "My Way" and "Nice & Slow." He has won several prestigious accolades, including eight Grammys, eight AMAs, and eighteen Billboard Music Awards. Besides singing, Usher's humanitarian works have gained significant acclaim. Since 1999, he has been running a non-profit organization for underprivileged children and adolescents. 
About
Usher Raymond IV, better known by his first name Usher, is an American singer, songwriter, dancer, actor, and businessman. The music industry considers him one of the best-selling artists. Usher's 2004 single "Yeah!" made him a global star. Throughout the 2000s, he continued to release chart-topping music. In his three-decade-long career, Usher has collaborated with top artists like Alicia Keys, Jay-Z, Will.i.am, Justin Bieber, Nicki Minaj, Drake, Lil Wayne, David Guetta, and P. Diddy. He co-founded RBMG records in 2008 with talent manager Scooter Braun. His label is responsible for Justin Bieber's debut EP, My World.
Early Life
On the 14th of October 1978, Usher Raymond IV was born in Dallas, Texas, USA. His father, Usher Raymond III, had complications leading a sober life. He was addicted to drugs. Usher's mother, Jonetta Patton, was a bank teller. Soon after Usher's birth, his parents separated. Jonetta could not handle her husband's drug dependency. As a result, Usher grew up with his mother in Chattanooga, Tennessee, after the separation. Later, Jonetta remarried and had a son. During Usher's childhood, his mother made him join the local church choir. Growing up, Usher's father did not have any contact with him. After spending a year in the choir, he joined a local music group called NuBeginnings at age ten.
Soon after that, Usher's grandmother noticed his singing talent. Darry Wheeler, a local music promoter, had spotted young Raymond in the choir. After that, he formed a group of five boys. Usher's mother supported him in his musical dreams. She also took him to the popular talent show "Star Search." At the show, he got the best male vocalist title. At age twelve, Usher's mother took him to Atlanta. She felt that a bigger city would provide better opportunities for her son. In 1991, Raymond recorded ten songs with NuBeginnings. Eventually, the family relocated to Atlanta. Jonetta started working as a medical technician to support the family. However, she had adjourned young Usher's career after having a bad experience working with NuBeginnings. Throughout his schooling years, Usher continued to perform at local talent shows.
Beginning of Career
While performing at a local talent show in Atlanta, thirteen-year-old Usher met renowned singer Bobby Brown's bodyguard Alexander. He liked Usher's singing ability and began taking him to perform in several places. One day, Alexander invited an A&R representative from L.A. Reid's label to see young Raymond perform. The representative was impressed by Usher's voice. As a result, he arranged an audition for him with L.A. Reid. At the audition, Raymond performed "End of the Road" by Boyz II Men. L.A. Reid instantly signed him to his label. In 1993, Usher's voice reached the public through the song "Call Me a Mack." He had recorded the song for Janet Jackson and Tupac Shakur's romantic drama film Poetic Justice. At age fourteen, Usher was all set to release his debut album. However, due to puberty, his voice dropped. Raymond requested Reid to keep him on the label.
Initial Years
L.A. Reid did not end his contract with Usher but sent him to New York to live with P. Diddy. Things were not easy for him after arriving in New York. However, within a few months, Raymond regained his confidence. In 1994, he released his self-titled album under Diddy's co-executive production. The album reached the 25th position on the Billboard R&B albums chart. However, the album received several negative reviews due to Usher's age and the lyrics of the songs. He was just fifteen at the time. As a result, L.A. Reid became uncertain about Usher's future. After that, Usher's mother decided to build a more extensive fan base. She left her job to focus on her son's career. In 1995, Usher participated in various talent shows. He worked hard for the next two years to develop his singing and performing skills.
Worldwide Recognition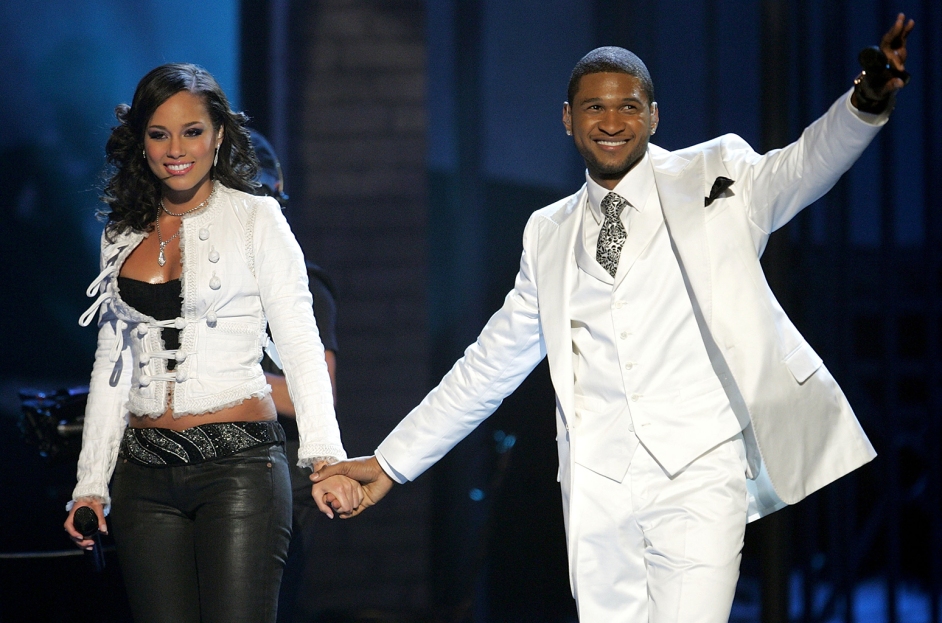 In 1997, Usher released his second studio album, "My Way," with L.A. Reid's label. The single "You Make Me Wanna…" reached the top spot in the UK. As a result, Raymond started gaining recognition in the industry. Two more singles from the album peaked on the Billboard charts. He earned his first Grammy nomination in 1998 for the album's lead single. Later, Usher ventured into the world of acting. He was a part of several significant projects. In 2001, Usher's third studio album, 8701, hit the market. It garnered more success than his previous album. During the 2000s, Usher released global hits like Yeah!, My Boo, Here I Stand, There Goes My Baby, OMG, and DJ Got Us Falling In Love. Consequently, he became the leading R&B artist worldwide.
Also read: Enrique Iglesias | Success Story of the Legendary Pop Icon
How old is Usher?
Usher Raymond is 43 years old as of 2022. He was born on the 14th of October 1978 in Dallas, Texas, USA. Raymond grew up in Chattanooga, Tennessee. Throughout his childhood, he was inclined toward singing.
What is the net worth of Usher?
Usher's net worth is estimated to be $180 million. He has been a part of the entertainment industry for over three decades. In his long and successful career, Raymond has won eight Grammys, eight AMAs, and eighteen Billboard Music Awards.