Kylie Minogue | Success Story of the Iconic Musician
Kylie Minogue is one of the most prominent musicians globally. She has been a part of the entertainment industry for over four decades. In her long and successful career, Kylie has sold over 80 million records worldwide. She rose to prominence during the late 1980s. Her popularity continued to grow throughout the 1990s, 2000s, and 2010s. The music industry considers Kylie the Princess of Pop. She has won several prestigious accolades, including a Grammy, two VMAs, seventeen ARIAs, two WMAs, and three Brit Awards. Kylie has also received the Most Excellent Order of the British Empire (OBE) for contributing to humanitarian causes. 
About
Kylie Minogue is an Australian singer, songwriter, actress, and humanitarian. She is the best-selling female musician in the history of Australian culture. Kylie's career began in 1979 as a child artist. She gained worldwide recognition in 2001 after releasing the song "Can't Get You Out Of My Head." In her four-decade-long career, Kylie has worked with iconic artists like Dua Lipa, Ed Sheeran, Robbie Williams, Frank Sinatra, and Taio Cruz. In 2020, she recorded a net worth of $120 million, making her one of the wealthiest Australian musicians.
Early Life
On the 28th of May 1968, Kylie Ann Minogue was born in Melbourne, Victoria, Australia. Her father, Ronald Charles Minogue, worked as a car company consultant. In contrast, her mother, Carol Ann Minogue, was a ballet dancer. Kylie has a younger brother and sister. She is the eldest of three children. Kylie grew up in the eastern suburbs of Melbourne. However, the family constantly moved around the capital the support their finances. As a result, Kylie found it challenging to make friends. She did not like to indulge in outdoor activities. She spent her time at home learning to play the piano and violin, reading, and sewing. After moving to Surrey, Victoria, Kylie attended Camberwell High School. She began taking singing and dancing lessons with her sister during her schooling years.
Kylie's aunt Suzette was an established actress in Australia. Once, she arranged an audition for Kylie's sister Dannii for the soap opera The Sullivans. Kylie's mother took the three children to the audition. However, the show's producer felt Dannii was too young for the role. As a result, he offered the part to 10-year-old Kylie. As a result, she landed her first acting role. In 1980, Kylie played another minor part in Seven Network's soap opera Skyways. While in high school, she got the opportunity to star as one of the main leads in Network Ten's TV series The Henderson Kids. However, Kylie needed to take some time off school for the role. Her mother did not want her to take a break. But Kylie was confident that she wanted to join the entertainment industry.
Beginning of Career
In 1985, Kylie played her first significant role in a TV show. She portrayed Charlotte Kernow in The Henderson Kids. But Kylie had a tough time acting on sets. She often forgot her lines. Producers used to yell at her, which made her feel even worse. A co-star from the show labeled her "fragile" because she cried often. Things did not go the way Kylie had imagined. The show's producer kicked her out in the second season. However, Kylie did not lose hope. In 1986, Reg Watson cast her in the TV series Neighbours. Initially, the show did not receive high viewership ratings. But after several publicity campaigns, Neighbours gradually gained popularity. The show's 523rd episode, featuring Kylie's character's wedding, was a massive hit. It attracted over 19 million viewers. Consequently, Kylie started gaining recognition across the country.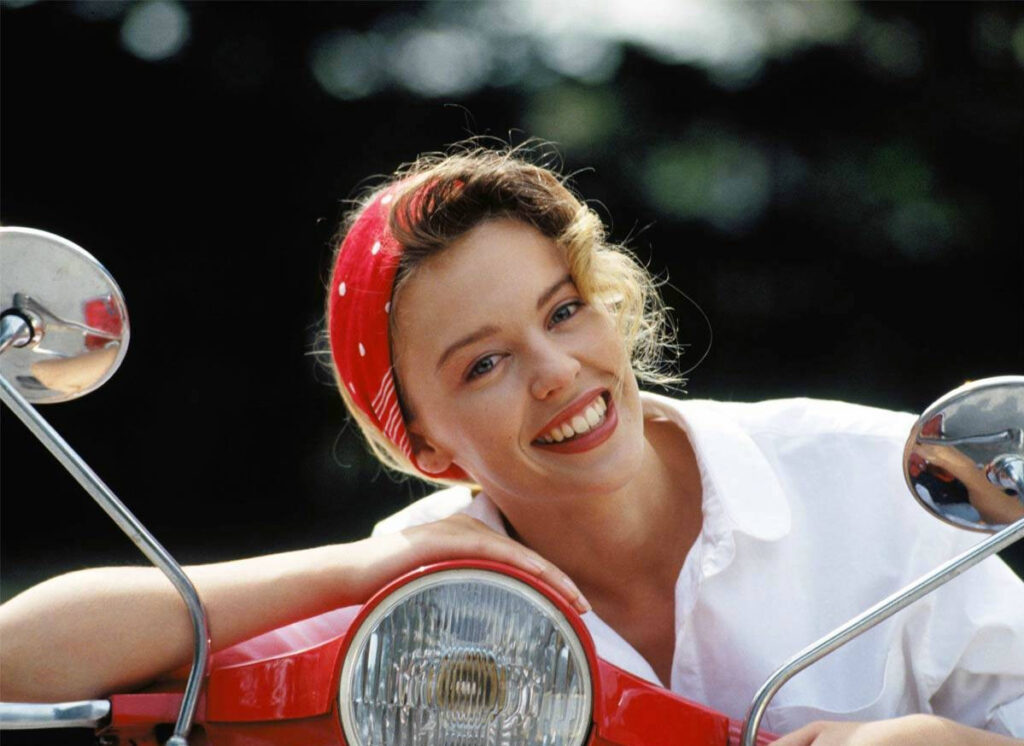 Pathway to Success
After Neighbours' success, Kylie became a famous face in Australia. At age 19, she became the youngest person to win the Gold Logie Award. When Kylie was kicked out from The Henderson Kids, she spent her earnings to record a demo tape. Greg Petherick, a music program producer, liked Kylie's voice. As a result, he formed a four-member band with Kylie and her Neighbours cast members. Later, she performed at a football benefit concert. One thing led to another, and Greg contacted several record labels with Kylie's demo tape. Finally, in 1987, renowned Mushroom Records signed Kylie after her breakthrough performance in Neighbours. The following year, she made her professional singing debut with her self-titled album. It peaked in the number one position in the UK. Consequently, Kylie started gaining wider international recognition.
Worldwide Recognition
After her debut album's success, Kylie released her second studio album, Enjoy Yourself. It achieved commercial success. She continued to stay on the top ten charts worldwide during the 1990s. However, her third and fourth albums failed to gain the expected popularity. But she continued to evolve her music style. Between 1993-2000, Kylie released three studio albums. All three of them garnered commercial acclaim. However, it was in 2001 that Minogue rose to global prominence. Her eighth album's single, "Can't Get You Out Of My Head," became a massive hit. There was no looking back for Kylie after that. Throughout the 2000s and 2010s, she released several influential albums. Consequently, Kylie Minogue became one of the generation's biggest pop stars.
Also read: Alicia Keys | Success Story of the Marvellous Artist
How old is Kylie Minogue?
Kylie Minogue is 54 years old as of 2022. She was born on the 28th of May 1968 in Melbourne, Victoria, Australia. Her younger sister, Dannii Minogue, is also a renowned personality in Australia. 
What is the net worth of Kylie Minogue?
Kylie Minogue's net worth is estimated to be $110 million. She has been a part of the entertainment industry for over four decades. Kylie has sold over 80 million records globally throughout her long and successful career.
Is Kylie Minogue married?
No, Kylie Minogue is not married to anyone as of 2022. However, she has been in a relationship with Paul Solomons since 2018. Paul is the creative director of Britain's GQ magazine.