Vijay Shekhar Sharma | Paytm's founder's tough journey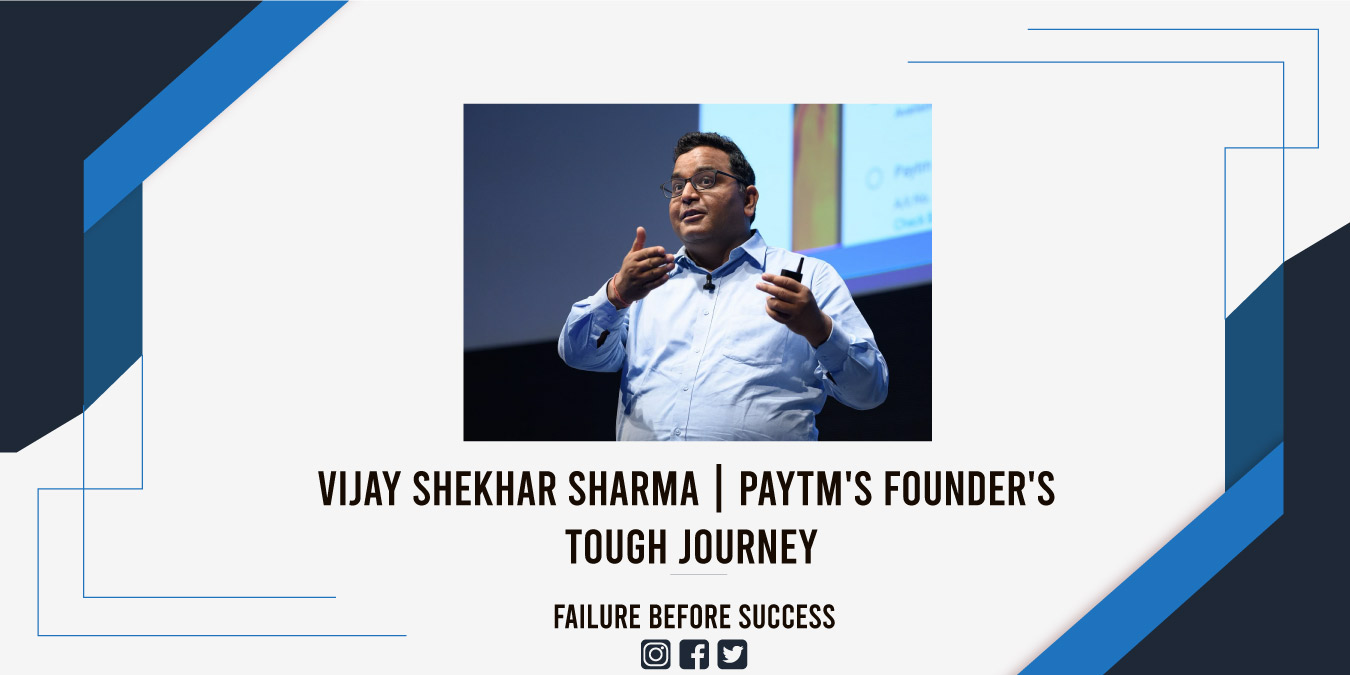 Most of us theoretically understand the importance of being passionate enough to not give up on our aspirations. But, only a few of us can apply this belief practically. Every day we take up tasks that we end up abandoning by night. If you feel like you are stuck in a similar loop, remember that there are people who have overcome such problems, maybe even worse than what you might be facing, all by themselves. In this article, we will talk about one such personality, Founder and CEO of Paytm, Vijay Shekhar Sharma.
Brought up in a strict household in a small town near Aligarh, Vijay was an exceptionally bright student. He was so intelligent that the teachers of his school often made him skip class years. Therefore, by the time he was 14, he had finished his senior secondary school. At the age of 15, Vijay moved to Delhi to pursue engineering. He felt like he "ran away" from home because just the thought of leaving his city for studies made him feel rebellious.
Tough college days
Now billionaire Vijay Shekhar Sharma's college journey was not an easy one. Being brought up in a Hindi medium school, he felt as if a language barrier had developed between him and his peers and professors. He went from being a frontbencher to a backbencher because he felt humiliated when others made fun of his inability to understand English properly. Also, because he was very young, he was often bullied by some seniors. All these factors kept piling up, and he ended up having backlogs in his first year itself.
Vijay Shekhar Sharma was an outstanding student in his school days. Thus, the failures that he faced in his first year felt like knives stabbing in his heart. The dent on his self-esteem was grave. So much so that he stopped attending classes altogether.
In his free time, he decided to work upon himself and started learning the English language by himself. He read numerous magazines, articles, books etc. to improve his dialect and vocabulary. In a few such magazines, he discovered the world of Silicon Valley, and he felt attracted to the idea.
Vijay was so influenced by the culture at Silicon Valley that he wished for it to be adapted to India too. He wanted to go to Stanford University because Yahoo and its founders positively inspired him. Still, he knew that his family's financial condition was not strong enough to support this dream. He decided to build something by himself, and he ended up learning programming.
Also read: OYO founder Ritesh Agarwal's success story.
A journey of failures and successes
Vijay Shekhar Sharma and a team of his friends developed a search engine and a website which helped in content optimization. They ended up selling the website for $1M. This incident was of the time when he was in his third year. After college, he started another company, One97 the provided content to mobile phone users. The company was doing great until the 9/11 attacks in the US, and the stock market crashed, so did his fortune.
He ended up losing all his money. On many nights, he didn't even have money for dinner. But he somehow kept going. Vijay Shekhar Sharma didn't give up. He worked jobs to keep running One97 until the situation improved.
Paytm launched in 2010. When Vijay presented the idea of Paytm to the board of directors at One97, they didn't quite believe in it. But he convinced them, and the rest is history. Today, Paytm's net worth is in billions.
Vijay Shekhar Sharma's road to success wasn't a smooth path. It is valid for everybody. Hence, not giving up should not be an option; it should be a way of life. We hope you take away something positive from this motivational journey, all the best!