Anita Dongre | Success story of the 'House of Anita Dongre'
Anita Dongre is an Indian fashion designer. Her success story is about finding one's worth and facing headstrong difficulties. Apart from the 'House of Anita Dongre,' she also has brands AND and Global Desi under her label.
Early Life
On 3rd October 1963, Anita Dongre was born in Bandra, West Mumbai, India. She comes from a Sindhi family, and her mother stitched clothes for Anita and her siblings. Later, Anita graduated from the SNDT College, Mumbai, with a fashion designing degree.
Anita saw women around her working as housewives and taking care of family. But while growing up in Mumbai, she saw women working in the corporate field. It made her eager to be a part of working women. She got inspiration from her surroundings and decided to become financially independent.
Career
Anita started to look for work in different fashion houses. Interviewed, showed them designs, and even became part of several meetings. But nothing seemed to work out, and by now, several stores and houses had rejected her proposals. Anita decided she had enough of it and started her label. She eventually took a loan from her dad and started her business venture.
She launched her jewelry brand Anita Dongre Pink City as a start-up. Numerous positive remarks and an increase in the customer base made her much more confident. She found AND clothing brand eventually.
Later, in 2015 she merged the AND clothing brand with 'House of Anita Dongre.' She always wanted to design clothes for young and modern Indian women. Consequently, she launched major brands like Global Desi, Anita Dongre Bridal Couture, and Anita Dongre Grassroot.
She transferred her brands 'AND' and Grassroot to a wholly-owned subsidiary, Ochre and Black Private Limited. She is married to Pravin Dongre and has a son Yash Dongre. All three of them are involved in the fashion house business and support each other in the ventures. Anita manages the creative front of the brand while her brother and sister handle the business matters. She is currently the Chief Creative Officer of her business.
Apart from being a full-time designer, Anita is also part of People for the Ethical Treatment of Animals (PETA). She is a philanthropist and an activist, and she's a vegan activist.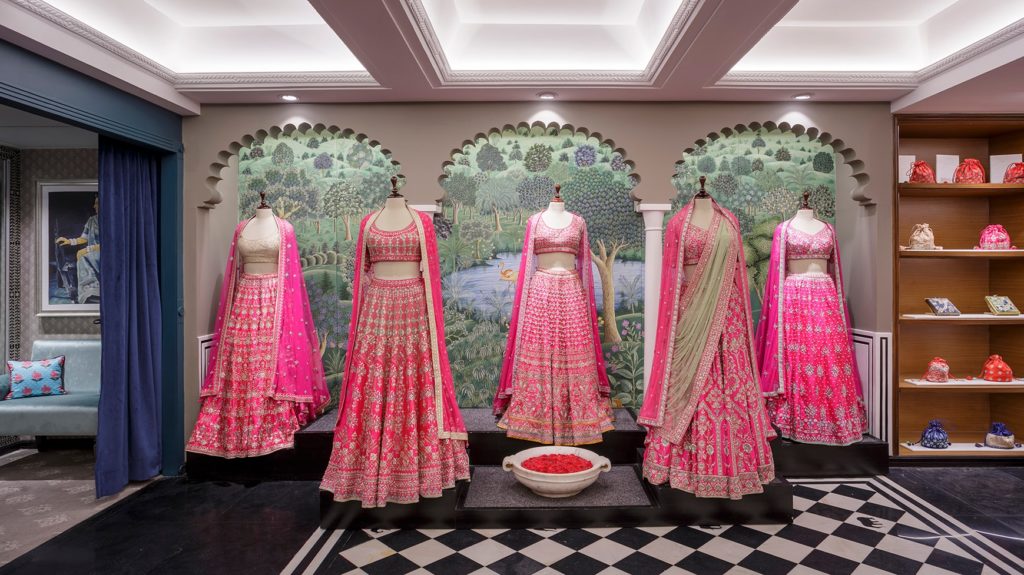 Latest news
In 2022, with the importance of tradition and rich architectural history inclusive, both came up with the "Homage" collection. And Sara Tendulkar made an elegant entry in Homage hearty dose of steal-worthy style that inspires break-free societal Expectations. Following Anita worked with personalized design along Mrunal Thakur elegance personified in lime green printed saree worth Rs. 16K. Bollywood Young talents are breezing with Dongre's fashion sense in a different style with traditional lehenga, Kurti, silk dresses, and trending evergreen sarees.
Lessons to Learn from Anita Dongre
"Everything I create has to be very feminine, comfortable, and classic. So for me, the whole concept that a strong woman should wear masculine clothes is wrong. Women are women. They should dress like women. We are not here to compete with men. Our strength is inside us," said Anita in an interview. She rose to success because of her tremendous willpower and hard work. Every ounce of hard work she invested in her life has given her a significant amount of success. Anita even returned her dad the money he gave her as a loan for her fashion house. Her story teaches us that anyone can get inspired by anyone. In her case, it was women around her. Different people have different stories, and their journeys inspire someone every day.
Also Read: Frida Kahlo | Success story of the famous female Mexican Painter
When did Anita Dongre start Global Desi?
Is House of Anita Dongre clothes expensive?
Yes, lehangas designed by her range from 50,000 to 1 lakh.