Arunachalam Murugunantham | Success story of an Entrepreneur
Arunachalam Murugunantham, also referred to as "Padman" is an Indian entrepreneur who has brought a big change in the lives of women. He has come up with an invention of low-cost sanitary napkin making machine which has the changed the industry. Here's his inspirational story.
EARLY LIFE
Arunachalam was born on 12 October 1961 in Coimbatore, Tamil Nadu, India to S Arunachalam and A Vanita. He obtained primary education at a school in Coimbatore and dropped out of school during IX Standard. His mother and father used to work as hand-loom weavers. After his father's death in a road accident, he grew up in poverty. Later, mother Vanita worked as a farm laborer to help Murugunantham complete his education. For sustenance, he took up odd jobs like farm laborer, welder, machine tool operator, etc. At the age of 37 (in 1998) Murugunantham married Shanthi.
HIS INVENTION
After his marriage, he once saw his wife using filthy newspapers and rags as sanitary napkins during her menstrual cycle. The main reason being that the sanitary napkins produced by multi-national companies were too expensive. This disturbed him as he realized that it's not a good practice. He discovered that there is a huge difference (40 times more) between the raw materials and the end product.
Initially, he used cotton to make pads. But his wife and sisters rejected them and further refused to be his test subjects. So, he eventually began to ask local women who could volunteer for testing his product. Most of them were shy and refused to volunteer. Then he went on to ask the local medical students which too didn't work. Even then he did not give up. Murugunantham used a bladder with animal blood and tested on himself for which the people in the village ridiculed him.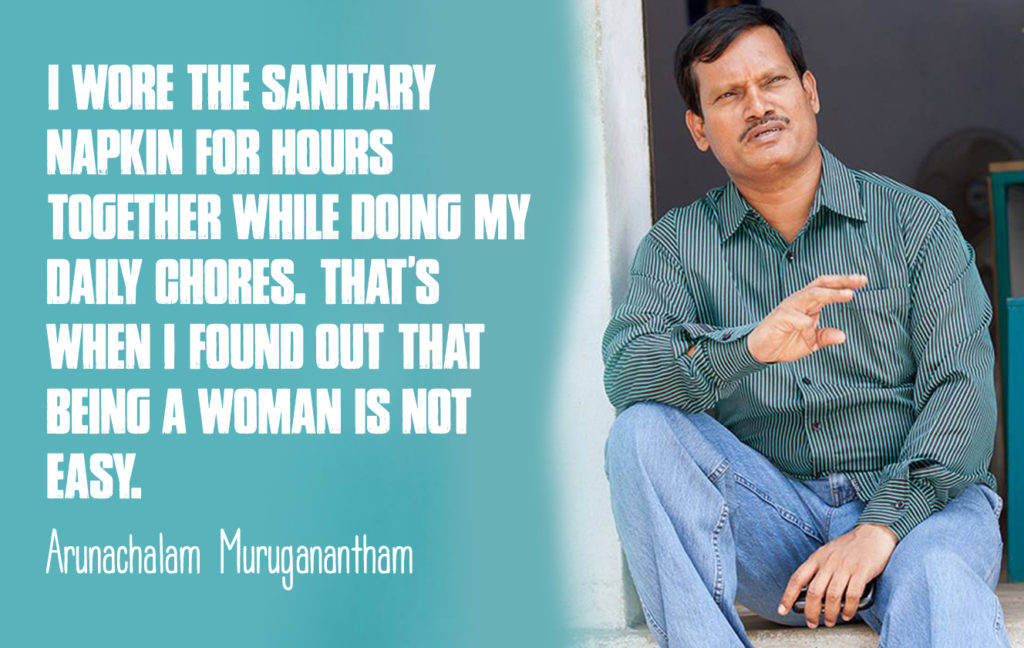 After two years, he discovered that multinational companies used cellulose to make sanitary napkins. But, the price of the machine was too high ( about Rs. 35 million). Then came his invention. He devised a low-cost machine that could be operated with minimal training. This device costs only Rs. 65000. Following this he visited the IIT Madras in 2006, to register his invention for the National Innovation Foundation's Grassroots Technological Innovations Award and won it. Seed Funding was received with which he established the Jayaashree Industries. Apart from supplying affordable sanitary napkins, it also created job opportunities for many local women.
NOTABLE WORKS
He appeared on the TED talk and also gave lectures at many national institutions like IIT Bombay, IIT Madras, IIM Ahmedabad, IIM Bangalore, Birla Institute of Technology and Science, Pilani – Goa Campus and Harvard University. His story was a plot for a few award winning films like Menstrual Man(2013), Phullu (2017), Pad Man (2018), Period. End of Sentence (2018).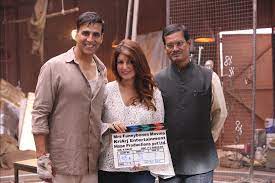 ALSO READ : Shaheen Mistri | Success story of CEO of Tech for India
Is Pad Man movie a real story?
Yes, Pad Man movie is real story based on the invention of Arnachalam Murugunantham from Coimbatore.
Who is the real wife of Pad Man?
The real pad man – Arunchalam Murgunantham is married to Shanthi in 1998.