Balmain | Success Story of the French Luxury Brand
Balmain is a luxury fashion house based in Paris, France. Pierre Balmain founded the brand in 1945. For over seven decades, the brand has provided its customers with premium Haute couture, perfume, jewelry, accessories, bags, and eyewear. Balmain is famous for its superlative craftsmanship and intricate couture techniques. The brand has stores in New York City, Miami, London, Las Vegas, Los Angeles, and Dubai. Moreover, it has collaborated with famous brands like L'Oreal, Puma, H&M, and Victoria's Secret.
About
Balmain fashion house is one of the most prominent luxury brands in the world. Pierre Balmain established the fashion brand in post-war Paris. Within a few years of establishment, the brand gained considerable recognition. A-list celebrities like Naomi Watts, Cheryl Cole, Kylie Jenner, Taylor Swift, Scarlett Johansson, Blake Lively, Beyonce, Emma Watson, and Kate Moss have endorsed the brand. Recently, in 2019, the brand collaborated with Kylie Jenner for a capsule makeup collection.
Founder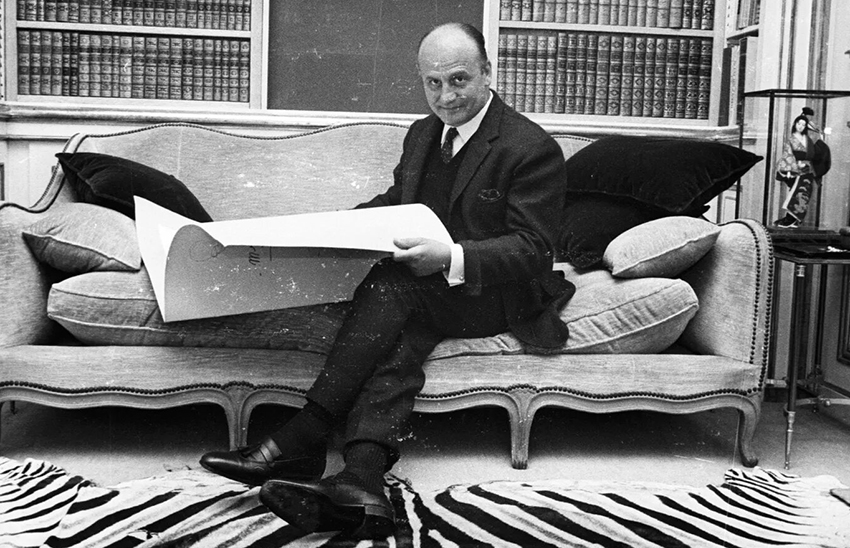 On the 18th of May 1914, Pierre Alexandre Claudius Balmain was born in Saint-Jean-de-Maurienne, Savoie, France. His father owned a drapery wholesale business. In contrast, his mother owned a fashion boutique. Pierre was only seven years old when his father passed away. For schooling, Pierre went to Chambéry, the historical capital of the Savoy region. On weekends, young Pierre used to visit Aix-les-Bains with his uncle. It was a popular vacation place for wealthy people. In Aix-les-Bains, Pierre met society women who inspired him to pursue a career in couture business. Pierre's mother wanted him to become a doctor in the navy. However, he did not wish the same. In 1933, Pierre moved to Paris to study architecture.
In Paris, Pierre attended the historical School of Fine Arts called École des Beaux-Arts. Simultaneously, he began doing freelance work for Robert Piguet. Robert was a renowned fashion designer. He had trained legendary artists like Christian Dior and Hubert de Givenchy. When Pierre met Robert, he was working as the artistic director of Redfern fashion. Pierre sold his sketches to Robert for some time. Later, in 1934, he visited the studio of Edward Molyneux. Edward Molyneux was a prominent British fashion designer. Pierre got a part-time job offer at Molyneux's studio after the visitation. In less than a month, Pierre decided to leave architecture and pursue a career in fashion. He worked with Molyneux for five years. In 1936, Pierre also served the French Air Force. Later, during the Second World War, he joined Lucien Lelong, a French couturier.
Establishment
After joining Lucien Lelong, Pierre met Christian Dior. The same year, his mother opened a fashion boutique in Aix-les-Bains. In 1940, Pierre started helping his mother at her boutique. Simultaneously, he continued working at Lucien Lelong. In 1943, Pierre designed a black crepe dress for Lelong's fortune-telling-theme collection. The dress was a hit, and it sold over three hundred pieces. Two years later, in 1945, Pierre established the Balmain fashion house. In October 1945, the brand made its debut with bell-shaped skirts. Prestigious fashion and lifestyle magazine Vogue showcased Balmain's first collection. One of the reviewers from Vogue's November issue said that the brand delivered "beautiful clothes that you want to wear." Within two years of its establishment, the brand expanded its business to Australia.
Initial Years
By 1951, Pierre expanded the brand's operations to the USA. The brand started selling ready-to-wear clothes and gained considerable recognition among celebrities. From Katherine Hepburn to Marlene Dietrich, famous personalities across the globe began wearing Balmain. Later, in 1960, Queen Sirikit of Thailand chose the brand to design her wardrobe. Within a few years of establishment, Balmain achieved unparalleled success and reputation. In the following years, the brand created outfits for the 1968 Winter Olympics, Trans World Airlines, Air France, and the cabin crew of Singapore Airlines. Moreover, the brand's perfume line also gained considerable recognition globally.
Worldwide Recognition
During the late 1940s and early 1950s, Balmain's perfumes became one of the best-selling perfumes of the decade. The brand continued to achieve success during the 60s and 70s. In 1982, Pierre succumbed to liver cancer. Just before his death, he had completed the sketches for Balmain's fall collection. After his death, Erik Mortensen, Pierre's longtime companion, took over the brand. Under Mortensen's leadership, Balmain continued to design aesthetic couture. However, in 1990, Erik decided to leave the fashion house. In 1993, Oscar de la Renta took over the brand. He was already a fashion veteran at the time of joining. However, it was during the 21st century that the brand gained worldwide recognition. In 2011, after the fashion designer Olivier Rousteing became Balmain's creative designer, the brand achieved global success. The brand became one of the most prominent fashion labels under Rousteing's direction.
Also read: Prada | Success Story of the Italian Luxury Fashion House
Who founded Balmain?
Pierre Balmain founded the fashion house in 1945. His father owned a drapery wholesale business, and his mother owned a fashion boutique. During the mid-1930s, Pierre began his fashion designing journey. After gaining experience in the design field, Pierre opened his fashion house in Paris, France.
Why is Balmain so expensive?
Balmain is a French luxury fashion house. The brand creates high-quality haute couture and ready-to-wear apparel. It is expensive because of its excellent craftsmanship and innovative designs. Many A-list celebrities like Kendall Jenner, Gigi Hadid, Emma Watson, and Naomi Watts have endorsed the brand.
What is the net worth of Balmain?
Balmain's net worth is estimated to be $600 million. In 2016, Mayhoola Investments, an investment entity, acquired the brand. Balmain has collaborated with top brands like L'Oreal, Puma, H&M, and Victoria's Secret. For over seven decades, it has been a celebrity-favorite brand.