Christina Aguilera | Success Story of the Pop Culture Icon
Christina Aguilera is one of the most significant musicians in the world. She is famous for her superlative singing skills. Born in New York City, USA, Christina Aguilera rose to fame in the 90s. She has been a part of the entertainment industry for almost three decades. VH1 has ranked her as one of the most influential women in music history. Moreover, reputable magazines like Rolling Stone and Consequence of Sound consider her one of the greatest singers in contemporary pop music.
About
Christina Aguilera started her career at the tender age of ten. She has garnered worldwide recognition for her singing, songwriting, and acting expertise. Her albums have sold over forty million copies globally, making her one of the best-selling artists of all time. In her career, she has collaborated with iconic musicians like Justin Timberlake, Adam Levine, Ricky Martin, Lady Gaga, Blake Shelton, and Pink. Besides singing, Christina has garnered recognition as a coach on the renowned American singing competition, The Voice.
Early Life
On the 18th of December 1980, Christina Maria Aguilera was born in New York City, USA. Her mother, Shelly Loraine Kearns, was a musician. In contrast, her father, Fausto Xavier Aguilera, served as a soldier in the United States Army. Christina has a younger sister named Rachel. As a child, Christina and her family frequently moved from one place to another. Due to her father's military service, the family lived in many cities across the States. Besides New York, Christina lived in New Jersey, Texas, and Japan. As a child, Christina suffered from physical and emotional abuse from her father. Consequently, Shelly and Fausto got divorced.
After the divorce, Christina, her sister, and her mother moved to her grandmother's house. The family started living in Rochester, Pittsburgh. In her early childhood, Christina listened to music to escape the world's harsh reality. After moving in with her grandmother, Christina's passion for music grew. Her grandmother used to buy her soul and blues records. Soon, little Christina began performing. At the age of eight, she decided that she wanted to become a singer. In the neighborhood, she had already gained the reputation of "the little girl with a big voice." Later, her mother remarried. After the wedding, her mother and step-father wanted her to change her last name. However, young Christina was against it and carried on with her biological father's surname.
Beginning of Career
Christina started taking part in talent shows from the age of eight. At a competition, she sang Whitney Houston's I Wanna Dance with Somebody (Who Loves Me). Christina ended up winning the contest, and her musical journey began. At the age of ten, she participated in the renowned American talent show "Star Search." She performed A Sunday Kind of Love by Barbara Belle in the show. Despite her fantastic performance, she was eliminated during the semi-final round. After becoming a part of a famous show, Christina had to drop out of her school and begin home-schooling. Simultaneously, she started performing at Pittsburgh's local hockey, baseball, and basketball games. At the age of eleven, Christina auditioned for a role in the popular children's TV show The Mickey Mouse Club. However, Disney Channel rejected her because she did not meet the age requirement. Two years later, in 1993, Christina finally became a part of the show alongside future icons like Britney Spears, Justin Timberlake, and Ryan Gosling.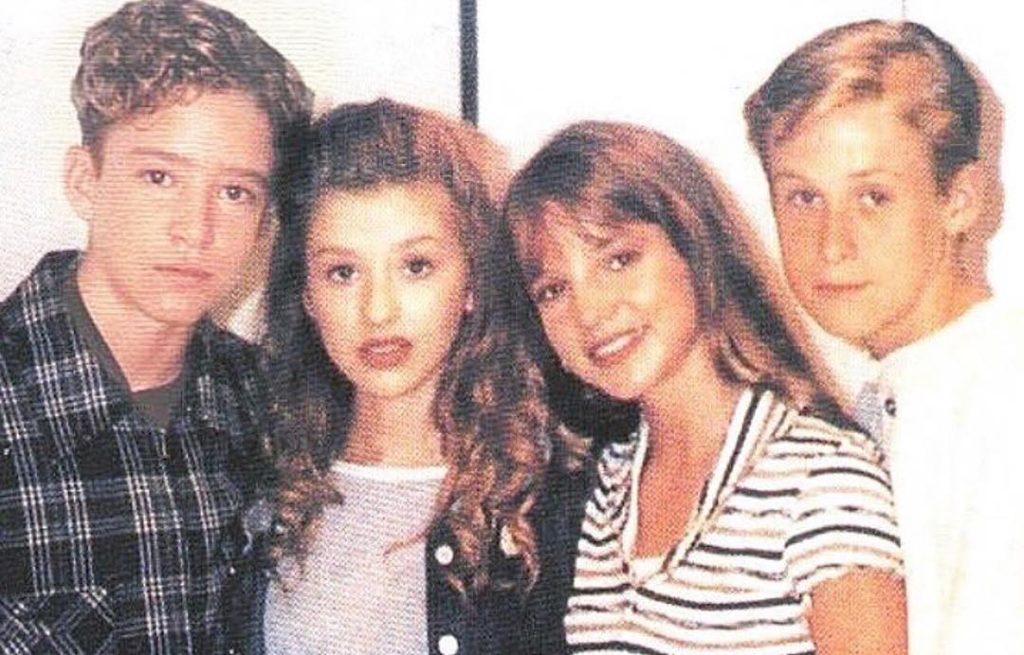 Initial Years
In 1994, Disney Channel canceled The Mickey Mouse Club. After the show ended, Christina moved to Japan. Upon moving, she recorded her first song, "All I Wanna Do." It was a duet with Japanese singer Keizo Nakanishi. In 1998, she decided to return to the States. Seeking a recording contract, seventeen-year-old Christina approached RCA records. RCA Records, a renowned American music label, faced financial difficulties at the time. As a result, they asked Christina to contact Walt Disney Records. After that, Christina sent a voice recording of herself to Disney and eventually got selected to sing a song for Disney's animated movie Mulan. The song was a hit. Consequently, young Christina grabbed the attention of many record labels.
Pathway to Success
After singing a track for Mulan, RCA signed Christina. Later, in 1999, Christina released her debut single, "Genie in a Bottle." Through the single, Christina garnered worldwide recognition. The song peaked on the music charts of more than twenty countries. In the same year, she released her self-titled debut album "Christina Aguilera." The album reached the top spot on the US Billboard 200 charts. It became one of the best-selling albums of the year. As a result, Christina grabbed the Grammy for Best New Artist at the 2000 Grammy Awards. Following that, she released two studio albums in the same year. The albums garnered several accolades, and Christina paved her way to unparalleled success.
Accomplishments
Christina's second album Mi Reflejo remained at the number one position for nineteen consecutive weeks on the Billboard Top Latin Albums Chart. The album earned her several prestigious accolades like the Grammy and Billboard Music Award. She released nine studio albums, six compilation albums, and 54 singles throughout her career. For her incomparable musical journey, she has received five Grammys, two MTV VMA's, and over 200 nominations for her albums. Her estimated 90 million sales make her one of the century's most successful and iconic musicians.
Also read: Justin Timberlake | Success Story of the Legendary Musician
What is the net worth of Christina Aguilera?
Christina Aguilera's net worth is estimated to be $160 million. She began her career at the age of ten. For over 29 years, Christina has been a part of the entertainment world. Besides singing and acting, Christina has been deeply involved in philanthropic projects.
How old is Christina Aguilera?
Christina Aguilera is 41 years old as of 2022. She was born on the 18th of December 1980, in New York City, USA. She spent her childhood in many states and later moved to Japan for a few years.
What is the most successful album by Christina Aguilera?
Christina Aguilera's fourth studio album, "Stripped," is one of her most successful music albums. The album received mixed reviews from the critics but gained highly favorable reviews from the audience. "Stripped" sold more than 10 million copies worldwide, making it one of the best-selling albums of the 21st century.