Dunkin' Donuts | Success Story of the Leading Quick Service Restaurant
Dunkin' Donuts is one of the most prominent food company's from the United States of America. It offers a wide range of food and beverages worldwide. Founded in 1950, Dunkin' Donuts has more than 12,900 stores across the globe. Some of its cherished food items are donuts, bagels, muffins, coffee, wraps, sandwiches, and "Munchkins" donut hole treats. For more than seven decades, the company has provided its customers delightful and ambrosial food.
About
Bill Rosenberg founded Dunkin' Donuts in Quincy, Massachusetts, the USA, in 1950. Initially, it was launched as "Open Kettle." However, the company's name changed to Dunkin' Donuts after some time. Headquartered in Canton, Massachusetts, Dunkin' Donuts has garnered worldwide recognition in the last few decades. It is considered one of the world's largest coffee and donut shops. Every year, Dunkin' Donuts sells approximately two billion cups of coffee and serves more than three million customers daily.
Founder
On the 10th of June 1916, William Rosenberg was born in Boston, Massachusetts. His parents, Nathan Rosenberg and Phoebe Swart had immigrated from Eastern Europe. They belonged to a Jewish background from Prussia, a former German state. William had three siblings. His father was a grocery store owner. William grew up in a working-class section of Boston. For education, he attended public schools. However, during The Great Depression, his family's financial condition weakened, and he had to drop out of school. He was in eighth grade at the time. After dropping out of school, William started looking for jobs. His father had lost his store, and the family hadn't many options to support themselves.
By the age of fourteen, William had done several jobs. Consequently, he started working at the Western Union. It was a financial services company. William worked as a full-time telegram delivery boy at the company. At seventeen, he started working at an ice cream company. He worked there for four years. Gradually, he became the national sales manager. William supervised the ice cream manufacturing, shipping, and cold storage.
Establishment of Dunkin' Donuts
During the initial years of the Second World War, William joined Bethlehem Steel in Hingham, Massachusetts. While working, he noticed some men operating lunch carts. Those men used to sell food and beverages on small carts to people. Consequently, William thought about upgrading the idea of selling food on carts to working-class people. Soon, he bought several used service trucks. After that, he modified the trucks and converted them into motorized food stands. William wanted to establish a food delivering company. After the Second World War, he opened "Industrial Luncheon Services." The company delivered meals and snacks during break times. Primarily, the company provided food to the factory workers on the outskirts of Boston.
William's lunch-providing business flourished. By 1948, he had more than 200 catering trucks. Soon, he realized he was earning the most profit by selling coffee and doughnuts. Consequently, he decided to open a coffee and doughnut shop. William founded "Open Kettle" on the 31st of May 1948. Two years later, he felt a better name could help bring more customers. As a result, with an architect's advice, he changed his shop's name to Dunkin' Donuts. At the time, traditional doughnut shops used to offer five flavors. However, Dunkin' Donuts offered a variety of 52 doughnuts. Soon, William's coffee and doughnut shop started gaining recognition across the state.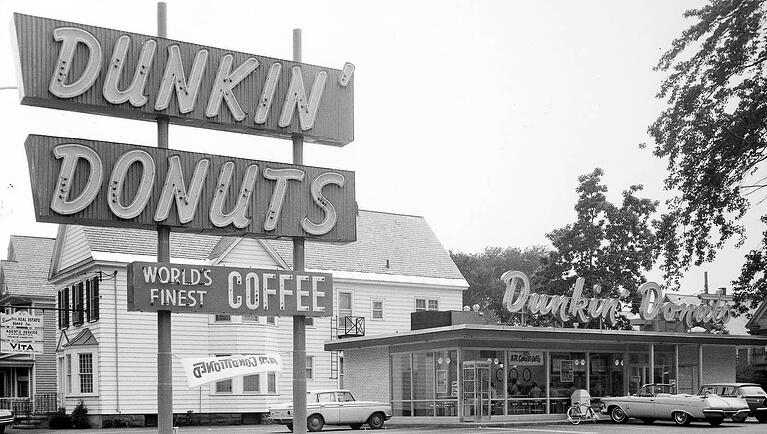 Pathway to Success
In 1955, William decided to sell his business as a franchise. By 1963, Dunkin' Donuts had opened its 100th store. In the same year, William's son Bob became the CEO of Dunkin' Donuts. Gradually, the company's menu and formatting were standardized. Five years after Bob's arrival, the company went public. In the early 1980s, the company replaced paper cups and self-service counters with ceramic coffee cups and counter service. In 1990, Allied Lyons, owner of Baskin-Robbins, acquired Dunkin' Donuts. Soon, the company went global. By the late 1990s, the company had more than 2,500 franchise stores across the globe. Its annual sales had reached two billion USD.
Worldwide Recognition
After gaining success with the coffee, doughnut, and breakfast menu, Dunkin' Donuts launched breakfast sandwiches. In 2006, the company came up with a slogan: America runs on Dunkin'. To date, it is their most successful slogan. By the end of 2010, the company's sales were more than six billion USD. It had become one of the world's most successful coffee and doughnut franchises by the end of the 2000s decade. Presently, Dunkin' Donuts has more than 12,900 stores globally. It sells over three billion donuts and munchkins every year. Every ten seconds, Dunkin' sells 300 cups of coffee worldwide. With these stunning figures, Dunkin' Donuts is undoubtedly one of the most prominent food chains of the century.
Also read: Starbucks | Success story of the Most Prominent Coffeehouse
Who is the CEO of Dunkin' Donuts?
David Hoffman is the CEO of Dunkin' Donuts as of 2022. He oversees the company's domestic operations, marketing, and brand development programs. David joined Dunkin' Donuts in 2016 as the President.
What is the net worth of Dunkin' Donuts?
Dunkin' Donuts' net worth is estimated to be $9 billion. It is one of the largest food chains worldwide. Every year, it sells millions of donuts to its customers. It has more than 12,900 stores globally.
What are the best-selling donuts at Dunkin' Donuts?
Some of the best-selling donuts at Dunkin' Donuts are chocolate frosted, glazed donuts, jelly donuts, Boston Kreme, Bavarian Kreme, Blueberry cake, and strawberry frosted.