Emiliano Martinez | The Wall of Argentina National Team
Emiliano Martinez or Damian Emiliano Martinez is an Argentine footballer who plays as a goalkeeper for Argentina. He is also a goalkeeper at the Premier League club Aston Villa.
Personal Life
Emiliano Martinez was born on 2 September, 1992 in Mar del Plata, Argentina. He trained at Independiente's youth side and then moved to Arsenal in 2010. He got his youth contract after his 17th birthday. Martinez represented his country Argentina at the under-17 and under-20 levels.
He has the nickname of Dibu, the name of a cartoon character in an Argentine Tv show. He got the name at a very young age when he was playing for Independiente. Emiliano married Amanda, who is a Portuguese Businesswoman and the couple has 2 children, Santi and Ava.
Club Career
Martinez got an invite to the Arsenal trial and also got an offer for a youth contract. After injuries to Ryan Clarke and Wayne Brown, he went to make his debut in the English Premier League. On the 26 of September 2013, he made his debut in Arsenal. He made his transfer to the Championship side on Sheffield Wednesday on an emergency 28-day loan on 15 October 2013. His loan was however extended till the end of the season. He returned to Arsenal, where they won the Community Shield with a win of 3-0 against Manchester City at Wembley. He had also made his debut in the Champions League soon. Emi's debut in Premier League was against Manchester United as a 2nd half substitute at the Emirates Stadium. His performance at his 2nd Champions League match made him be named the UEFA Team of the Week.
Martinez made his actual Premier League career start with a match against West Bromwich Albion and won 1-0. On 20 March 2015, he joined Rotherham United on an emergency loan. Martinez also joined Wolverhampton Wanderers on a season-long loan. It was August 2017 when he was loaned to La Liga side Getafe for a one-year deal. He also joined Championship side Reading where he won the Man of the Match award.
On 16th September 2020, he was transferred to Aston Villa, a Premier League club for 20 million euros. The debut was 5 days later and he signed a 4-year contract.
International Career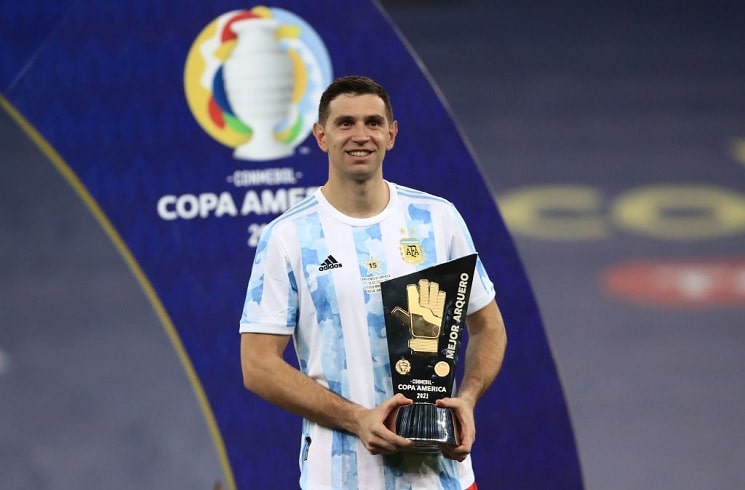 Emiliano made his place in the Argentina senior squad to replace Oscar Ustari in 2011 as he was an Argentine. He got his second call against Germany and Ecuador in 2019 as an unused substitute and both were friendly matches. He made his International Debut with the 2022 FIFA World Cup Qualification. The match was against Chile with a draw of 1-1. His competitive debut was against Chile, again with a score of 1-1 in Brazil at the Copa America, 2021. Martinez received a lot of praises when he saved 3 kicks in a penalty shootout against Colombia, taking Argentina to the finals of Copa. He finished the tournament with a 1-0 victory against Brazil in the Copa America finals. His spectacular performances in the tournament earned him the Copa America Golden Glove Award 2021.
Also Read: Lionel Messi | The Greatest Footballer of all Time
How many clean sheets does Emiliano Martinez has?
Emiliano Martinez currently has 32 clean sheets.
Why is Emiliano called "DIBU"?
Emiliano got the nickname "DIBU" when he used to play for Club Atletico Independiente. DIBU is an abbreviation for "Dibujo" and is the name of an animated character in the Argentine TV show Mi Familia es un dibujo. The show was highly popular when he was given the nickname.