Innisfree | Pioneer of Eco-Friendly Cosmetics in Asia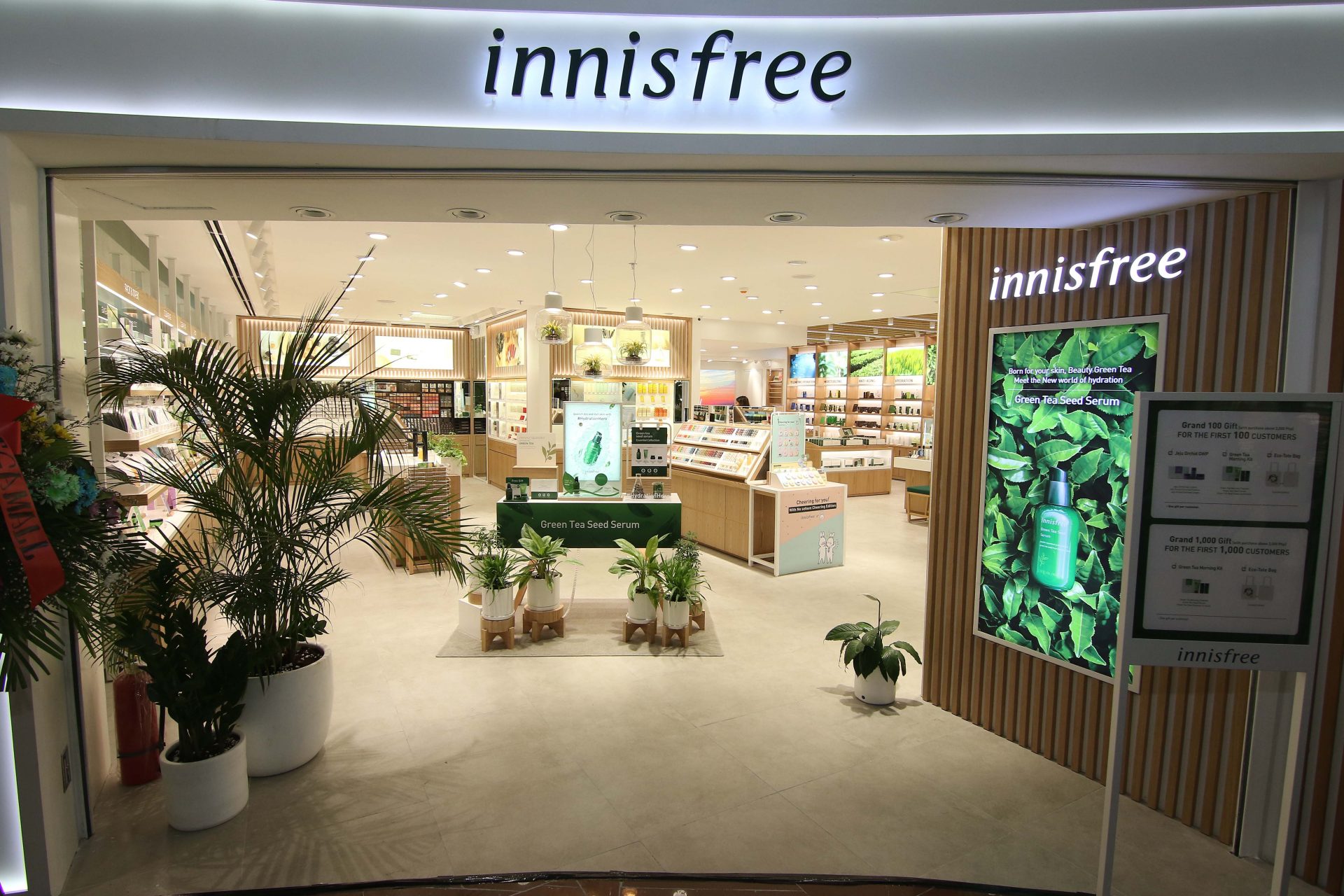 Innisfree is South Korea's number one skincare and cosmetic brand. Amore Pacific is the founder and owner of Innisfree. It is the first Korean beauty brand in the world to launch a cushion foundation. Jeju Island sources Innisfree's all product ingredients. Innisfree emphasizes unblended nature and healthy beauty products. It aims to create a world where nature and beauty products co-exist happily. For over two decades, Innisfree has been the leading skincare brand in Asia. In 2016, it surpassed one trillion KRW in sales.
About
Innisfree was established in the year 2000 by Suh Kyung-bae. Suh Kyung-bae is one of the most prominent businessmen in Asia. He is the CEO and chairman of Amore Pacific, the world's top-most Asian beauty firm. The history of Amore Pacific goes way back to 1945. Presently, Innisfree has more than 1800 stores across 17 countries. Significant South Korean models and actors like Ahn Yo-seop, Song Hye-kyo, Kim Tae-hee, Lee Min-ho, and Stella Jang have endorsed the skincare brand. Innisfree's environment-friendly concept and affordability have made it extremely popular among people.
Founder
On the 14th of January 1963, Suh Kyung-bae was born in Seoul, South Korea. His father, Suh Sung-hwang, was the founder of Amore Pacific, and his mother, Byeon Geum-Joo, was a homemaker. Kyung-bae had five siblings. His grandmother used to sell skin and hair treatment products made from Camellia oil. Kyung-bae's father wanted to continue the legacy. As a result, during the 1940s, his father went to Jeju Island in search of natural beauty products. People across the Korean peninsula believed that the land of Jeju Island was barren. However, Kyung-bae's father felt the land could cultivate green tea fields. His intuition was correct. The land of Jeju Island had mineral-rich water, ideal temperature, and precipitation levels for growing green tea.
After that, Kyung-bae's father started purchasing Jeju's wastelands. Within a few years, he transformed the supposedly "barren" land of Jeju into lush green fields. Soon, Suh Sung-hwang established Amore Pacific to revive Korea's green tea heritage and provide people with healthy beauty products. The brand was growing at a progressive rate. Kyung-bae's grandmother and father profoundly influenced his childhood. For studies, he attended Yonsei University in Seoul. Later, he went to New York to pursue MBA. After completing his MBA, Kyung-bae returned to Seoul. Out of the six children, he was the only one who wanted to follow in his grandmother's and father's footsteps. In 1980, Kyunh-bae joined Amore Pacific. Seventeen years later, in 1997, he inherited the business from his father. Korea was going through IMF at that time. However, Kyung-bae was determined to revolutionize the beauty industry not just in Korea but across the globe.
Origin
Three years after inheriting Amore Pacific, Kyung-bae established Innisfree. An Irish man's poem, 'The Lake Isle of Innisfree,' inspired the brand's name. Innisfree was Korea's first natural brand. It represented naturalism. The concept was unique and new to people. Innisfree also engaged itself in campaigns to protect and preserve nature. Within four years of launching, it competed with renowned international brands like Aveda and Origins. It was the pioneer of eco-friendly cosmetics. People were amazed by its use of natural herbal ingredients and biodegradable packaging. In 2005, it became Amore Pacific's first brand to have an exclusive shop in its sixty-year history. The shop was named 'Innisfree Herb Station.' It was located in the Myeong Dong district of Seoul. The store shelved more than 650 natural products. From skin care to men's grooming, Innisfree Herb Station had it all.
Pathway to Success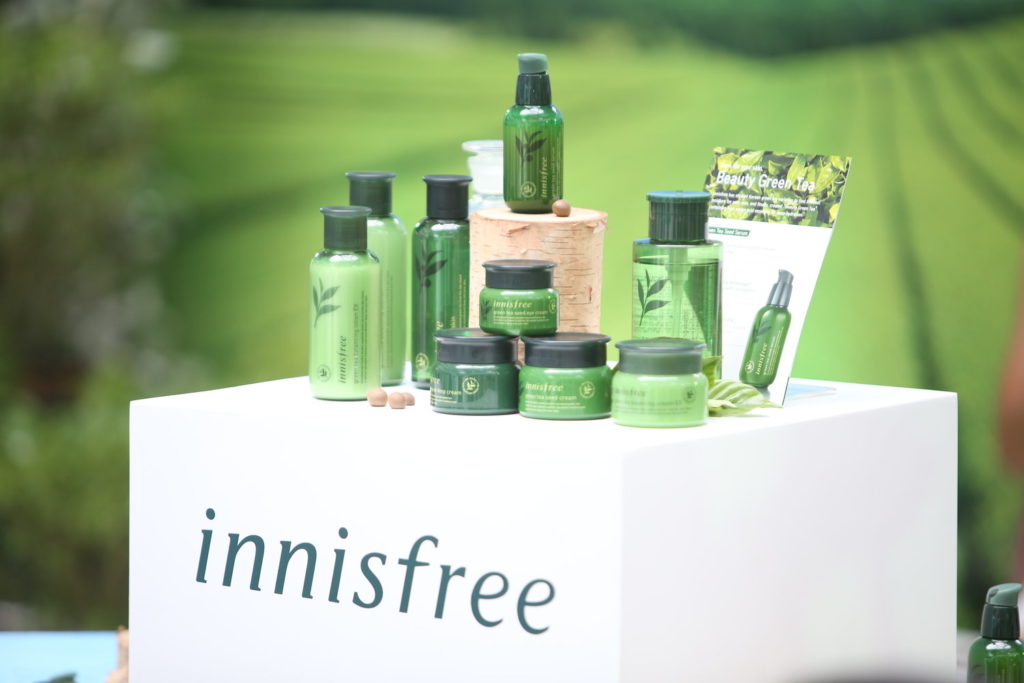 By 2007, Innisfree had established more than a hundred stores in Korea. In 2008, the brand launched its green tea skincare line. To date, it is one of the best-selling lines of the brand. Initially, Innisfree launched 100% Jeju organic green tea water. It was a brilliant skin hydrant. Two years later, green tea seed serum entered the market. The green tea seed was rare and difficult to find material. It had great moisturizing power. With these impactful products, Innisfree started conquering the cosmetic market of Korea.
By 2010, the brand had surpassed 100 billion KRW in sales. In 2012, with more than 500 stores in Korea, Innisfree opened its first flagship store in Shanghai, China. The following year, on Jeju island, Innisfree Jeju House was established. The Jeju house was paradise for the brand's fans. Jeju House displayed the natural raw ingredients available exclusively on the island. From essential oils to skin mists, everything was available in the store. However, it did not consist of the brand's makeup line. It also had an eatery called 'Green Café.' The café prepared most of its dishes with organic ingredients from the island.
Worldwide Recognition
In 2013, Innisfree launched its stores in Singapore and India. Two years later, on the brand's 15th anniversary, it opened the most significant cosmetic store in Shanghai, China. The store was spread across an 8,900 square-foot area. Famous Korean actor Lee Min-ho attended the store's grand opening. By 2017, Innisfree opened its stores in Malaysia, Vietnam, Singapore, and New York. The New York store showcased more than 900 products ranging from $2 to $100. Innisfree exclusively launched two cushion foundations with 14 shades at the U.S. store. There was no looking back for Innisfree with the idiosyncratic and affordable range of products. The game-changing green tea line and cushion foundations made Innisfree one of the biggest cosmetic brands in the world.
As of 2022, the brand raised 1.2628 trillion KRW from sales in the year's first quarter. It also announced its partnership with one of India's most prominent retail platforms, Ajio and Ajio Luxe. Moreover, the brand collaborated with America's beloved comic strip, Peanuts. The adorable limited edition sets of Innisfree X Peanuts will contain the brand's best-selling products.
Today, K-beauty has earned recognition across the globe through Innisfree. One of the most prominent initiatives by Innisfree is the preservation of Jeju Island. The brand holds several campaigns throughout the year to protect and give back more to Jeju than it takes.
Also read: Lancôme | Success Story of the French Luxury Brand
Who is the brand ambasssador of Innisfree?
Jang Won-young is Innisfree's brand ambassador.
Who owns Innisfree?
Amore Pacific owns Innisfree.
Are Innisfree products paraben free?
Yes, all Innisfree products are free from parabens and other toxic chemicals.