Jack Canfield | Success consists of going from failure to failure with no loss of enthusiasm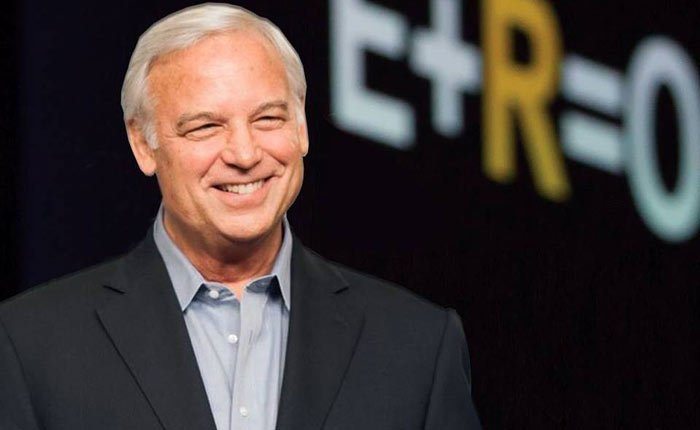 Jack Canfield is an American author, motivational speaker, corporate trainer, and entrepreneur. He has achieved exceptional success after a series of failures. He was very much persistent and confident about dreaming He quotes that, 'Don't worry about failures, worry about the chances you miss when you don't even try.' He is a motivational speaker behind the Chicken Soup for the Soul series. His enormous success is a result of his persistent hard work.
Jack Canfield's early failures :
Jack Canfield encountered a lot of failures. He has accomplished a lot through his hard work. He suffered a serious of failure but didn't let this affect him at the least. Jack encountered through 144 rejections from publishers over the course of a 14-month period. While any person would have easily given up, he was more determined to make a difference in life. One publisher claimed that it wouldn't even sell 20,000 copies, Canfield replied that he had hoped it would sell 500,000 copies at the least. The publisher mocked and laughed at Canfield, but he proved the world wrong. He trusted his abilities and stayed confident.
Jack Canfield's passion to write made the world turn back to look at him. He set on working on a collection of stories to help inspire and motivate people to achieve their dreams. But things didn't go well after he completed the books and he faced a series of problems and rejections. Eventually he did find a one small-time publisher in Florida for his book publishing. This time things made a better change and they hoped for a nominal success.
But he had a major breakthrough with this book and things changed for the better. This helped him pave way to his major success. Chicken Soup for the Soul is today an internationally-acclaimed brand that's sold over 500 million copies in over 20 languages. This was a major success. His determination and unwillingness aided him in his oath towards success and these were his greatest assets. Similarly he kept pushing himself forward no matter what the situation.
Jack Canfield's success didn't happen overnight. He encountered his fair share of failures and obstacles but despite the criticisms that came up his way he was determined to prove himself to the world. The books failed at the start and he was rejected a series of times by various publishers. People told him he wouldn't be able to make it , but this never pulled him back from pushing himself forward. He built up his own empire from scratch and has astonished the world. His determination majorly contributes to his success.
Life lessons from Jack Canfield's life :
There are several life lessons that one can learn from Jack's life and success. Success is a combination to a lock. You need to crack the lock to attain the essence of it. Keep practicing and be confident. Take the responsibility on your own life. Realize you purpose in life and keep chasing it. Open up to possibilities and keep trying things. If you fail once that doesn't mean the end. Failure are a part of life. Therefore it's important to take action, learn, and change your approach.

Be perseverant and keep working hard. Appreciate yourself and always trust your abilities. Never give up in life and always be prepared to face criticisms in life. However make a constructive use of it and you are sure to get the best of it. The success formula is Event (+) Response = Outcome … or in short form, E+R = O. The key is to change your response to events. Go ahead and taste the essence of success after persistently following your dreams.
Also Read : Elvis Presley | The man who pushed through several failures
What is Jack Canfield worth?
Jack Canfield has a net worth of $50 million.
What was Jack Canfield first book?
Canfield shared his idea with Mark Victor Hansen to collect stories for a self-help book. Later this idea turned into a phenomenal series entitled, Chicken Soup for the Soul.