Jamie Campbell Bower | The Charismatic Artist from Britain
Jamie Campbell Bower is a British actor, model, and musician. He is one of the most prominent actors in Britain. Recently, he appeared in one of Netflix's most popular English-language series, Stranger Things. Jamie portrayed the character of Vecna, a monstrous villain. His role has been gaining critical acclaim across the world. Besides Stranger Things, Jamie has starred in blockbuster movie franchises like The Twilight Saga, Harry Potter, and Fantastic Beasts.
About
Jamie Campbell Bower is an illustrious artist. He has been a part of several successful movies, TV series, and modeling campaigns. For over a decade, he has amazed audiences with his extraordinary acting skills. Besides acting, he has a successful career in modeling. Multi-billion dollar fashion companies like Burberry, Fendi, Hugo Boss, L'Officiel Hommes Paris, and Tommy Hilfiger have made Jamie Campbell Bower a part of their modeling campaigns.
Early Life
On the 22nd of November 1988, James Metcalfe Campbell Bower was born in London, England. His father, David Bower, worked for the Gibson Guitar Corporation. Gibson is one of the most renowned American musical instrument manufacturers. Jamie's mother, Anne Elizabeth Roseberry, was a music manager. Both David and Annie spent their lives around music. As a result, music profoundly influenced Jamie's childhood. He spent his childhood in Petersfield, Hampshire. For schooling, he attended the Bedales school. From a young age, Jamie wanted to become a performer. At school, one of his teachers noticed him. The teacher fostered his passion for becoming a performer by admitting him to an after-school cinema club.
At the age of eight, Jamie started taking singing lessons. His parents realized from an early stage that Jamie loved to perform. As a result, they supported him throughout his school years. For several years, Jamie was heavily involved in the local youth theatre. By the age of sixteen, he had gained knowledge about singing, performing, and production. At seventeen, his friend and actress Laura Michelle Kelly introduced him to an agent. At the time, Jamie was working as a part-time model for Select Model Management in London. However, he dreamed of becoming a musical theatre artist. After his friend got him in touch with the agent, the agent told him about the auditions of Tim Burton's musical horror Sweeney Todd.
Beginning of Career and Struggles
Four days after giving the audition, Jamie got selected. He couldn't believe the news. However, he was equally terrified about working with the star-studded cast of Sweeney Todd. In the movie, he played the role of Anthony Hope alongside Johnny Depp and Helena Bonham Carter. The film garnered worldwide recognition. However, after the success of Sweeney Todd, things didn't go as Jamie planned. He dropped out of his A-Levels to pursue a career in acting. He auditioned for several movies but did not get selected. For Jamie, it was a depressing time. He felt as if he had made a wrong decision. He got rejected for the roles he desperately wanted. Nothing worked out for him. However, he did not lose hope and kept on auditioning. Soon, he got the chance to play minor roles in RocknRolla and Winter in Wartime.
Pathway to Success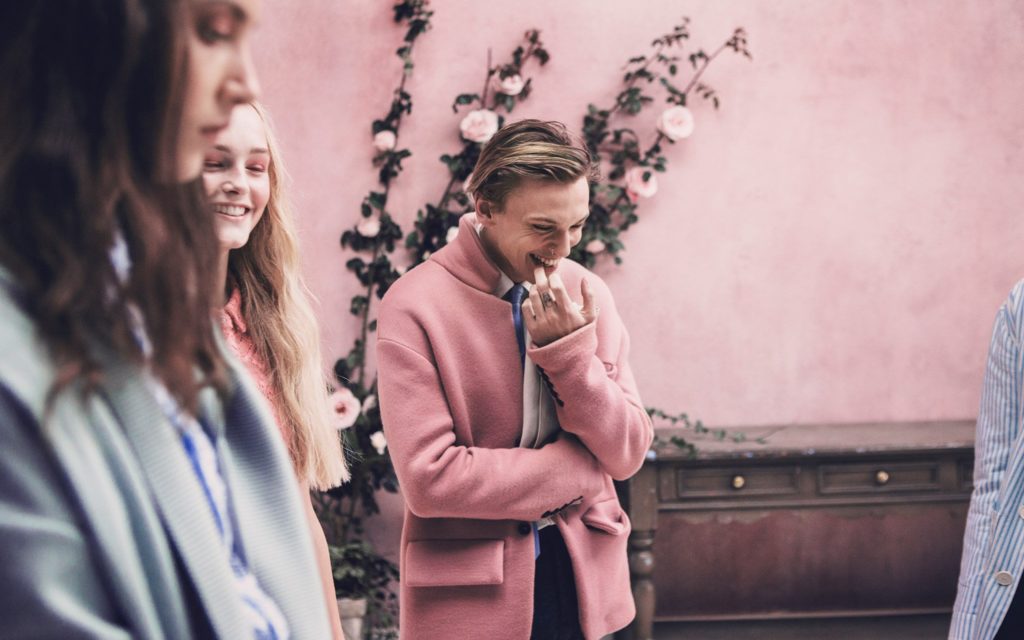 2009 turned out to be a good year for Jamie. He got the opportunity to work on a six-part miniseries, The Prisoner, and the phenomenal second installment of The Twilight Series. The following year, he played the role of Gellert Grindelwald in Harry Potter and the Deathly Hallows – Part One. There was no looking back for Jamie after appearing in the most iconic movies of all time. In 2011, he reprised his role in The Twilight Saga: Breaking Dawn Part One, followed by the conclusive part of the series in 2012. In 2013, Jamie starred as one of the leading characters in the movie adaptation of Cassandra Clare's famous fantasy book, The Mortal Instruments: City of Bones. The film received commercial success but garnered unfavorable reviews. In the same year, he became a part of Burberry's Spring/Summer 2014 campaign.
2015-Present
In 2015, Jamie became the lead vocalist and guitarist of an English punk rock band, Counterfeit. The band consisted of five members: Jamie's younger brother Sam, guitarist Tristan Marmont, bassist Roland Johnson, and drummer James Craig. In the same year, he started voicing the character of Skiff in the British children's TV series Thomas & Friends. The series received positive reviews overall. 2018 marked the release of Fantastic Beasts: The Crimes of Grindelwald. The film became a huge commercial hit. In 2020, Jamie announced the dissolution of the band Counterfeit. He now performs as a solo artist. He writes songs, produces them, and performs as well. In 2022, he appeared in the groundbreaking role of Vecna in Stranger Things season four. The series has garnered unparalleled success across the globe. Presently, besides acting, Jamie often appears in fashion and music shows.
Also read: Gemma Chan | The Charismatic British/Asian Entertainer
How old is Jamie Campbell Bower?
Jamie Campbell Bower is 33 years old as of 2022. He was born on the 22nd of November 1988 in London, England. He attended a co-educational institute called the Bedales school in Hampshire for schooling.
Is Jamie Campbell Bower married?
No, Jamie Campbell Bower is not married. He was engaged to Bonnie Wright, his co-star in the Harry Potter series. However, the couple called off their engagement in 2012. Later, Jamie dated Lily Collins and Matilda Lowther, and currently, he's dating Ruby Quilter since 2018.
In what movies Jamie Campbell Bower has appeared?
Jamie Campbell Bower has appeared in several blockbuster movies, franchises like The Twilight Saga, the Harry Potter series, Fantastic Beasts, The Mortal Instruments, and most recently, he was seen playing the role of Vecna in Netflix's Stranger Things season 4.