Krishnan Sunderarajan | Story of India's First Metaverse App
Krishnan Sunderarajan is the Founder is India's first metaverse app Loka. He belongs to Delhi and holds and B.Tech degree from SRM University. Following this, He enrolled in the Udacity Android development course. Being a repeat entrepreneur, Krishnan had started a tech company in 2015 named Foodie Baba.
From the very beginning, Krishnan was very fond of video games. He got his first PC in seventh grade, which was bought for studies, but he was more into games. Krishna install GTA Punjab which eventually stood out for him and blew his mind.
Success Story
Krishna Sunderarajan was so fascinated by the game that he was completely into it. He explains that there are taxis run by Punjabi drivers. When you steal their taxi, they run behind you and scold or abuse you in Punjabi or Hindi. This digital person speaking in Hindi or Punjabi touched him and he was overwhelmed by the feeling. That was when his romance with this game and the gaming world began to evolve.
Idea of Metaverse
Gradually He formulated an idea of his dream venture which was to create a game that would allow everyone to see everyday real-life things virtually. He wanted that it should work on two basic beliefs:
First, The game wouuld run on an entry-level device, i.e, a simple device with low computational powered, Rs. 8000/- costing and erratic internet connection.
Second, This would be localised in nature, would feel Indian. Locations in the game would resemble real-life locations like Marine drive in Mumbai or MG road in Bangalore.
From talking about the idea to actually working on it, Krishnan Sunderarajan had to face a ton of obstacles. His family and friends doubted him while everyone else was literally laughing. They told him it was a silly thing to make video games for children. Even the VCs presumed the Indian metaverse a difficult task to create.
After putting a lot of perseverance, effort and complete determination into this dream venture, Krishnan with his team created the first version of Loka. Everyone from VCs to family to friends became stunned because this impossible mission accomplished.
Loka
This gaming application took users into an immersive world where he/she can have conversations between the two cities. Via third party, it gives you a real-time experience. The app starts by giving options to choose an avatar followed by gender selection. It consists of three zones: Amphitheatre, Theatre and GameZone. Users can enjoy dancing with friends in Amphitheatre. You can also converse with new people and make friends. Along with that, It has thousands of e-commerce websites including Flipkart and Myntra.
On this newly created platform, Thousands of viewers were coming every day and interacting. They were watching IPL matches hanging out, going on dates or shopping together. They could have all these real-life experiences virtually.
Shark Tank
With rolled-up sleeves, When you're doing all of the hard and rough work by yourself, sometimes God becomes Merciful. And that was when the great Internet entrepreneur Mark Zuckerberg, The founder of Facebook, changed its name to Meta. Again, by god's grace, they got invitation by Shark Tank show to have a session on their sets.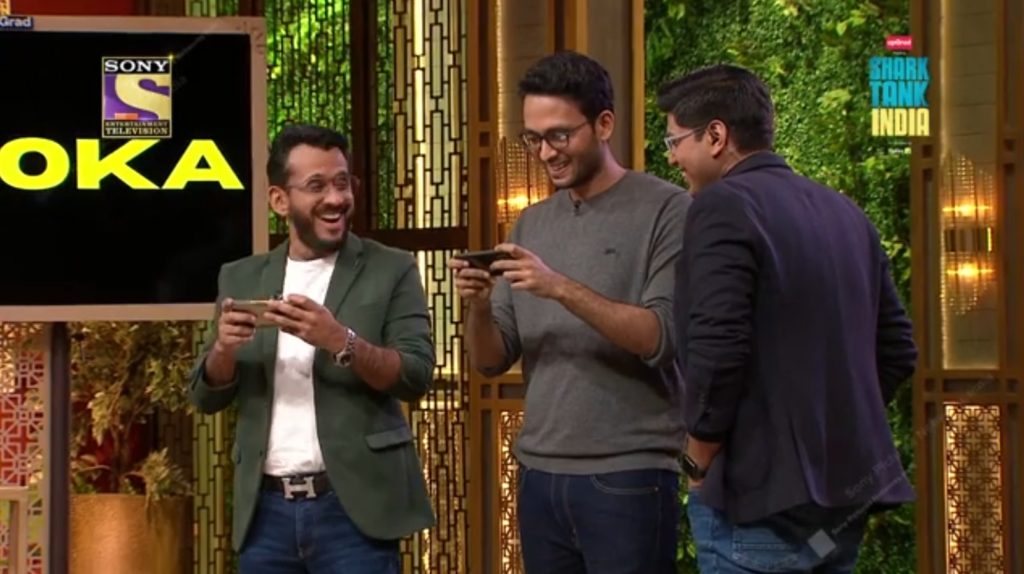 In 2022, Krishnan appeared in episode 12 of the popular investment show Shark Tank. Under the company name Misso, a combination of his parent's name,  he brought this application named Loka, which became India's first metaverse app.
Krishnan Sunderarajan nd his team reached there and pitched to the three most loved Indian entrepreneurs. So now, Aman Gupta from Boat, Anupam Mittal from Shaadi.com and Peyush Bansal from Lenskart, the people who he saw on tv, were his partners. He recently talked about Metaverse and local in TEDXGATEWAY.
Present
Today, They have 2.5 lakh, unique visitors, on their platform who spend an average of 20 minutes. They can do whatever they wish to. Krishnan talks about a couple who met in Ahmedabad through their platform and now they are a real-life couple. That is how the life of people changes when they interact with fellow beings.
What are the gross profit and sales of Loka?
How much Investment they got from Shark Tank?
40 lakhs from three sharks Anupam, Aman and Peyush for 40% equity.
What were the lessons Krishnan Sunderarajan learnt from failure of Foodie Baba?
Three major lessons that he learned:
1. Trust the data not the guts
2. Get the right team
3. Timely pivot
Also Read: Sadhana Giri | Lieutenant who turned into a personality development professional