Larry Page | The success story of the co-founder of Google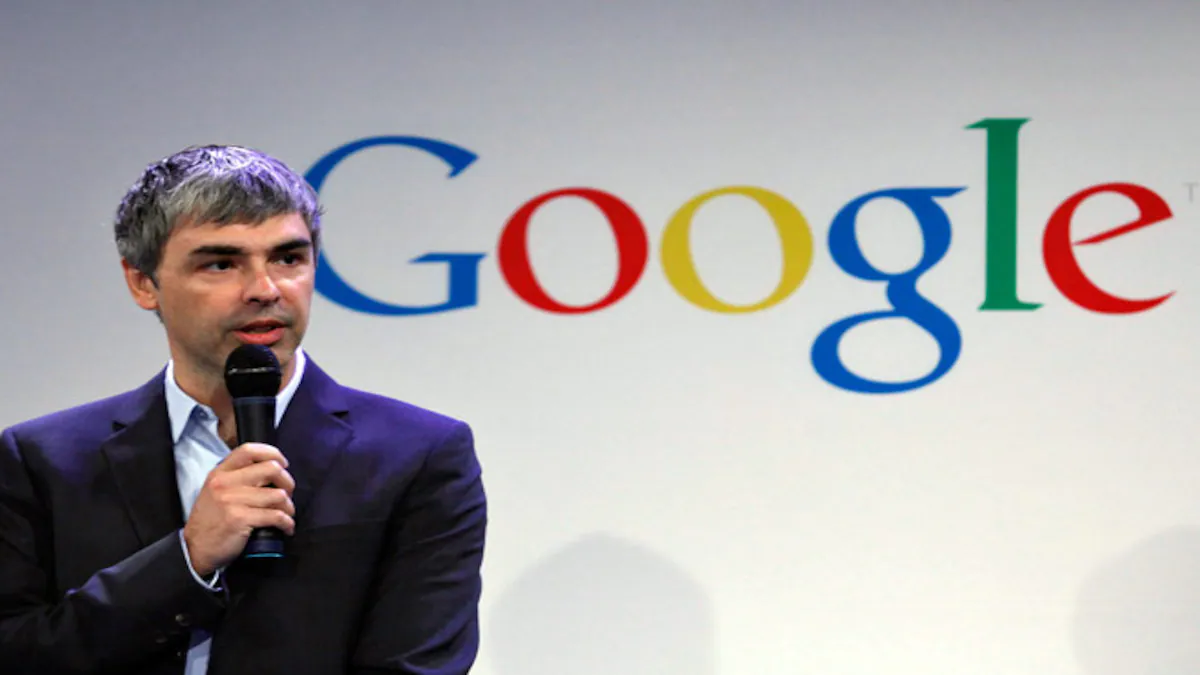 Larry Page is an American entrepreneur and computer scientist. He is one of the co-founders of Google, along with Sergey Brin. Page is the sixth-richest person in the world with a net worth of $121 billion. From a very young age, he was attracted to computers and knew that he wanted to invent things. At the age of 12, he decided to start his own company. Today, Google is one of the biggest companies and is often referred to as the "most powerful company in the world". Larry Page is considered to be one of the pioneers of the Internet. Here's his inspiring success story.
| | |
| --- | --- |
| Full Name | Lawrence Edward Page  |
| Date of Birth | 26 March 1973 |
| Age | 49 (As in 2023) |
| Net worth | $83.7 Billion |
| Organizations founded | Google, Alphabet Inc. |
| Parents | Gloria Page, Carl Victor Page |
| Siblings | Carl Victor Page, Jr. |
Early life
Larry Page was born on March 26, 1973, in Michigan. His father was a computer science professor at the Michigan State Univeristy while his mother worked as an instructor in computer programming. In an interview, Page described his childhood home as "a mess with computers and technology magazines all over the place. During his youth, he was an avid reader and also played several instruments. While growing up, he studied music composition which influenced his obsession with speed in computers. In his elementary school, Page became the first kid to submit an assignment from a word processor. At the age of six, he first became attracted to computers and played around with first-generation computers.
From a very early age, he wanted to invent things and became interested in technology and business. Page started to take everything apart in his house to see how things worked. At the age of 12, he decided to start his own company. After school, Page attended the University of Michigan and graduated with a degree in computer engineering. While attending college, he created an inkjet printer with Lego blocks. In addition, he also proposed the idea of replacing the bus system with a rapid-transit system which consists of a monorail with separate cars for each student. After college, he attended Standford University and received a master's in computer science.
Google
After developing Google at Standford University, Larry Page and Sergey Brin made it available on Standford's website for Internet users. In 1998, they incorporated Google with the domain name Googol. Page became the CEO of the company while Brin was the company's president. By June of 2000, Google indexed one billion internet URLs and became the most comprehensive search engine on the Web. At the age of 30, Larry Page became a billionaire. In 2005, Google acquired Android. By 2011, Google had a $180 billion market value and more than 24,000 employees. Sundar Pichai is the current CEO of Google. Today, Google is one of the most powerful companies in the world. Larry Page's hard work and passion helped him build Google.
Larry Page's success story
From a very young age, Larry Page became attracted to technology and pursued his dreams. His success story is very inspiring. He, along with Sergey Brin, started Google in their college's dorms and built a multi-national company. Hard work is the key to success. It teaches us determination, perseverance, and passion. Page believed in his dreams and trusted himself. Secondly, we should always learn from our mistakes and never give up. We should always be passionate about our goals and work towards them. 
Larry Page's Leadership Role at Google
Larry Page played a pivotal role in Google's early development and growth. As CEO, he was responsible for setting the overall direction and strategy of the company. Page was known for his focus on innovation and his willingness to take risks to pursue new ideas. He was also instrumental in developing Google's corporate culture, which is known for its emphasis on collaboration and creativity.
Page had a hands-on approach to management and was known for being deeply involved in the company's product development. He often worked closely with engineers and product teams to shape the direction of new products and features.
In addition to his role as CEO, Page was also involved in various philanthropic and charitable endeavors through the Larry Page Family Foundation and the Page Foundation. He has supported a range of causes, including education, the environment, and global health.
Google To Alphabet Inc.
Google became Alphabet Inc. in 2015 as part of a restructuring of the company. The goal of the restructuring was to give more independence and autonomy to the various subsidiaries of Google, allowing them to operate more like standalone companies. This was seen as a way for Google to continue to innovate and grow as a company, while also allowing it to pursue new ventures and businesses outside of its core search and advertising operations.
Under the new structure, Google became a subsidiary of Alphabet, and Larry Page, one of the co-founders of Google, became the CEO of Alphabet. Sundar Pichai, who had previously been the senior vice president of products at Google, became the CEO of Google.
The restructuring allowed Google to focus more on its core search and advertising business, while also giving it the flexibility to explore new areas of growth through its other subsidiaries. It also made it easier for investors to understand the financial performance of the various businesses within the company, as they were now separate entities under the Alphabet umbrella.
Interesting Facts About Larry Page
Larry Page is an avid collector of electric vehicles, and owns a number of rare and unique electric cars and motorcycles.
Page is a proponent of using technology to solve global problems, and has supported a number of charitable and philanthropic causes through the Larry Page Family Foundation and the Page Foundation.
Page is a member of the Board of Directors of the XPRIZE Foundation, an organization that promotes innovation through high-profile competitions.
In the early days of Google, Page and co-founder Sergey Brin were known for their informal management style and penchant for pranks. They once placed a toy dinosaur on the roof of the Google offices to see how long it would take for someone to notice.
Page is a strong believer in the power of technology to change the world, and has said that he wants Google to "organize the world's information and make it universally accessible and useful."
Also read: Michael Saul Dell | The success story of the founder of Dell Technologies
Frequently Asked Questions
Where did Larry Page go to college?
Larry Page received his bachelor's degree in computer engineering from the University of Michigan and his master's degree in computer science from Stanford University.
Is Larry Page still involved with Google?
Larry Page stepped down as the CEO of Alphabet Inc., the parent company of Google, in 2018 and became a technical advisor to the company. He is no longer actively involved in the day-to-day operations of Google, but remains a shareholder and member of the board of directors of Alphabet.