Motivational Success Story Of Chris Hemsworth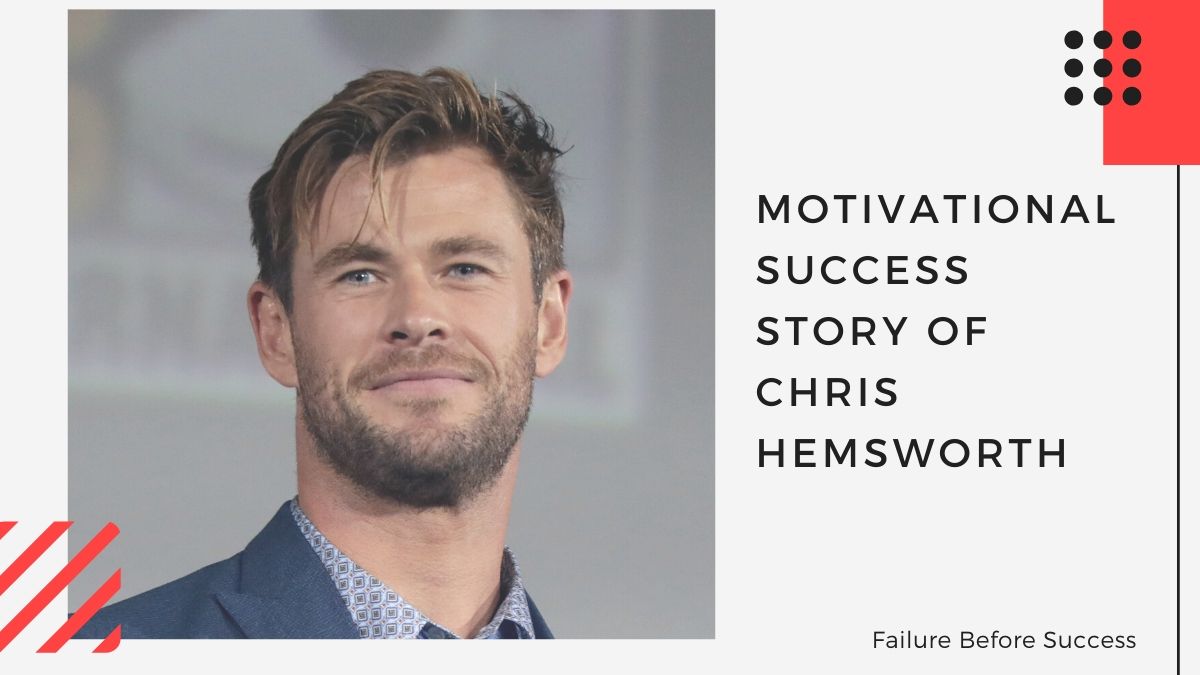 Today we are going to talk about Chris Hemsworth. The person who is known for his famous characters in MCU. He is one of the highest-paid actors across the world. But before this success, Chris faces a lot of rejection. In this article, we are going to talk about the failure of Chris life, and how to he beat them.
At his career he was ready to give up and head back to home, but do you know what the best secret of success is? Trying just one more time. He didn't give up because he was passionate about his work; let's start from the beginning.
Chris Hemsworth was born in Australia. He grows up in a middle-class family. In which he most of the time, see his parents stress and working about bills, money, rent.
At that moment he decided that he will help his family, not for him but his family. I just wanted a happy life for his parents. He decided to pursue his career as an actor. Work hard to get some recognition as an actor in Australia. But that was not enough for him, so he decided to move in the US to search for better opportunities. Luckily got a role in the movie. But still, he was struggling to get lead roles.
He said I had a huge amount of anxiety when I was auditioning, and that just got worse and worse the more I heard the word 'no'.
At this low point in his life when his failure made him doubt himself, mental health was not getting better; his anxiety was prevailing him of becoming the best version of himself.
But did you know about that little voice inside in your head, telling you are not good enough? Why don't you quit? Success was not meant for you.
On top of that, losing, all of these roles put him in a dangerous place financially. Time was worst for him even he wasn't sure he would be able to stay because he was running out of money.
"I lived in the guest house of my manager for a while and babysat his kids."

Chris Hemsworth
He was ready to give up and head back home.
I did a lot of soul searching on a number of occasions, where I asked myself: why am I doing this? What's my motivation to put myself through this?

CHRIS HEMSWORTH
In those hard moments, he keeps reminding himself of his family. And why he began doing this in the first place. Is strength was his worrying about his family. This strength was enough for him to keep believing in himself and try one more time.
Finally, his life changed forever when he landed the role of the superhero Thor in the marvel cinematic universe.
Thor role opens the door of opportunity for him and made him one of the highest-paid actors across the world.
read also: Success Story Of Robert Downey Jr.
I have to ask you something, have you ever tried very hard to be rejected? Only to hear the word "NO", again and again. Have you ever put everything you had? Your energy, your focus, your passion in a job, business, a relationship only to see it fail miserably? Are you familiar with that terrible feeling that you are not good enough?
If yes so I just want to tell you it's not easy if it is everyone would do it. Learn that you will fail, you will lose, you will choose poorly, you will make the wrong decision no matter how careful you are. It is a process of becoming successful just follow it.
Sometimes our biggest failure happened just before our biggest success when you hit that wall of desperation. When you are ready to give up your dreams, ask yourself, why did I start in the first place? And try again. People give up way too soon for their dreams, don't be one of them.
awards won by chris hemsworth?
2015 G'Day USA Excellence in Film
2013 MTV Movie, Peoples Choice
2012 Teen Choice
2005 Logie
chris hemsworth wife name