Nikunj Lotia | The inspiring success story of Be YouNick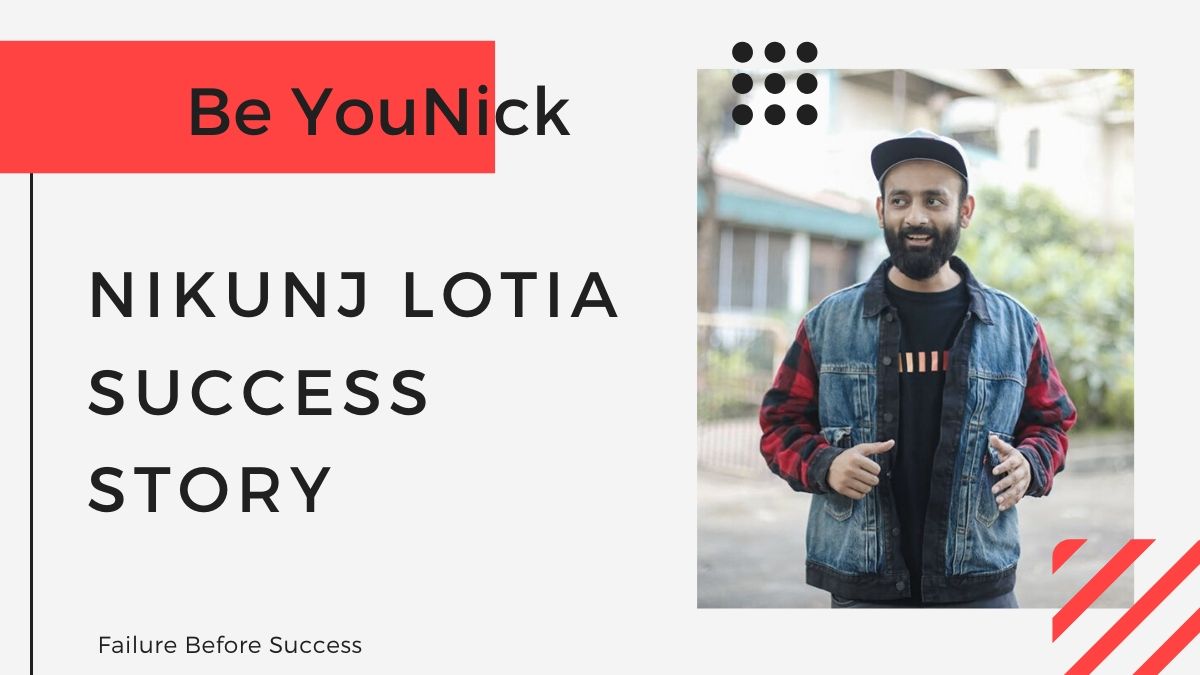 Nikunj Lotia, popularly known as 'Be you nick' is a successful YouTuber and content creator. He faced rejection every day but never gave up his quality made him count in the list of leading figures in the country. It wasn't easy for him to start this all over. There were a lot of hurdles in his way. It was not an overnight process and took him years to do so. His success story is an inspiration to many.
Early life
He was born in Mumbai, Maharashtra, on November 29, 1989. At 2 years of age, his family moved from their house in Colaba to a much smaller place in Dombivili. His father's business fell apart, and they had to compromise with every bit. There were times when they had no income, and affording school fees was an issue. He was made embarrassed in front of his classmates to leave school if they cannot afford the school fees. He stood for hours outside the class for not paying the school fees timely. To make sure that he would study, her mother made Theplas & her brother delivered them and earned them.
So, after completing his 12th, Nikunj Lotia took a loan to study hotel management and worked as a bartender on the side. He would work and serve drinks until late at midnight. He went to work for a year, but he had to come back because his parents wanted him to. After coming back, he took a job in a call center. Even after that call center job, he still worked there for three years because they paid him well. His idea to do what he had always wanted to do came in when one of his friends told him about how he made money off Youtube.
The start of his YouTube career
Just to earn an extra buck, Nikunj thought of starting his Youtube channel. He started a Youtube channel called 'Not So Funny,' but it didn't work. Initially, he did not get many views, but this did not stop him from making videos. Still, he continued with the page and worked on it because it made him happy. Soon, he left the job of the call center. One night, he got drunk and created a new Youtube channel – 'Be you, Nick,' put up a video of how guys make a fool of themselves to impress women.
The next morning when we woke up seeing 1500+ views! He was motivated to work, even more, so Nikunj Lotia made 40 videos that year. He kept working as a bartender to earn, and he acknowledged as 'that guy on youtube.' Sometimes customers ask for a Selfie while he served drinks to them.
His parents supported him, and since that day, he never looked back. Now he is finally the man of his own life where he can live his life on his terms. He is a full-time content creator and is popular among youngsters. He has 4.36 million subscribers on his channel.
What is a success is well defined by a quote said by Winston Churchill –" success is not final, failure is not fatal; it is the courage to continue that counts".
Taking a step towards your ultimate goal is not only where your role ends, but it begins. There will be a lot of times when you have to face rejection every minute and every moment, but, as said by Paul Coelho — "The secret of life is to fall seven times and get up eight times."
Also read: Dharmesh Yelande | The inspirational success story of the talented dancer
How many subscribers does Be YouNick have?
When did he start his YouTube career?