Mrunal Panchal | A famous makeup influential icon of the social media
Indian social media is abruptly growing with Many influential personalities in various domains. Talent with the relevance of camera posture, creativity, and a sense of present trend are all needed to be a social star. In a vast sea of many talents, one in the field to enhance fashion came was makeup which became mandatory for millennials. But it is also necessary that build a good way of makeup to match the moment. Hence there came the thousands of influencers, but with the knack of make-up, Mrunal Panchal became famous. Not only cosmetics but also her music videos got her attention on social media.
The early life of Mrunal Panchal
Mrunal was born on 11 November 1999 and brought up in Gujarat. Her parents are Bharat Panchal and Neeta Panchal. Also, she has an elder sister name Nikita Panchal. Completed schooling from "St. Francis High School ."She took science in her 12th standard. Presently she is an undergraduate student and completing her graduation from "Haribhai V Desai College of Commerce, Arts, and Science," Pune, Maharashtra.
Career
Mrunal Panchal gained a lot of fame through her dance, cosmetics, lip-sync, comedy, and acting videos. She started her career on TikTok, where she used to upload lip-sync videos on TikTok. Gradually that took her most of the popularity, and she began her Instagram and YouTube journey parallel.
As a YouTuber, she runs a channel named "Gujju Unicorn," which uploads travel vlogs, beauty vlogs, prank videos, and shorts. And Mrunal has around 775k subscribers and 460 videos, and each video has more than a million views.
She also has a huge fan base following her makeup tutorials and funny reels on Instagram, with 4.2 million followers and thousands of posts. She keeps entertaining and educating people about the fashion of makeup to her followers.
Mrunal Pancha, besides influencer
Apart from being an influencer, Mrunal is also a model and actor. She featured in many music videos like Tom Cruise, which crossed more than 6 million views. Further cast in Tum Kaho Toh along with Anirudh, Rishabh, and Arsh, this song featured by Zee music company. Later she costarred in many music videos such as Can't let you go, Ishq Saaf, You are mine, Kaise Kahu, and Closer.
She has endorsed brands like Ponds, Ceriz Fashion, Lakme, Maybelline, and One Plus. Mrunal also collaborated with many other brands for promotional purposes. Some of them are Burger Bae, Joker & Witch, Rem beauty, and other makeup brands.
Awards and achievements
She was awarded the Aspiring She Digital Entertainer Award on the 7th of March, followed by the Iconic Female Influencer Award on the 8th of March. As an achievement, she is the first among the Indian female influencers to bag these awards.
Personal life
Mrunal Panchal often talks about dating Anirudh Sharma, a singer, and actor, in many of her music videos. As all her fans know, Mrunal is fond of tattoos and makeup. She has a lot of tattoos. As a member of the NOFILTR.GROUP on Instagram, which means that her videos and photos are unfiltered.
She posted a collaborative video with King Bach, an American actor whom she met during her visit to Los Angeles. Won as first runner-up award for 'Social Media Personality of the Year.' During OnePlus Music Festival at DY Patil Stadium, Mumbai selected top 5 personalities got a chance to spend one-on-one time with the music star. This is where Mrunal met the International pop star and music sensation – Dua Lipa.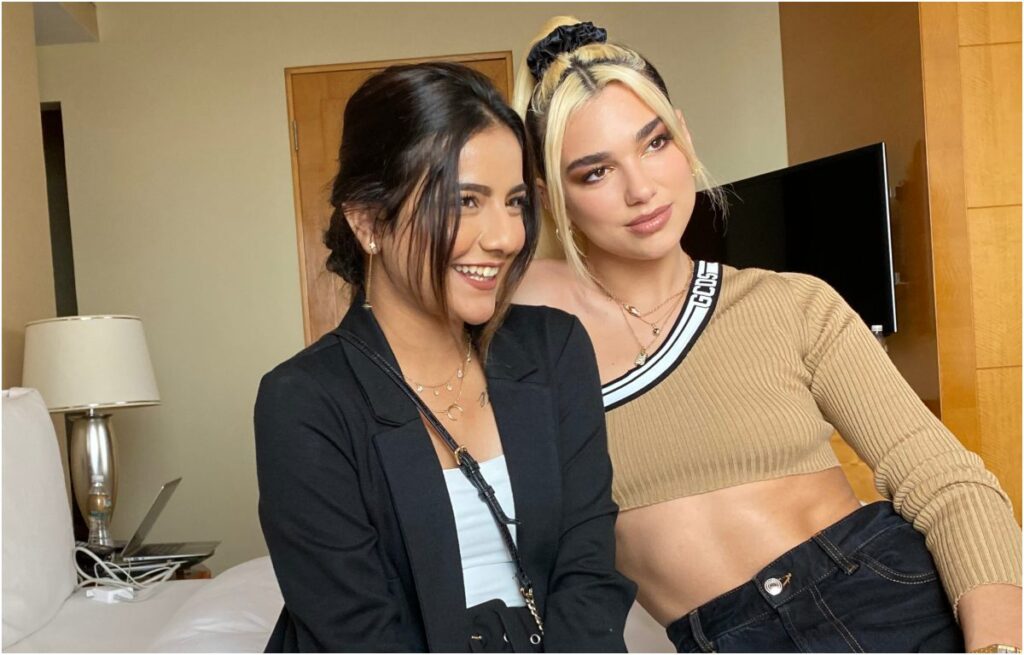 Inspiration
Mrunal Panchal, when starting her career as a TikTok, never believed that she would be an influencer one day. But with effort and daily social media monitoring, she is now a famous social media star, grabbing the right opportunity at the right time. Forbes has also recognized Mrunal as India's Top 100 Digital Stars. Young age successor is trying her best in creativity to bring much spark to makeup fashion. Being a youth sensation made her dream come true by providing them with a life of luxury and comfort.
What is the net worth of Mrunal Panchal?
As of 2022, Mrunal Panchal's net worth is $100,000 – $1M. And her source of income is from a different brand where she makes promotional videos.
How old is Mrunal Panchal TikTok?
She is 23 years old as of 2022.